Our new premium packages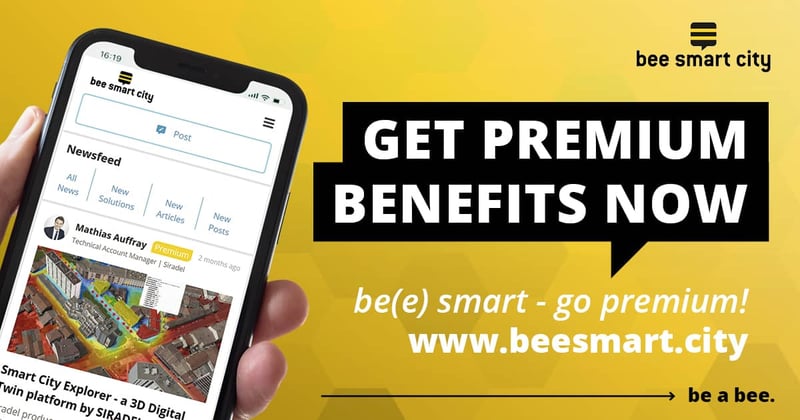 We have something new for you! In the last few months, we have been working hard to build something extraordinary for you. We received suggestions from our members on how to make our platform better and to provide added-value services. But we also had our own ideas for improving the platform. We have poured all these considerations into three premium packages that enable you to get the most out of our platform. Best of all, there is still a free basic membership, which we have improved with additional features. But more on that later.


Our Vision
In 2017 we founded bee smart city as a platform to use the collective intelligence of our members to enable the sharing and transfer of smart city solutions and lessons learned. Through this, we connect the smart city community in a more transparent, more straightforward, and therefore more efficient way. Our vision is to be the world's leading smart city network and community and the premier resource for all stakeholders in terms of smart city-related information. In the past years, we have achieved a lot: the bee smart city network has grown to more than 13,000 members from 170 countries, more than 700 solutions, and the United for Smart Sustainable Cities (U4SSC) initiative of the United Nations selected us to be their partner platform to connect all smart city stakeholders. We are also a leading source for smart city-related tenders. In 2020 alone, we have published more than 1,000 tenders worldwide.
With our new Premium Packages, we are taking a big step closer to our goals: expanding your network, finding project partners and new business opportunities, as well as showcasing your solutions is easier than ever. Learn more about our premium packages below.


I am a Smart City Professional

You work in public, in the technology sector, or any smart city-related industry and would like to exchange ideas with other professionals on Smart City's topic? Do you want to get in direct contact with solution providers and cities that have already implemented these solutions? Or maybe you want to increase your visibility and be better found by potential project partners? Then the Smart City Professional package is for you:
See all visitors to your profile & connect with you.
Send up to 5 messages to non-contacts
Receive premium profile branding
Your profile will be highlighted on the member search page.


---
I am a Solution Provider
As an innovative solution provider, you face the challenge of promoting your solutions to decision-makers in cities and municipalities. However, cold-calling has not led to success so far; it is not easy for you to find the right contacts. It would help if you had a simple tool where you can easily manage your leads and competitors. For you, we have developed the Solution Provider Profile:
See visitors to your solution pages.
Send 15 messages to non-contacts
Increase the visibility of your solutions to all members
Newsfeed listing of your solutions
Social media posts per solution via bee smart city profiles
Newsletter feature per solution


---
I am looking for smart city tenders
You would like to participate in tenders actively, but it is time-consuming to stay informed about all tenders continually? The ideal solution would be a service that sends you the current tenders to your mailbox, sorted according to your preferences? Then the Tender Premium package is the right one for you:
Get access to all Smart City tenders - worldwide.
Advanced tender search and filter options
Alerts function: Never miss a tender again. Be informed directly about new suitable tenders.


---
I am not sure what to choose, can I first try it?
Not sure which package is right for you? Do you want to test the community first before you decide? No problem, register for the free basic profile and test the platform and its possibilities. Recently we have extended the basic functions. From now on, you can:
---
Do you want to have an overview of all packages and prices?
No problem, just follow this link: