If you missed November's webinar, don't worry. We're back with another webinar covering the business opportunities available using our Tender Premium service. After the success of our first webinar, we have updated and improved the content to better suit your needs. You asked, and we delivered! If you are a smart city solution provider, make sure your register and participate in our next webinar on December 8th, at 4pm (CET). We want to demonstrate how you can improve your market share, explore new markets, and find more lucrative business opportunities. Our webinars are two-way conversations, allowing you to actively ask the questions you need answering and provide important feedback. Our speaker, Jens Steimann, is looking forward to welcoming you to our free compact course. If you're in the smart city game, sign up and find out more!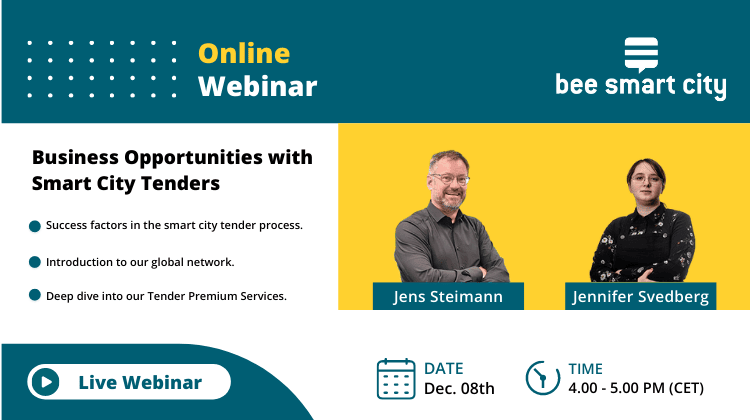 Find your business opportunities and enjoy greater success. Join us if you:
are a company or organization which offers solutions and services in the smart city sector

want to improve your market share

are searching for ways to enter new markets?
This webinar will take place on December, 8th at 4pm(CET) and will give you a deeper understanding of the smart city market. We will explain how to find and successfully win lucrative tenders. Using our Tender Premium service, we take the hard work out of finding the best tenders for your business.
What you will learn in this webinar:
An overview about the 5 success factors in the tender process

An introduction to our worldwide smart city community

A demo of the "Tender Premium" service
In this Online-Seminar, you will gain exciting insights into basic topics as well as more in-depth know-how regarding our Smart City Tender Premium services. You can register here for free:
There's more! We have something special for all participants: an exclusive gift from us. 🐝
Each week we curate up to 60 new smart city tenders and make them available for our premium customers. Thanks to our comprehensive search & filter options and special alert notifications, you can learn why our customers prefer our service.
While this webinar is aimed at giving you an introduction to our company and the services we provide, there is no obligation to buy. However, we offer every webinar participant a free trial of our Tender Premium service and an exclusive discount if you decided to make a subscription.
As already mentioned: This webinar is a free online introduction for all solution providers in the smart city sector. Participate online for free, using your preferred device (laptop, smartphone or tablet). All you need is a good internet connection and the participation link!
To learn more about our Tender Premium service, click here for more information.
We are looking forward to seeing you on December 8th, 4pm (CET).
If you missed this webinar, don't worry! We're always adding new dates to our calendar. We'll keep you informed and up-to-date about the next opportunity to join in. Sign up for our newsletter.

Are you interested in more Solution Provider services?

Thanks to our global smart city network, we also offer other services that may be of interest to you. Our focused media services allow solution providers, event coordinators, and other organisations to reach a unique (but large) smart city audience. If you're looking for a focused reach that results in lower spread losses, higher engagement with potential target customers, and increased visibility overall, we're here to help.
Additionally, we advise solution providers on ways to optimise their market strategies and get seen. We can help with concept implementation, smart city seminars, keynotes, workshops, and more. Profit from our expertise in the smart cities market to achieve your business goals.
Interested? Then check out our solution provider services.