bee smart city and Smart Cities New York have entered into a strategic partnership to help cities and municipalities across the globe in seizing the opportunities that the journey towards becoming smarter offers. The development of prosperous and livable smart cities and communities is the common vision of both partnering organizations.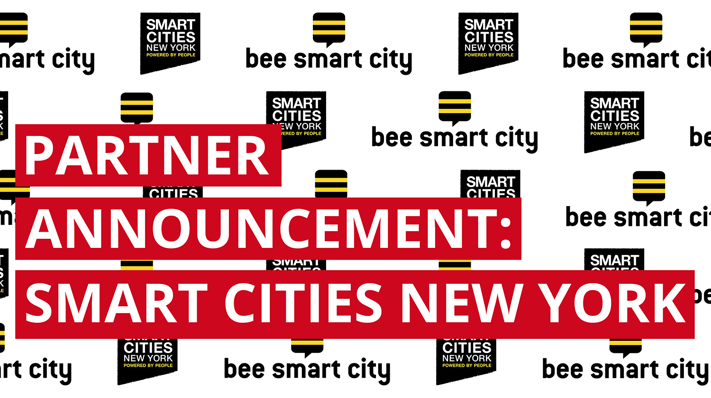 To become truly smart, cities need to follow holistic and citizen-centric strategic approaches. Through their density, diversity, creativity, and economic clout, cities are increasingly asserting themselves: testing and deploying new technologies, building 'future-proof' infrastructure, creating innovative business models and policy frameworks, and driving social and political progress.
"Smart Cities New York explores the importance of democratizing and humanizing technologies of the future to improve the quality of life for all citizens. bee smart city and Smart Cities New York follow the same vision of human-centric and holistic smart city development. Through our partnership, we can even better promote this vision and help cities to tap into valuable knowledge and expertise to accelerate their journey towards becoming smarter", states Aarti Tandon, Executive Director of Smart Cities New York.
Guided by the idea that smart cities are truly 'Powered by People', the conference brings together thought leaders from private and public sectors, academia, and NGOs to explore the political, economic, social, and technological dimensions of urban life in the 21st century. The second global conference takes place in New York City from May 8-10, 2018.


---

To receive a 20% discount on Smart Cities New York 2018 tickets, interested parties are invited to register as bee smart city delegates.
---

"Smart Cities New York is a leading forum for cities and municipalities across the globe to learn from each other and to adapt best practice strategic approaches and proven solutions to create more livable and prosperous places for and with their citizens and other stakeholders. Our partnership with Smart Cities New York will help in accelerating the development of future-proof cities and communities", states Bart Gorynski, Managing Partner at bee smart city.
With the 'Smart City Solution Database' and its global Smart City Hub, bee smart city supports cities and communities in exploring suitable strategies and solutions, facilitates the sharing of best practices globally and makes it easier to adapt or replicate smart solutions. In short, bee smart city simplifies the development of smart cities.
The 'Smart City Solution Database', provides free access to more than 330 proven smart city solutions that have been implemented in more than 180 cities around the world. Cities can easily identify best practice solutions to address urban challenges and to seize development opportunities. Companies, as smart city solution providers, can showcase their proven solutions and increase their visibility in the smart cities market.


About bee smart city
bee smart city is a digital startup established by experienced professionals and smart city experts to accelerate the development of prosperous and livable smart cities and communities around the globe. The smart city market is currently neither transparent nor digitized. bee smart city provides an efficient toolset for smart city analysis and for facilitating collaboration and the successful implementation of the best smart city solutions available. bee smart city greatly increases transparency and the visibility of cities, companies and other smart city actors. Learn more at www.beesmart.city

Contact:

bee smart city GmbH
Thomas Müller
Tel. +49 208 62801331
Email: press@beesmart.city
Twitter: @beesmartcity
About Smart Cities New York (SCNY)
Smart Cities New York (SCNY) is North America's leading global conference to address and highlight critical solution-based issues that cities are facing as we move into the 21st century. With the global smart city market expected to grow to $1.6 trillion within the next three years, guided by its "Powered by People" theme, SCNY brings together top thought leaders and senior members of the private and public sector to discuss investments in physical and digital Infrastructure, health, education, sustainability, security, workforce development mobility, to ensure there is an increased quality of life for all citizens as we move into the Fourth Industrial Revolution. Learn more at https://smartcitiesny.com.


Contact:
Smart Cities New York
Anna Recasens
Tel. +1 347-344-7660
Email: anna@smartcitiesny.com
Twitter: @SmartCitiesNY