bee smart city and Smart Cities New York are continuing their strategic partnership to help cities and municipalities develop and become more prosperous and livable. Smart Cities New York is a global event based on the core principle that cities are Powered by People.
In 2019, it's time to address urban challenges and opportunities with the central theme "The Future Is Now."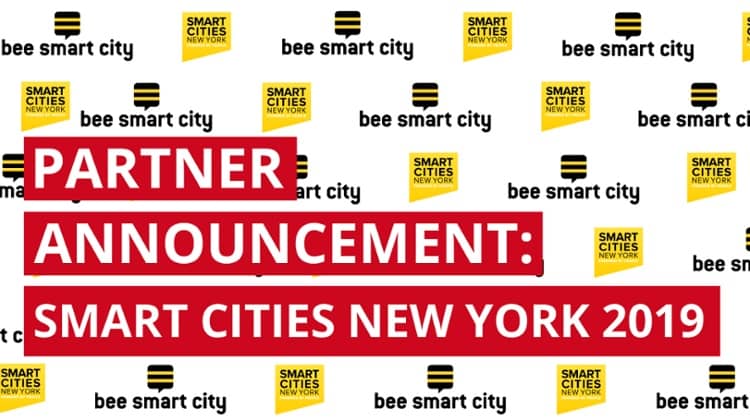 In the event, a global community of leaders and experts from the public and private sectors, including business, government, academia, civil society, and others - will bring new ideas to light. With the help of this three-day conference, topics related to innovations in physical and digital infrastructure, health, education, sustainability, security, mobility, workforce development, and more will be discussed in-depth.
In a collaborative environment, the attendees will be able to explore and gain access to the tools and knowledge they need to implement solutions, and get a step closer to making their home cities more livable, equitable, and sustainable.

The conference this year will cover topics as, sharing best practices on innovative pilot programs, understanding critical issues of digital transformation and building creative and inclusive economies and the program has much more to offer. It's an event not to be missed by those who are eager to know how cities collaborate and share innovations, as well as those who want to be among the leaders for developing better, safer and most certainly smarter cities.
The global conference takes place in New York City from May 13-15, 2019.
---

bee smart city will be hosting a workshop at Smart Cities New York this year, so take the chance and use WRKSHPSMART35 to receive a 35% discount on tickets!
---

"We are proud to partner with Smart Cities New York for the second year and are certain, that our continued partnership will help in accelerating the development of future-proof human-centric cities and communities. We are also thrilled to present our strategic model for becoming a smart city, that was published under the patronage of the German Federal Government and which will be published shortly in English globally under the umbrella of the United Smart Cities, in a workshop on May 13 at SCNY", states Thomas Müller, Managing Partner at bee smart city.
With the leading 'Smart City Solution Network' and its global Smart City Insights Portal, bee smart city supports cities and communities in exploring suitable strategies and solutions, facilitates the sharing of best practices globally and makes it easier to adapt or replicate smart solutions of leading solution providers. In short, bee smart city simplifies the development of smart cities.
The global 'Smart City Solution Network', provides free access to more than 600 proven smart city solutions that have been implemented in more than 900 cities and communities around the world. Cities can easily identify best practice solutions to address urban challenges and to seize development opportunities. Companies, as smart city solution providers, can showcase their proven solutions and increase their visibility in the smart cities market.


About bee smart city
bee smart city is the leading global smart city network, connecting more than 12,000 smart city contributors and nearly 1,000 cities around the world to share the best practice solutions, products and expertise. bee smart city uses collective intelligence as its own ecosystem and simplifies accessing and navigating the smart cities market for solution providers, cities and other stakeholders to foster sustainable smart city development.

Learn more at https://www.beesmart.city
Contact:

bee smart city GmbH
Thomas Müller
Tel. +49 208 62801331
Email: press@beesmart.city
Twitter: @beesmartcity
About Smart Cities New York (SCNY)
Cities have already become testbeds for new and disruptive technologies, and are committed to building inclusive economies, attracting great talent, and increasing citizen quality of life. They are upending outdated models and legacy infrastructure to bring efficiency and transparency to "future-proof" their cities for the 4th Industrial Revolution. We convene innovators and decision-makers who are improving life in the cities of tomorrow including: city leaders, CEOs, and startups. We take a holistic look at the innovations in technology and infrastructure that are making cities more livable, equitable, and sustainable.

Contact:
Smart Cities New York
Anna Recasens
Tel. +1 347-344-7660
Email: anna@smartcitiesny.com
Twitter: @SmartCitiesNY