bee smart city and Taiwan Computer Association (TCA) renew their partnership for the 2021 Smart City Summit & Expo (SCSE). SCSE is Asia's largest annual smart city trade show. From March 23-26, the 2021 edition of SCSE will take place as a HYBRID event in physical & virtual form, creating brand new possibilities for international audiences.
bee smart city, the leading smart city network and community, acts as media partner, supports B2B-matchmaking between international and Taiwanese Smart City companies, and will speak at SCSE this March.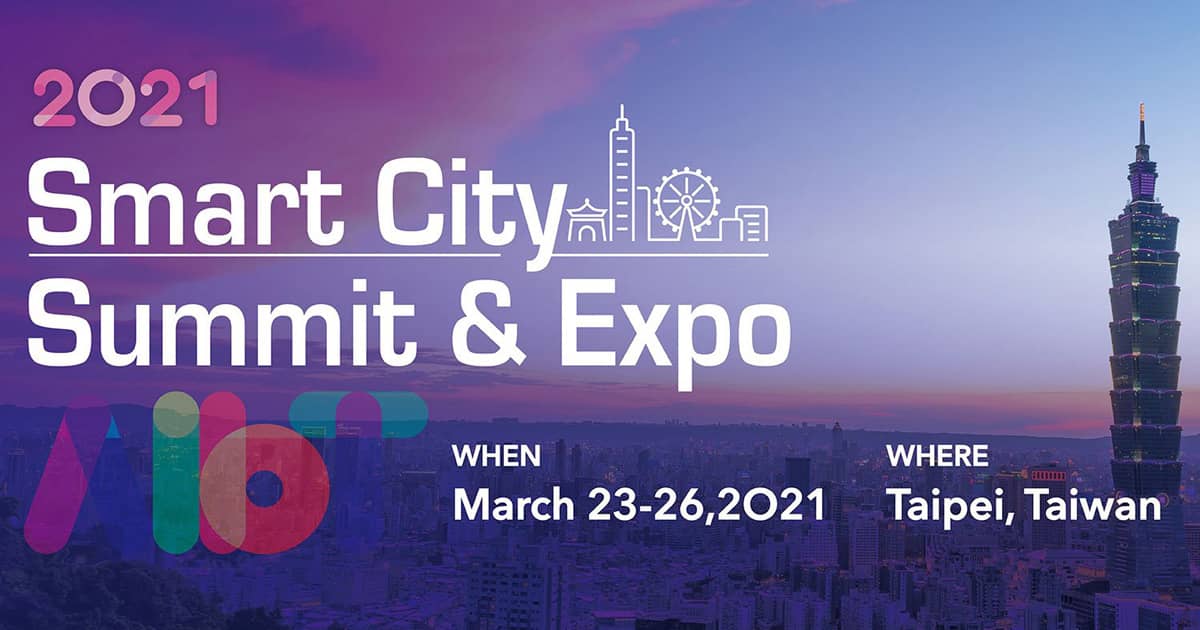 The theme of the 2021 SCSE is "AIoT Invigorates Smart City." As artificial intelligence technology develops, the applications begin to play a key role in government delivery of citizen services. Smart cities are entering a new phase of Smart City 2.0 by integrating AI and IoT technologies into services.
Featuring 50 AI startup companies related to smart city solutions, a series of forum tracks bring the latest and most innovative ideas from the industry, and abundant networking opportunities and matchmaking activities.
"We look forward to a fantastic hybrid event online and in Taipei in March. Our continued partnership with TCA and SCSE builds on the shared goal of connecting cities and solution providers from our global network with their counterparts in Taiwan and Asia to share knowledge, best practices and lessons learned as well as to forge new partnerships", states Thomas Müller, Managing Partner at bee smart city.
Conference highlights:
Mayors' Summit:

The Smart City Mayors' Summit has always been the highlight of SCSE and the largest global platform for smart cities' networking. The number of overseas delegations and city leaders increased every year and hit the record in 2019 with 128 city leaders visiting Taiwan for the SCSE. The 2020 edition was conducted online in 3 live-stream sessions involving 20 city leaders from 17 countries. 4000+ audiences joined the sessions focusing on the hot topics of smart city development under COVID-19.

CTalk: CTalk provides an open floor and networking opportunities for both city and industry leaders to share smart city projects in depth. In 2020's online edition, 20 key influencers from public and private sectors joined from across 12 countries.

Gov x Biz Webinar & Matchmaking:

2021 SCSE+ will stay connected without boundaries with our overseas partners. Taipei, Taoyuan, and Kaohsiung City will share their smart city roadmap & collaboration opportunities. City leaders or associations are welcome to bring businesses to this bilateral webinar for exploring partnerships together.
Global Hub: An international area in 2021 SCSE that features solution displays, video broadcast, and networking lounge. International participants will be able to take part and interact with visitors remotely.

World Telecom Smart City Conference:

With the spotlight on the 5G developments in smart city, 20+ global telecom operators worldwide exchanged valuable expertise and visions.

Sustainable City Forum:

Co-organized with ICLEI, the forum gathered 20+ influencers, and 2000+ participants joined online and offline in 2020.
World System Integrator Conference: The conference invited SIs from Southeast Asia to share state-of-art ideas and strategies to modernize infrastructures through digital technologies with 250+ viewers online.

AI 50: The call for the world's top AI startups is OPEN. It's the best chance to join other innovators with low cost and high rewards. The 2020 edition came out with 67 applications from 13 countries, among which 47 outstanding cases were selected.

B2B Matchmaking:

SCSE offers both individuals and groups an opportunity to E-meet through our online B2B matchmaking platform. So far, we have conducted over 500 online business matchmaking sessions for over 120 companies.

Demo tours:

We take online viewers to experience the smart technologies deployed in city services via 360- degree VR videos.
Learn more about the 2021 edition of SCSE and about matchmaking opportunities here:
---

About bee smart city
bee smart city is the leading global smart city network and community with 13,000+ members from 170 countries, aimed at empowering cities and communities to become smarter and more sustainable. We connect all smart city stakeholders to exchange knowledge and lessons learned, to share solutions and best practices, as well as to grow their professional networks and forge new collaborations. We are the partner platform of United for Smart Sustainable Cities, the global smart city initiative of the United Nations, in pursuit of the Sustainable Development Goals – especially SDG 11. Learn more at www.beesmart.city and hub.beesmart.city

Contact:
bee smart city GmbH
Thomas Müller, Managing Partner
Email: press@beesmart.city

About 2021 Smart City Summit & Expo (SCSE)
2021 Smart City Summit & Expo (SCSE), Asia's largest annual smart city trade show, will be held in Taipei, Taiwan, from March 23 to 26. Jointly organized by Taipei City Government, Taiwan Smart City Solutions Alliance, and Taipei Computer Association, SCSE has invited professionals worldwide to share their experiences in smart city development and showcase innovative solutions since 2014. Learn more at the Smart City Summit & Expo (SCSE) website.
Contact:
Taiwan Computer Association (TCA)
Shaph Su, Event Coordinator
Email: shaph@mail.tca.org.tw