The FIWARE community, with its more than 520 members worldwide, will meet physically in Las Palmas de Gran Canaria (Spain), hosted by the SPEGC and Cabildo de Gran Canaria to further drive sustainable initiatives of digital transformation in various sectors;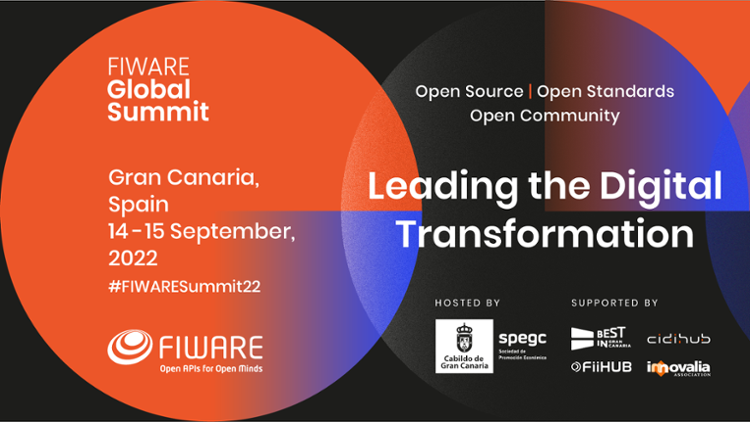 The Summit will present the latest innovations in technologies such as blockchain, artificial intelligence, digital twins or robotics with special attention to the development of data spaces and data models in strategic economic sectors such as Smart Cities, Smart Industry, Smart AgriFood, Smart Energy and Smart Water.
Special attention in the program will be given to business-generating initiatives and funding opportunities led by Digital Innovation Hubs, venture capitalists and accelerators. The development of digital skills will also be one of the cornerstones of the Summit providing live training sessions for developers and technical experts.
Berlin, Gran Canaria, June 23, 2022 - Hosted and supported by SPEGC and Cabildo Gran Canaria with the collaboration of CidiHub, FIIHub, Best In Gran Canaria and Innovalia, the FIWARE's 8th Global Summit will take place in Las Palmas de Gran Canaria (Spain), September 14-15. This is one of the leading open-source conferences for public administrations, academia, developers, technologists, thought leaders, entrepreneurs, SMEs, large enterprises and investors, that will equally gather a professional community and technological market leaders to discuss challenges and create opportunities for businesses and open innovation around the digital transformation of public administration processes, economic development, business operations and society.
This year, the Global Summit will provide the latest highlights on Open Source innovations and implementations, present more than 250 Smart Cities that use FIWARE technology, references in AgriFood, Industry, Energy, Water and Tourism, trends of the future of Digital Twins, Data Spaces, Smart Data Models, and will combine a variety of activities ranging from technical roadmaps to open calls, from expert talks to business workshops, from networking to interdisciplinary negotiations.
The Summit is organised by FIWARE Foundation with the participation of its members including Atos, AWS, Engineering, NEC, Telefónica, RedHat, Trigyn Technologies, to mention but a few, and the FIWARE iHubs network, that will bring together more than 150 renowned speakers and leading experts such as Antonio Morales (President of the Cabildo de Gran Canaria), Cosme García (SPECG, Managing Director), Francesco Bonfiglio (CEO, Gaia-X), Ana Garcia (CEO, The Big Data Value Association, BDVA), Lars Nagel (CEO, The International Data Spaces Association, IDSA), Dario Avallone (Engineering, and Chairman of the FIWARE Board of Directors), Dr. Cameron Brooks (AWS, General Manager, Europe Public Sector), representatives of the European Commission, and many others.
"We are looking forward to welcoming talented global experts, our Community as well as hundreds of participants here in beautiful Las Palmas de Gran Canaria to discuss how to progress together with open source and open standards towards innovative, inclusive, and sustainable business models around smart solutions driving the digital transformation of different sectors. We are excited to present the best technological practices of FIWARE and its members in the private sector and in smart cities worldwide. Because the Summit will be on an island like Las Palmas de Gran Canaria this time, it will allow the community and the neighbouring islands to further build on FIWARE's references and activities in Tourism and the Circular Economy", commented Ulrich Ahle, CEO at FIWARE Foundation.
The managing director of SPEGC, Cosme García added: "SPEGC is working on several programs that use smart solutions to improve public services through the Smart Gran Canaria Initiative. Hosting the FIWARE Summit and supporting startups and SMEs will improve the competitiveness of the region as a reference ecosystem of digital innovation".
The agenda of the event is targeting organisations and individuals as well as Public Administrations, ICT companies, SMEs, Accelerators, Universities and R&D organisations that are interested in the development of smart solutions based on open source and open standards technologies.
The first day, September 14th, the Summit will present the Business Conference on Smart Cities, Territories and Communities, with special focus on the topics of Smart Tourism and Destinations and the support to Sustainable Development Goals. On September 15th, the second day, participants will have the opportunity to get unique insights in domains such as Industry, Energy, Water, Agriculture and Ports, a specific programme Data Spaces, a dedicated slot for the Accelerator community and a session for FIWARE Marketplace. In addition, there will be a technology track on both days focusing on innovations in blockchain, artificial intelligence (AI), digital twins, robotics and technologies linked to the development of the data economy.
During the Summit, particular attention will be paid to entrepreneurs, digital innovation hubs, universities and the scientific community in a track focused on digital transformation initiatives, business development, funding opportunities and skills development. The participants will analyse the challenges of the creation and development of an open innovation ecosystem, where startups and SMEs have the best chances for success in the industry and where collaboration between startups and SMEs, large corporations and the public sector can be established and developed.
The conference will pay special attention to one of the currently most discussed topics: Data Spaces forming a single European data space and a genuine single market for data. International experts and business drivers will feed dedicated sessions and play leading roles in the planned Data Spaces World Café, supported by the recently founded Data Spaces Business Alliance (formed by BDVA, FIWARE Foundation, Gaia-X and IDSA), and exchange visions on impacting projects such as i4Trust. It will also be demonstrated how these organisations and initiatives are driving the creation of Data Spaces from a practical point of view.
In addition, the programme will include training for developers, including introductory sessions on FIWARE technologies, followed by hands-on sessions with FIWARE use cases in major application domains such as Smart Cities, Smart Industry, Smart Energy Smart AgriFood, Smart Tourism, Smart Water and Ports.
To receive more information about FIWARE Global Summit, watch the FIWARE Global Summit teaser video. To register and get your admission ticket, please follow the official Summit website.
Press Office:
Kseniia Chernikova, Press Manager
Press Conference contact:
Angeles Tejado, Senior Marketing Manager

About FIWARE Foundation
Together with its members and partners, FIWARE Foundation drives the definition – and the Open Source implementation – of key open standards that enable the development of portable and interoperable smart solutions in a faster, easier and affordable way, avoiding vendor lock-in scenarios, whilst also nurturing FIWARE as a sustainable and innovation-driven business ecosystem. Serving diverse domains, FIWARE is today the world leading Open Source technology for the digitization of smart cities and regions.
The foundation achieves this through its offering of reference architectures, standard building blocks, roughly 1,000 Smart Data Models, a standard API, its 28 Innovation Hubs (iHubs), the FIWARE Marketplace, and the support of its fast-growing global community that shares a common vision and combines their efforts toward making FIWARE the Open Source technology of choice for industries, governments, universities and associations to reach their full potential and scale up their activities, thereby, entering new markets and growing their businesses. Founded in 2016, the foundation has Atos, AWS, Engineering, NEC, Red Hat, Telefónica and Trigyn Technologies among its 520+ members. For further information, visit fiware.org, refer to FIWARE's Press Kit and follow the organization on Twitter, LinkedIn, and YouTube.

About SPEGC
The Society of Economic Promotion of Gran Canaria (SPEGC) is an entity run by the Cabildo of Gran Canaria, aimed at creating new opportunities for economic development through the creation of a favourable environment for investment and the promotion of innovation in the productive system. Both the SPEGC and its investment attraction initiative 'Best in Gran Canaria' prioritise the digital/ICT/smart sector as one of the island's strategic references for attracting talent, increasing employability and the creation of economic and social value.
To achieve these goals, the SPEGC works with various instruments focused on supporting entrepreneurs, promoting business growth and the island to attract investment, companies and professionals. These instruments, which include technical advice, flexible training tailored to companies, a co-investment line for technological projects, space and offices in the Technology Park of Gran Canaria, acceleration programmes and sectoral incubators among others, are designed to provide personalised responses to the specific demands of companies, entrepreneurs and professionals.