Dublin is one of Europe's most vibrant capital cities. Situated on the mouth of the River Liffey, this Irish metropolis has a population of more than 1,300,000 citizens, and hosts some of the world's leading technology companies and financial institutions. Like many large cities, it's not without its fair share of challenges. However, Dublin is rising to those challenges, and has made a name as one of the most innovative and forward-thinking cities in Europe. Thanks to the Smart Dublin initiative, the city is well on its way to becoming a shining example of just how smart a smart city truly can be.
The Smart Dublin Initiative
The Smart Dublin initiative was founded in 2016. It was launched by four local authorities, Dublin City Council, Dun-Laoghaire Rathdown County Council, Fingal County Council and South Dublin County Council, as a means of exploring new technology and working practices to improve the quality of life for the citizens of Dublin and its surrounding regions.
The initiative's main goal is to future-proof the city by innovating, trialling, and implementing new solutions to the city's current and potential future challenges. As one of Europe's most vibrant and exciting cities, and home to global technology companies, large financial institutions, and world-class learning centres, Dublin is fertile ground for exploring smart urban solutions.
To help turn these challenges into opportunities, the Smart Dublin initiative relies on collaboration and partnerships to help drive new ideas. To streamline the process, Smart Dublin has established a number of pioneering Smart Districts across the city, with a focus of developing smart solutions for six key themes: Environment, Economy, People, Mobility, Government, and Living.
This is an overview of what Smart Dublin has achieved, and hopes to achieve in the future.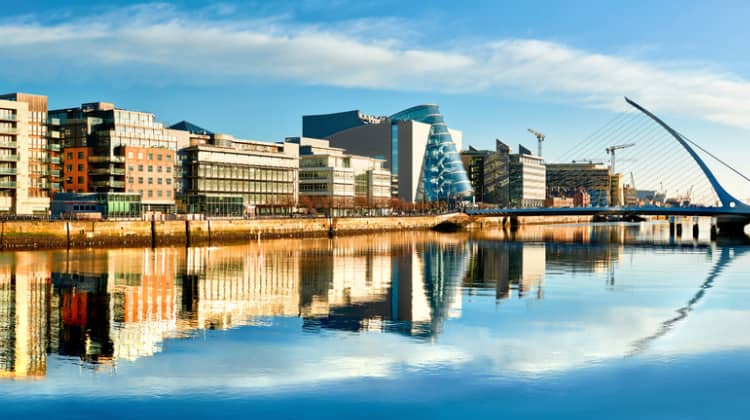 Smart Districts
The Smart Dublin program governs three Smart Districts across the city, and a fourth smart initiative outside of the city limits. These Smart Districts have been carefully selected to act as testbeds for smart innovations that could be replicated city-wide. Each of these districts is unique, with different focuses. Here a quick overview of these Smart Districts, and some of the ways they're helping to improve their resident's lives.
Smart Docklands
Dublin's Smart Docklands area is an exciting testbed for new Smart City initiatives. Dublin's Docklands is home to the city's leading technology companies, with over 40,000 employees and 26,000 residents, making it an ideal testbed for the development and implementation of new Smart City ideas.
Dublin City Council and Trinity College's CONNECT Centre have teamed up create the "Smart Docklands" initiative. This initiative aims to connect small and medium-sized businesses, government groups, and local residents, bringing them together to help troubleshoot any problems that they may be facing. It promotes both innovation and collaboration to find smart solutions to the area's problems.
Not only that, the Smart Docklands initiative also promotes the testing of technological prototypes, pilot projects, and other innovative solutions.
Today, the Smart Docklands project has over 250 participants actively taking part in the scheme, with ideas and problems ranging from waste management and flooding alerts to improved connectivity and congestion easing. The scheme has also attracted new strategic global partnerships from companies such as Google, Microsoft, IBM, Vodafone, Softbank, and Mastercard.
This pioneering initiative has also won and received nominations for numerous awards, such as a nomination in the World Smart City Awards in Innovation Idea Category, shortlisting for the TCD Registrars Civic Engagement Awards, the Global No.1 Financial Times fDi Intelligence - Smart Locations of the Future Strategy Category, and the winner of the World Small Cell Award for the Dockland's 5G projects.
Smart Sandyford
The Smart Sandyford initiative focuses on developing Dublin's Sandyford business district. The scheme is a joint venture between the Dun-Laoghaire Rathdown County Council, Enable Research Centre and the Sandyford Business Improvement District, to help develop this prosperous suburb into a fully-fledged smart district.
The Sandyford area is already a bustling district that more than 1,000 businesses call home. These businesses range from small microbusinesses to multi-national companies such as Facebook, Google, Microsoft, AIB, and large financial corporations. Together, they employ more than 25,000 workers. The district also has approximately 5,000 residents too.
The aim of the initiative is to identify the challenges that the city faces and find smart solutions to solve these problems. The initiative works with companies and local residents to discuss challenges such as mobility and climate change, and find sustainable means of overcoming these challenges.
Some of the district's successful projects include free public WiFi, versatile public furniture, taxi sharing programs, and a concise Internet of Things for Small Business Innovation and Research.
Smart DUBLIN CITY UNIVERSITY (DCU)
Dublin City University, or DCU for short, plays an important role in Dublin's smart city plans. The campus is already a hub of progressive thinking and innovation, with plenty of resources that can easily test and implement many smart city ideas.
The campus is home to the Insight Data Analytics SFI Research Centre which provides analytical data, which is an exceptional resource for a government looking to transform their city into a smart city. However, it's just one of many exciting on-campus research centres that are supporting Dublin's evolution into a smart city.
The "Smart Campus" features free WiFi, fully-connected campus facilities, and a pioneering noise-level project. Apart from the campus, the Smart DCU initiative also includes a collaborative project between the GAA, Dublin City University, and Intel, in the form of a "Smart Stadium". The Croke Park Smart Stadium is being used as a testbed for smart initiatives and pilot projects, with a particular focus on IoT innovation.
Smart Balbriggan
Dublin's smart city ambitions extend outside of the city limits. The Smart Balbriggan campaign is an exciting project that focuses on Balbriggan, a small town located 32km north of Dublin. Known as the youngest town in Ireland, this culturally diverse hub has been designated as a "self-sustaining town" according to the new Eastern and Midland Regional Assembly (EMRA,) Regional Spatial and Economic Strategy (RSES) 2019-2031. The designation has highlighted Balbriggan as an area with a rapid population growth but a weak employment base.
The Smart Balbriggan plan is to invest in the town to improve its employment options and services, to make it a more sustainable venture. To do this, the local government used a number of public engagement strategies to lay the foundations for "Our Balbriggan 2019 – 2025 Rejuvenation Plan." This plan is a partnership between Fingal County Council and Smart Dublin that focuses on community building, job creation, economic growth, and improved mobility services.
Smart Dublin: Key Themes For Smart City Development
Aside from the Smart Districts, Dublin's local authorities are also experimenting with a variety of smart city projects and implementing them where possible. These smart projects encompass a wide range of ideas, focusing on six key themes.
Smart Environment
Smart Environment asks the question: How can technology help build a greener, more sustainable, and more resilient region? In response, the city has trialled a range of pilot projects to help solve the problems of climate change. One of these projects is an ambitious Internet of Things program that connects devices and records energy consumption in a specific area. The experiment has yielded data that has allowed for the optimization of energy use in the future, reducing the area's direct CO2 emissions.
Other projects include: drones combating illegal dumping; flooding innovation projects; flood risk management; and Google Environmental Insights Explorer - a data-driven decision-making system.
Smart Economy
Smart Economy asks the question: How can we use smart technologies to improve liveability and competitiveness? The Dublin City Council has come up with a number of interesting ways to help streamline the city's economy. One of the most interesting projects is the Monitor program, which is managed by the Economic Development and Local Enterprise Office. It's an economic bulletin that provides economic data and insights to businesses and investors. This freely accessible information will allow businesses to plan better, and attract new investors into the region.
Other projects include: MyDoorStep, a transparent and concise house buyer's guide; visitor pattern and flow studies of the Hugh Lane Gallery, to help optimize and analyse visitor trends; and a smart bins program to optimize waste management and collections, reducing costs and boosting ad revenue.
Smart People
Smart People asks the question: How can local government use technology to better engage with Dubliners? It also asks how can governments get people more involved with improving their city? To help answer those questions, the Dublin Government has established initiatives focusing on outreach programs and social media. These programs include consultations, surveys, social media campaigns, and more, to include citizens in decision-making processes and allow their voices to be heard. The government also has a social media analysis using Natural Language Processing (NLP) to help understand the sentiment behind resident's opinions.
Other significant projects include a focus on innovative grant accessibility. These projects allow community groups to pitch their ideas for government funding. Similarly, the government also launched an initiative to digitalize the grant application process, making it more user-friendly and accessible for everyone.
Smart Mobility
Smart Mobility asks the question: How can we better manage pedestrian, cycle and vehicular flows and reduce congestion? Smart Dublin is looking at a number of intelligent transport solutions to help streamline traffic, improve public transport, and make mobility accessible and safe for everyone. As one of the most congested cities in Europe, providing car alternatives is a big part of Dublin's smart city strategy. The city's Mobility As A Service (MaaS) program has helped the government draw up a roadmap for the city's smart future.
This roadmap includes: cycling data collection to help implement new bike routes; EV-charging work groups that will help facilitate the city's shift to EVs; taxi optimization programs; safe transport routes for school children; last mile delivery systems; and a smart mobility hub that will actively promote sustainable travel solutions.
Smart Government
Smart Government asks the question: How can we use technology and data to deliver better services and make better decisions? To help the government better serve the people, Smart Dublin has established a number of exciting projects. These include Dublinked, an innovative non-personal data repository and network that is freely accessible to anyone. This includes passenger information on public transport, to the footfall counts of local pedestrian walkways. Data is the future for smart governance, aiding decision-making processes and future-proofing the city.
Other exciting projects include: 3D modelling to aid spatial planning for city development; drone registration and management protocols; and a smart Internet of Things for asset management.
Smart Living
Smart Living ask the question: How can collaborative technologies help bring communities together and improve citizen well-being? Using digital technology and smart infrastructure, Smart Dublin aims to improve the lives of local residents by improving their environment and overall health. The initiative has many interesting projects. These range from the addition of smart furniture to the city streets, to apps that catalogue the walkability and rollability of areas, making them more accessible for all citizens.
Other Smart Living projects include: WIFI4EU, a comprehensive free WiFi services for all of the city's residents; connected life saving equipment, such as connected life buoys, that updates the status of each life buoy, alerting the government when one is reported missing or stolen; and smart street furniture with integrated solar powered phone and e-bike charging ports, WiFi, digital advertising space, and smart bike locking systems.
With dedicated smart districts and a focus on these key themes, Dublin is well on the way to becoming a sustainable and future-proof smart city.


Access Hundreds of Smart City Solutions for Free
Dublin is one of many cities that innovate and implement smart city solutions to improve the quality of life for all citizens and to increase economic prosperity. Join the global smart city network and community to discover hundreds of solutions and to connect with thousands of smart city experts and enthusiasts to share knowledge and explore collaboration opportunities..
---

Read related Articles:
---

Image Source:
iStock, Credit: anyaivanova, ID: 959498524