bee smart city partner Leading Cities is now accepting applications for its second edition of the AcceliCITY smart city startup accelerator. Last year's inaugural edition of the contest worked with 27 semi-finalists selected from more than 550 applications from over 40 countries.

"The goal of the AcceliCITY program is to facilitate sustainable growth, resiliency and quality-of-life improvements for cities around the world by addressing the critical needs of Smart City startups," says Michael Lake, President and CEO of Leading Cities. "These startups are developing the innovative solutions to municipal challenges in the 21st century.".

AcceliCITY offers the chance for startups to secure what they need most - paid projects to build their portfolio and validate their solutions. This edition will focus on the challenges of smart water and smart mobility through pioneering partnerships with the cities of New Bedford, Massachusetts and Mount Pearl, Canada. In addition, all applicants will compete to be selected for fast-tracking to the Urban Resilience Challenge. Those selected will automatically advance to the semi-finalist stage and compete for a 1st Place prize of $75,000 and 2nd Place prize of $25,000.
"Our digital transformation journey is rooted in two beliefs, that technology knows no borders and that small cities can be smart cities" said Steve Kent, Chief Administrative Officer for the City of Mount Pearl. "Mount Pearl is working to be the smartest little city in Canada and this partnership with AcceliCITY propels that vision forward, giving us access to a pool of innovators that we otherwise wouldn't connect with. We are excited to work on this process. We look forward to uncovering how technology can help solve our challenges in water quality and consumption, and more."
bee smart city supports all finalists of the accelicity program
In addition to competing for the opportunity to implement these pilot projects, all finalists of the AcceliCITY program will receive additional support and prizes including global visibility. The leading global smart city network "bee smart city" supports the finalists of the AcceliCITY competition with premium services totaling nearly $100,000 to help them connect with over 940 cities and communities worldwide.
"Supporting smart city startups to engage with cities and communities in pilots to test their solutions is imperative to drive urban innovation. We are proud to continue our partnership with Leading Cities and the AcceliCITY program in the second year. We also encourage all startups to add their solutions to our global smart city network to increase their visibility and grow their network", says Bart Gorynski, Managing Partner at bee smart city.

At the core, AcceliCITY leverages the Leading Cities network of forward thinkers in the public, private, academic and non-profit sectors. The program will lower the cost of innovation for startups as well as cities and corporations by streamlining the innovation and sales cycles for Smart City solutions. With growing operations in ten countries and an international network of mentors, investors, and partners with ready access to decision-makers in city governments, Leading Cities' AcceliCITY program can connect startup's smart solutions directly with business users and provide the proper channels and know-how to deploy in cities.

Leading Cities is a global non-profit organization that improves the quality of life in cities through the development of "Smart Ecosystems". The organization is a pioneer in city diplomacy, sharing best practices and promoting Smart City innovations to cities worldwide.


More information and applications are available at AcceliCITY.com. The deadline is April 30th, and accepted startups will be announced on May 15th 2019, with the web-based curriculum beginning in June followed by an intensive workshop based boot camp for Finalists in Boston taking place in the Fall.
---

Read related Articles:
---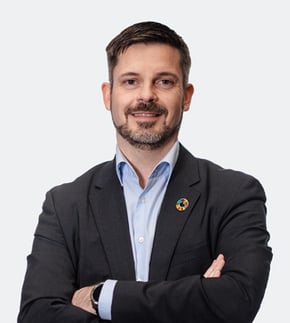 Thomas Mueller
Thomas Müller is Managing Partner at bee smart city. With more than 15 years of public sector experience, he is an expert on smart city strategy and projects.