Self-powered smart urban street furniture can help cities and communities to increase the attractivity of public spaces by providing public services, information, and connectivity, while at the same time enabling the collection of valuable data for optimizing processes and reducing costs.
Cities are increasingly adopting smart street furniture solutions
Whether we talk about digital signs, smart benches or even fully-integrated smart bus stops – there are a lot of new products available in terms of smart urban street furniture. A growing number of cities and communities throughout the world are adopting these self-powered products to make life easier for citizens and visitors and to optimize the management of public infrastructure or to provide connectivity such as free WiFi.
Startups offer excellent products that use the latest technology
This market development is led by startups that have employed the newest IoT technology to create benefits for cities. Some great examples are the U.S. startup and MIT spin-out Changing Environments, Inc (Soofa Bench/Soofa Sign), SmartCitiesLab from Spain (Smartquesina Bus Stop & Bench), Include ltd. from Croatia (e.g. Steora Bench) or the Smart Palm Project from Dubai.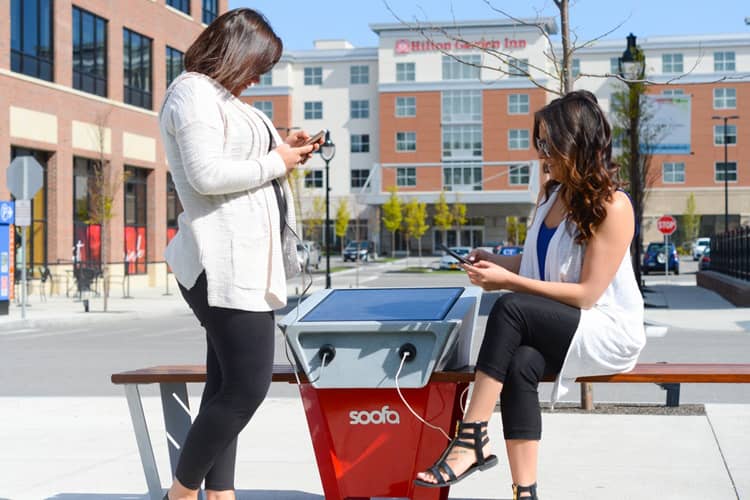 Picture: "Soofa Bench" by Changing Environments, Inc. (http://www.soofa.co/)
Hundreds of Soofa benches (see picture above) of Changing Environments, Inc. have been installed across some 65 cities in the US and Canada by mid-2017. This example shows, how fast the adoption rate by cities and communities is. And these agile smart cities startups are already developing new products, like digital signage solutions (see picture below) to make cities smarter.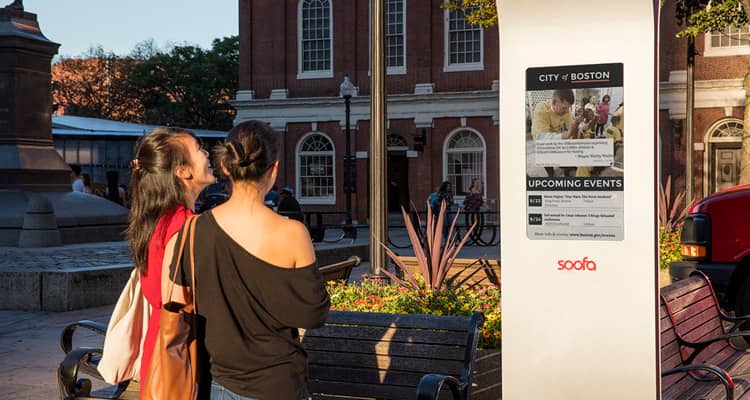 Picture: "Soofa Sign" by Changing Environments, Inc. (http://www.soofa.co/)
Why should your city or community consider this trend?
Because smart urban street furniture provides a range of benefits for government and citizens:
Free solar-powered phone/electronic device charging points
WiFi connectivity
Delivery of public services and citizen information on screens that can be updated easily
Educational purpose in terms of renewable energy
Saving energy that would otherwise be consumed by electric powered street furniture (energy provided by the city) or in private households/companies (charging of electronic devices) – thus also leading to lower costs
Collecting big data to improve public services (e.g. pedestrian traffic, use of public facilities, comparison of different locations)
The traditional "advertisement function"
With the smart city movement accelerating around the globe, it is only a matter of time before you will find smart urban street furniture in a public space within your region.

Find out more about smart street furniture and other smart city solutions in our solutions database. Get FREE access to hundreds of SMART CITY SOLUTIONS that have been implemented successfully in over 1,000 cities around the world. Join the largest global smart city network and community!
---
Read more Articles:
---

Have you seen and used smart urban street furniture in your city or community yet? We are looking forward to your opinion on smart urban street furniture! So please use comments for additions and suggestions.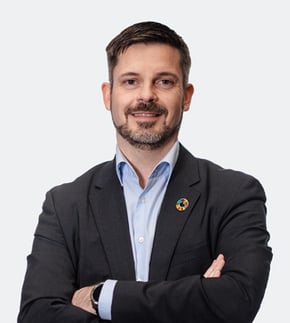 Thomas Mueller
Thomas Müller is Managing Partner at bee smart city. With more than 15 years of public sector experience, he is an expert on smart city strategy and projects.