The digital association BITKOM has presented the results of the Smart City Index 2022. The Smart City Index highlights the progress of major German cities in terms of digitization. This makes it the most comprehensive digital ranking of German cities.

Once again, all German cities with 100,000 or more inhabitants were under the microscope for this year's Index. A total of approximately 11,000 data points from 81 major cities were collected, reviewed, and analyzed.

The main evaluation process focused on five key urban categories: Administration, IT and Communication, Society, Mobility, and Energy and Environment. Each category included 36 indicators, which in turn were subdivided and categorized by 133 parameters.

Overall RANKINg
Hamburg once again defends its title with 86.1 out of a possible 100 points. However, the gap between the top cities is narrowing. Munich is catching up and in an impressive second place with 85.3 points, followed by the city of Dresden. Dresden made it onto the winners' podium for the first time with 81.6 points! Cologne, however, wasn't so lucky. Unlike last year, the famous Cathedral City didn't make the podium, and is now in 4th place with 79.4 points, followed by Stuttgart (5th place with 78.1 points), Nuremberg (6th place with 77.6 points), Aachen (7th place with 77.3 points) and Bochum (8th place with 77.0 points). Düsseldorf (9th place with 76.6 points) and Darmstadt (10th place with 75.3 points) rounded up the top 10.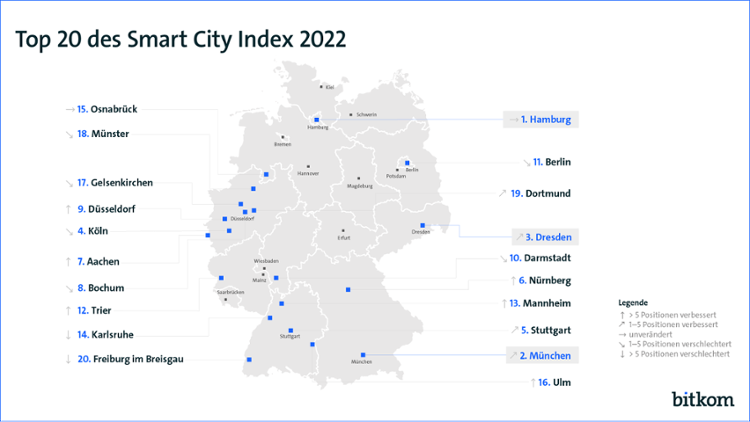 Ranking in EACH CATEGORY


1. ADMINISTRATION
In the Administration category, the top 3 ranked cities are:
Nuremberg (87.3 points, 1st place, +2 places compared to last year)
Heilbronn (86.9 points, 2nd place, +36 places improvement compared to last year)
Düsseldorf (86.7 points, 3rd place, +31 places increase)
2. IT AND COMMUNICATION
The top three cities in the category IT and communications are:
Gelsenkirchen (88.1 points, 1st place, change: +3 places)
Munich (87.5 points, 2nd place, change: +1 place)
Hamburg (85.5 points, 3rd place, down two places from the previous year)
In all of these cities, the index for online appointments, service portals, and payment, in particular, rose enormously.

3. EnergY AND ENVIRONMENT
In the category of Energy and Environment, the top 3 are composed of the following cities:
Paderborn (87.3 points, 1st place, change: +13 places)
Ulm (80.1 points, 2nd place, change: +40 places from the previous year)
Trier (79.8 points, 3rd place, +3 places)
Ulm sets an impressive example here with the highest achievable index of 100 in the areas of environmental sensors and charging infrastructure.

4. Mobility
The top 3 in the category of Mobility are:
Nuremberg (94.2 points)
Hamburg (93.7 points, 2nd place)
Berlin (92.2 points, 3rd place)
Here, all three cities score with an index of 100 in the area of smart traffic management and modality.

5. SOCIETY
In the category of society, Hamburg is still in first place with 98.1 points and almost achieves the highest score to be reached in all areas.
Hamburg (98.1 points)
Dresden (95.0 points)
Dusseldorf (93.9 points)
Dresden has risen one place from the previous year and is in 2nd place with 95.0 points. Düsseldorf has improved by a whole 17 places and is in 3rd place with 93.9 points.
All three cities achieved the index 100 in the areas of public participation, digital scene, and geodata portal.


SUMMARY
This year, Hamburg was again able to defend its first place. However, the city's lead over the competition has noticeably narrowed. One of the most notable feats displayed in this Index comes from some of Germany's smaller cities, which are rising to the challenge of digitization and fighting for high honours in the ranking.
Download the complete Bitkom Smart City Index 2021 report as a PDF file in german!

---

Read more articles on smart cities:
---
Image source:
Bitkom,
Web-Grafik: "Top 20 des Smart City Index 2022"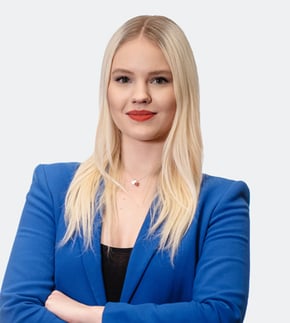 Kimberly Rittner
Kimberly Rittner is responsible for Social Media at bee smart city. She is a smart city enthusiast with a keen interest in smart technology and how it can enrich the lives of citizens, both on the streets and in their homes.