In a 2018 report completed by the Eden Strategy Institute, 12 of the globe's 20 smartest cities were located in the USA. Founded upon a spirit of innovation, it is perhaps no surprise that many of the country's smart cities are so high-ranking, providing inspiration to other cities all over the world. Following our exploration of 4 up-and-coming North American Smart Cities in Part 1, we've chosen to take a brief look at 4 of the most prominent smart cities in the country in Part 2. From 2018's highest ranking smart city worldwide, New York, to its start-up hub, San Francisco, we'll take you through some of the smartest initiatives the US has to offer.
Seattle
What: Washington State's largest city, Seattle has a prominent tech industry - with Microsoft and Amazon HQs there - but is also surrounded by nature: water, mountains, evergreen forests, and thousands of acres of parkland.
No. Inhabitants: 725,000.
Smart City Focus: Data privacy and sustainable buildings.
Some of Seattle's Smart City Projects:
MetroLab Network: created in 2015 as part of the White House Smart Cities Initiative, the Metrolab network facilitates university-city partnerships with the aim of creating "living labs" for testing technological solutions across the country. The University of Washington and City of Seattle joined the network in 2015.
Comprehensive municipal privacy programme: a framework based on a core set of privacy principles and policies that establishes the obligations and requirements of city departments regarding the management and use of data, and assigns internal 'Privacy Champions' to support their implementation.
Startup hub: Seattle is one of North America's most prominent startup hubs. This is partly because it is one of the only North American cities with more than 1,000 open data sets. While this is a transparency measure, it also supports the growth of startups, especially those who create apps and technologies that improve mobility and quality of life in the city.


New York City
What: "The Big Apple" is one of North America's more obvious smart cities and ranked as IESE's number one global smart city in 2018. It is located at the Southern tip of the state of New York, on the East Coast of the USA, and is well-known for its dazzling skyscrapers, touristic monuments and huge Central Park.
No. Inhabitants: 8,622,698.
Smart City Focus: stringent data standards and pioneering smart sustainability.
Some of New York's Smart City Projects:
Strong Overarching Vision: the PlaNYC 2030, an initiative by Mayor Michael Bloomberg, was created to promote sustainability. The plan provides solutions for developing transportation through smart technologies and addressing many of the challenges associated with New York's rising population and declining infrastructure.
Citizen's Data: New York City has introduced a range of initiatives that promote the responsible use and handling of citizen data. For example, the NYC government has developed a set of Internet of Things (IoT) Guidelines that determine privacy standards for the deployment of IoT devices in public spaces. The city has also recently introduced legislation mandating the creation of a task force to monitor the public sector's use of algorithmic decision-making systems.
A WiFi City:


Free Transit Wireless WiFi: users of New York's public transport network have access not only to free public WiFi but also to mobile network service (for the four major U.S. wireless carriers: AT&T, Sprint, T-Mobile and Verizon) and a public safety band. Free public WiFi is also available in all 277 underground subway stations in the city.
Public Space WiFi: there are a network of public WiFi kiosks across the city's streets which also contain charging stations and information portals.
Open data: New York has more than 2,400 databases open to the public.
Internal Lighting Upgrades: the NYC government launched the Accelerated Conservation and Efficiency (ACE) programme in 2013, with the aim of making their buildings' lighting more sustainable. The programme has spent $350 million in funding, across more than 650 buildings owned by 16 city agencies, much of which has gone to LED lighting retrofits. Through this programme, they estimate that they are saving over $800,000 per year and cutting around 900 metric tons of GHG emissions.
Air-Quality Monitoring: The NYC department of Health and Mental Hygiene has been conducting air quality surveys since 2008. They have 75 temporary monitoring stations that are installed for a period of two weeks at a time and 8 permanent air monitors that report data at 15-minute intervals. This programme reports important data that allows NYC government to implement relevant measures to improve air quality. For example, the programme discovered that a low-cost heating oil, used in very few NYC buildings, was causing more air pollution than all the vehicles in the city combined. A number of oils were then banned.

---
"As a world metropolis, New York City plays a pioneering role in Smart City development! The urban living spaces develop daily and provide a smart environment for living and working.", Bart Gorynski, Managing Partner at bee smart city states.


---


San Francisco
What: San Francisco is known for Silicon Valley, so it comes as no surprise that it is one of the US's most prominent smart cities. Based in Northern California, on the West Coast of the USA, it is the second most densely-populated city in North America.

No. Inhabitants: 870,887.

Smart City Focus: Civic engagement, IoT and a strong startup ecosystem.
Some of San Francisco's Smart City Projects:
Open Data: San Francisco has developed an Open Data Release Toolkit to help municipal officials assess the utility and value of publishing a dataset against risks of re-identification. The toolkit provides leaders with a number of clear, actionable processes for minimising these risks, allowing the city to use and release data in a more responsible, privacy-preserving way.
Startup Ecosystem: San Francisco quite clearly has a strong entrepreneurial ecosystem - it is the home of many of the world's most famous technology startups - Airbnb, Craigslist, Uber, Lyft, Dropbox and Twitter, to mention just a few. This ecosystem is mostly concentrated around the Bay Area and Silicon Valley but also features within the centre of the city too. San Francisco's start-up ecosystem is supported by the Mayor's office for Civic Innovation, launched in 2012 by then Mayor Edwin M.Lee and now attracts tech talent from across the world. Although prices are now rising in the area due to this, it continues to be an exciting urban hub for technological innovation - something that is unlikely to change anytime soon.
Sustainable Urban Development: San Francisco has been a leader in sustainability and smart urban development for years, as evidenced by their consistently high ranking in the American green cities rankings (they came second in 2018).
Eco-districts: in 2012, the San Francisco Planning Department launched plans for four different types of "eco-districts" within the city designed to lower greenhouse gas emissions and reduce waste, water consumption and energy use.
Buildings: San Francisco is now home to 302 LEED certified buildings.
Waste: San Francisco aims to be waste-free by 2020 - by 2016, it was already 78 percent of the way there. In 2007, San Francisco was the first US city to ban plastic bags; all of the city's shops, restaurants, campuses, and residential homes have containers for waste subdivision. Since 2009, San Francisco has also led one of the largest urban food waste and composting programs in the US. Greenhouse gas emissions have consequently decreased by 12% since the 1990s.
Water: San Francisco has been working on water-usage for many years now; as a result, it has reduced its water consumption to only 49 gallons of water a day on average, compared to the national average of 80-100 gallons. One of the reasons behind this - besides residents' personal dedication to saving water - is the free water-saving devices that the municipality offers to residents and businesses, such as high-efficiency shower heads.
Prioritising Smart Mobility Initiatives: the San Francisco Municipal Transportation Agency (SFMTA) is working to improve transit while also making it more environmentally-friendly, including aiming for zero carbon transit. In 2016, the city secured $11 million in funding from the U.S. Department of Transportation for six innovative projects aimed at reducing traffic congestion and creating a safer and more efficient transportation system.
Eco-friendly vehicles: more than half of San Francisco's public buses and light rails are zero emissions and the remainder will transition to hybrid diesel by 2020. According to rules set out by the city's Healthy Air and Smog Prevention ordinance in 1999, more than 700 "cleaner air vehicles" have been introduced to the city, which function on compressed natural gas, hybrid, and electric sources of energy.


Boston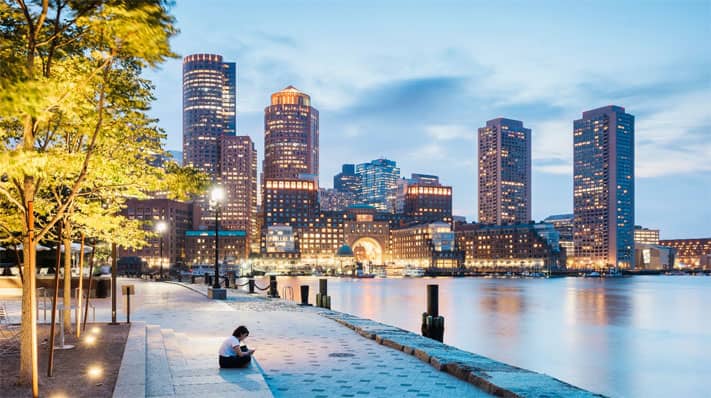 What: Boston is Massachusetts' capital and largest city. Founded in 1630, it's one of the oldest cities in the U.S and is known for its link to the American Revolution and its high-ranking universities. Boston is making a specific effort to reach smart city status, with a dedicated city hall department: the Office of New Urban Mechanics.
No. Inhabitants: 673,184.
Smart City Vision: Public health and social services
Some of Boston's Smart City Projects:
A Smart City Pioneer: Boston was one the first cities to launch experimental smart initiatives in 2010 and has a comprehensive "smart masterplan". Led by then Boston Mayor Thomas M. Menino, the vision for city was to be a host for innovation.
Innovation District: Boston's Seaport was identified as its central Innovation District in 2012. Boston then became the first official US city to have an innovation district among 80 others around the world. The 1000 acre waterfront campus created in the Seaport has added over 5000 new jobs and stimulated the creation of over 200 new companies.
Civic Engagement: civic participation in smart development is one of the core pillars of Boston's "smart masterplan".
One of the ways it is doing this is via its "App Showcase" webpage, part of the official City of Boston website, which gives information about the apps that city-dwellers can use to take part in the city management. The city's flagship app - BOS:311 - allows citizens to report service problems, like potholes or graffiti. Other apps another enable citizens to receive parking information and support, get regular updates on street conditions, and even track their child's school bus.
Another great initiative is "Participatory Chinatown," a video-game simulation that allows local residents - particularly those that are typically socially excluded - to become more involved in urban planning and development.
E-government: through their many civic apps, such as Street Bump and Citizens Connect, Boston is able to gather data from citizens' smartphones and improve the city's operations and public services. More than 150 transactions with the city can now be completed 100% online.
City Hall to Go: inspired by the food truck revolution, this incredibly innovative service brings government services to underserved communities via staffed food truck vehicles. The initiative was aimed at increasing access to services and helping to boost civic engagement and trust, particularly among typically marginalised urban demographics. It has been a great success: since August 2013, there has been a 250% increase in citizen-municipality interactions.
Tackling transport inequity via smart technologies: the city's Go Boston 2030 campaign is a multi-pronged action plan to address transportation inequity via, among other initiatives, Neighborhood Mobility microHUBs. These HUBs are digital kiosks placed throughout the city that provide real-time data to help people to make informed transport decisions, also encouraging people to use more efficient public transit options like buses, trains, bike-shares, car-shares, and more.
Smart traffic-management: dynamic traffic signals are being introduced in highly congested districts to ease delays by allowing traffic lights to respond intelligently to traffic flows. The traffic management center has also partnered with Waze to supplement its own live feeds with Waze data to better respond to real-time conditions; the microHUBs will also be equipped with smart sensors to help improve transportation efficiency.


While some of these cities may be more "obvious" North American smart cities, many of their initiatives are not so well-known - Boston's City Hall to Go, for instance - and could provide useful inspiration to other global cities faced with similar problems. Examining such prominent examples of smart cities in one of the most economically-developed nations on the planet gives us an insight into some of the universal foundations of successful smart cities: strong leadership commitment to smart city transformations, a comprehensive smart city vision, solid investment in smart city initiatives, the importance of including sustainability as a key feature of smart city strategy, and the clear need to focus on civic engagement in smart city projects. These lessons help us to establish some of the principles cities everywhere should adopt during their smart city transition. Stay tuned for our next edition of Rising Smart Cities, coming to your country or continent sometime soon!
If you are looking for solutions and partners, join the world's largest smart city solution network and community for free, and connect with thousands of members and potential partners on bee smart city. Explore hundreds of smart city solutions that have been implemented in cities across the globe.
---

Read related Articles:
---

Image Sources:
iStock ID: 901879016 / Credit: Filippo Bacci, iStock ID: 615398376 / Credit: TomasSereda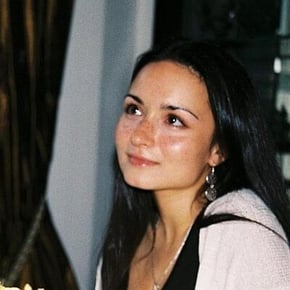 Lily Maxwell
Lily is a freelance writer, translator and content-creator, specialised in smart cities and urbanism. After studying at the University of Cambridge, she moved to Barcelona and is now based between Spain and England, working with several different urban-focused European organisations. She speaks French, Spanish and English, and aims to tackle German and Italian next!