On the ­8th of September 2020, Horst Seehofer, Federal Minister of the Interior, Building and Community, announced the decision that 32 Smart City Model Projects will be funded with around 350 million Euros in the second round of the national funding programme "Smart City Model Projects". In the first round of last year, 13 Smart Cities were selected and funded with the aim of accelerating urban digital transformation in Germany.

This year's funding program was increased by 500 million Euros on the occasion of the economic and future package decided in June 2020. The funding volume thus amounts to a total of 820 million euros for Smart City model projects in 5 planned application rounds.
According to Federal Minister Horst Seehofer, the increase in capital is "a powerful impetus for the digitization of German municipalities".
With the Smart City Model Projects Program, the German Federal Government is helping municipalities to strategically shape urban digital transformation by funding the development of integrated smart city strategies and their implementation. The funding program focuses on cross-sectoral initiatives that increase livability and prosperity within cities that can be adapted by other German municipalities.
Under the motto "Common Good and Networked City / City Network", the funded Smart City Model Projects should illustrate how the qualities of European cities can be projected into the "Era of Digitization".

SELECTED SMART CITIES MODEL PROJECTS
In the second round of the Smart Cities Model Projects funding programme, 32 projects were selected from a total of 86 applications by cities, inter-municipal consortiums and counties (in alphabetical order).
INDIVIDUAL SMART CITIES
Bamberg, Berlin, Darmstadt, Freiburg in Breisgau, Gelsenkirchen, Municipality of Barleben, Municipality of Eichenzell, Gütersloh, Hagenow, Iserlohn, Jena, Kassel, Kirchheim near Munich, Cologne, Lohmar, Lübeck, Mannheim, Mönchengladbach, Paderborn, Rostock.
Inter-municipal coNSORTIUMS and COUNTIES
Aalen and Heidenheim; Bad Belzig and the municipality of Wiesenburg / Mark; Dortmund and Schwerte; County of Bitburg-Prüm; Fuchstal municipality with the Apfeldorn and Unterdießen municipalities; Hamburg with Leipzig and Munich; County of Hof; Kiel with municipalities from the Rendsburg-Eckernförde and Plön counties; Mayen-Koblenz county; St. Wendel county; Lemgo and the municipality of Kalletal; Osnabrück with the municipalities of Hagen am Teutoburg Forest Bissendorf and the joint municipalities of Fürstenau, Artland and Neuenkirchen.
THE CITY OF Gelsenkirchen WAS SELECTED AS SMART CITY MODEL PROJECT
We are extremely proud for the selection of the City of Gelsenkirchen as Smart City model project, as we have jointly developed the "Integrated Strategy of the Connected City Gelsenkirchen" and prepared the application for the Smart Cities Model Projects programme to acquire the funding for strategy implementation.
Gelsenkirchen's integrated strategy is the foundation for a social, participative and sustainable urban development that utilizes the opportunities of digitization. Primary goals are to secure and increase livability and prosperity for all citizens as well as to drive economic growth through fostering innovation capabilities, future-proof infrastructure and a strong supporting ecosystem.
WE SUPPORT CITIES & MUNICIPALITIES IN THEIR JOURNEY TO BECOME SMART & SUSTAINABLE
We support cities and communities in a holistic approach from smart city concept and strategy development up to preparing funding applications and the implementation of smart city strategies and corresponding solutions. Do not hesitate to contact us to learn more about our services. We look forward to speaking with you.
---
Related Articles:
---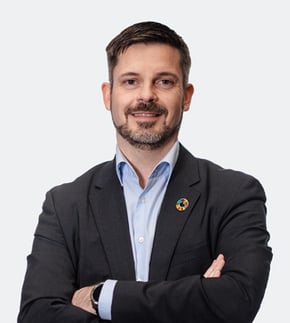 Thomas Mueller
Thomas Müller is Managing Partner at bee smart city. With more than 15 years of public sector experience, he is an expert on smart city strategy and projects.