The Smart City Expo World Congress (#SCEWC22) in Barcelona is breaking all records, even before it begins! In its 11th edition, more than 24,000 visitors are expected to attend between November 15 and 17, 2022. More than 1,000 exhibitors will invite visitors to their booths and more than 400 experts will share their knowledge in an exciting lecture program. Under the motto "Cities inspired by people," the trade fair and the congress will be spread over two halls at the Fira Barcelona.
SMART CITY EXPO WORLD CONGRESS 2022
The Smart City Expo World Congress is the leading international event for the smart city sector and an important meeting place for experts and leaders from the world's most innovative cities, companies, research centers and international organizations. The congress program will focus on tools and strategies that local governments, organizations and citizens can use to shape a better future in cities and regions, ensuring the quality of life for generations to come. This makes the leading international event for cities and smart urban solutions, organized by Fira de Barcelona, a must-attend event for all smart city enthusiasts.

At the event, in addition to visitors, more than 400 leading international experts are expected to share their knowledge, both online and offline, in order to address the many challenges associated with the transformation of cities. In a tine of ever-growing environmental problems and geo-political concerns, city leaders need to think about what they can to make the world a better place.

For full-information about the event and key dates and times, visit www.smartcityexpo.com

This year's event will focus on eight key themes that address the most pressing issues facing cities.
Key Tracks on SCEWC 2022
Economy

Enabling Technologies

Energy & Environment

Governance

Infrastructure & Buildings

Living & Inclusion

Mobility

Safety
Smart City Expo World Congress Director Ugo Valenti says, "After last year's success, the event will combine the physical venue with the digital space, allowing us to reach a wider audience and give everyone the opportunity to fully experience the event. We expect over 24,000 visitors in November. This will bring us back to pre-pandemic numbers. This shows not only how important smart cities are to the future of humanity and the planet, but also that Smart City Expo is more than ever the global event for the broad ecosystem of urban transformation."
Infrastructure And Mobility
Key topics in the planning and development of smart cities include efficient infrastructure and fast mobility. There will be dedicated events on these two topics as part of #SCEWC22. The second edition of Tomorrow.Mobility will focus on promoting the development and deployment of new sustainable urban mobility models. The event is co-organized by EIT Urban Mobility, an initiative of the European Institute of Innovation and Technology, a body of the European Union, and is supported by leading companies and institutions.

In this sense, the 2022 edition of SCEWC will see the debut of Tomorrow.Building, a new area focused on new technological solutions related to construction, such as 3D printing, robotics, IoT and BIM (Building Information Modeling), as well as new materials. The main objective is to create the perfect forum for new, groundbreaking ideas to flourish in the construction and infrastructure industries.
Innovative Materials, building blocks of the future
SCEWC will also host PUZZLE X for the second time. Following its successful debut in 2021, Barcelona will host a new edition of the event, which aims to showcase the potential of key technologies to solve many of society's challenges. These include quantum materials, low-dimensional materials, 2D materials such as graphene, advanced materials, and smart composites, which have proven to have great impact potential in industries such as energy, mobility, healthcare, transportation, construction, electronics, textiles, and connectivity, to name but a few.
KEYNOTE SpeakerS at #SCEW22
Once again, this year's list of keynote speakers is packed with well-respected names, and the list topics could not be more varied. Some of the leading urban planners, globally recognized experts, and thought leaders that will be speaking at #SCEWC22 include:
ELIZABETH DILLER - Partner, Diller Scofidio + Renfro, Professor of Architectural Design, Princeton University

RON FINLEY - Gangster Gardener, South Central L.A

HANNAH FRY - Professor in the Mathematics of Cities, University College London

YVONNE AKI-SAWYERR - Mayor, City of Freetown, Sierra Leone

EDUARD XATRUCH - Co-Owner & Chef, Disfrutar; (Rated 3th, The World's 50 Best Restaurants)
Keynote speakers will address many colorful topics such as:
Is mathematics capable of deciphering the underlying patterns of urban behavior? How can architectural design transform cities and their citizens? Will guerrilla gardening spearhead the fight for greener metropolises?

These are some of the questions that keynote speakers at Smart City Expo World Congress 2022 will answer in Barcelona in November.

The seemingly chaotic web of a city can be unraveled using mathematics, according to Hannah Fry, Professor of Mathematics of Cities at the Centre for Advanced Spatial Analysis - University College London. Hannah Fry studies the patterns of human behavior in an urban environment. Her research addresses a wide range of social problems and issues, from shopping and traffic to urban crime, riots and terrorism, and she has applied this research by consulting and collaborating with governments, police forces, supermarkets and health analysts.
The influence of public urban spaces on behavior is one of the topics Elizabeth Diller has been working on for many decades. She is a professor of architectural design at Princeton University, her private practice has won several awards, and Diller and her partner Ric Scofidio received the first MacArthur Foundation Fellowship ever awarded in architecture in recognition of their work exploring how space functions in our culture and understanding architecture as a physical manifestation of social relationships. Their projects include New York's High Line and the transformation of Lincoln Center's half-century-old performing arts campus.

Planting the seeds of change has been Ron Finley's literal and metaphorical goal since 2010. Ron Finley, known worldwide as the Gangsta Gardener, wanted to solve a problem in the parks of his South Central neighborhood in Los Angeles by reclaiming the neglected dirt spaces next to the streets by growing vegetables. After a turf war with the City of Los Angeles over gardening without a permit on public land, Ron succeeded in forcing the City Council to change the law to allow local communities to use the parkways as community gardens. Ten years later, his gardens have not only produced vegetables and flowers, but also created healthier, more responsible and sustainable communities in Los Angeles.

Fry, Diller and Finley head the list of more than 400 experts who will reflect on how citizens can do their part to make the world a better place from their own cities. To cover every possible angle, the SCEWC Congress program will be divided into eight themes: Economy, Enabling Technologies, Energy and Environment, Governance, Infrastructure and Buildings, Housing and Integration, Mobility, and Security.
Learn more about the congress program and the keynote speakers.
SUMMARY
The SMART CITY EXPO WORLD CONGRESS in Barcelona is sure to be another highlight for all smart city enthusiasts, and a date that should be on every city's calendar. Join the global gathering of industry and government leaders who are driving sustainable and inclusive urban development.

---
Do you already have your ticket for SCEWC2022? Exclusively we provide our customers and partners a one-time 25% discount for tickets.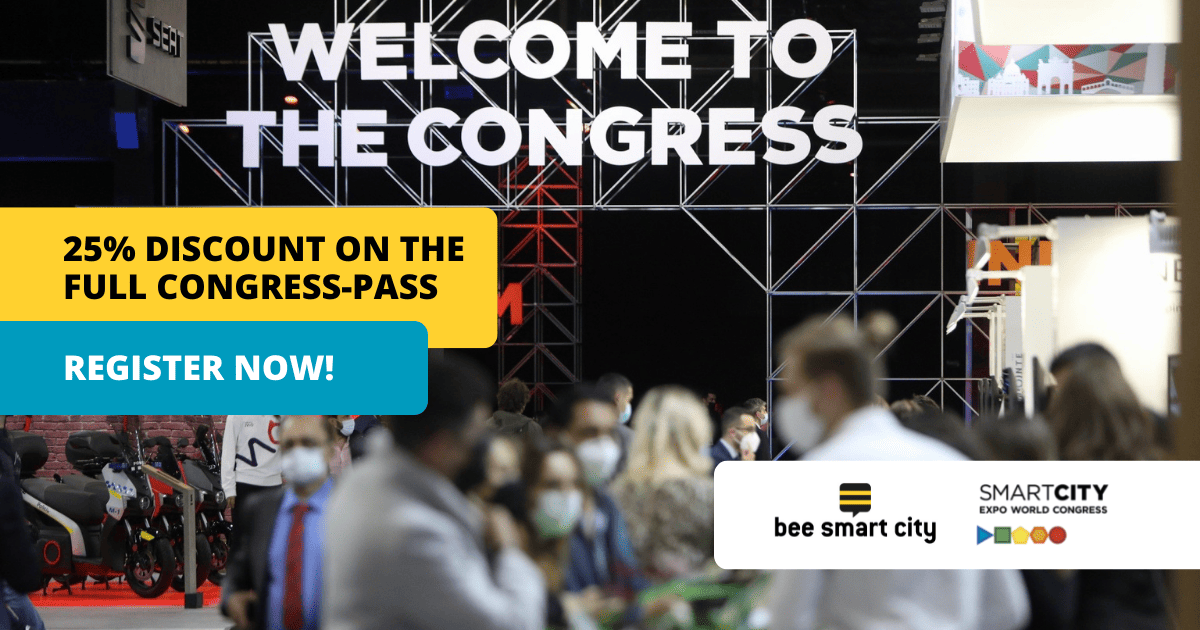 As usual, bee smart city will also be present at #SCEWC22. Visit us at the NRW Pavilion in Hall 2, Booth 121. Secure your exclusive discounted tickets now. We are looking forward to seeing you!
---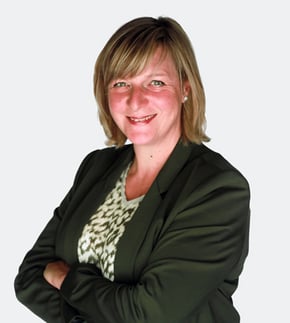 Nicole Becker
Nicole Becker is Marketing Communications Manager at bee smart city. She is responsible for the Communication, optimization of our website, content creation, fairs, events and PR.