Michal Lakomski is the Mayor's Proxy for Smart City in the city of Poznan in the Greater Poland region. As the Mayor's Smart City Proxy, and as the Director of Digitalization and Cybersecurity Department for Poznan City Hall, his role involves supervising and overseeing the city's digital transformation and overall evolution into a modern smart city.
Under his leadership, Poznan has already made an impression as one of the most exciting and dynamic cities in Europe, embracing new technologies, supporting innovation, and putting its citizens first.
We've looked at the city of Poznan before and found that the secret of its success was its dedicated and forward-thinking team of smart city experts. You can read more in our Smart City Poznan Portrait. We decided to talk to Michal to find out more about Poznan's smart city evolution.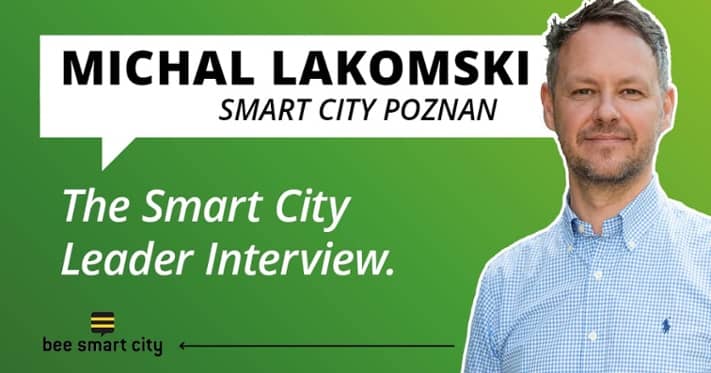 How did you get into smart city development and urban issues in general?
I graduated management and marketing at the faculty of law, and after that, I started working for the City of Poznan's waterworks department. After four years, I transitioned to the private sector for a while, but I came back to City Hall. Shortly after, I began supervising the internet section, which mainly focused on new technology and smart solutions. It was decided that there should be a person supervising the city's new technology push, someone who could manage these new projects and how best to integrate them and make them co-operate.
We entered the game at Smart City 2.0, around 2017, and as an authority, it was important for us to synchronize our technology push with efforts made by local technology companies. Today, I oversee the digital transition for Poznan. My goal is to make our city as digital as the banking system - to be able to perform all city services through a smartphone or computer. To do this digital transition, we had to build competence through our staff, update our back-office systems, and integrate data and systems throughout all units within the city. And that is what I do.
How do you define a "smart city"?
Poznan's Smart City model is built around pragmatic solutions that save time, energy, space and improve the quality of life for our citizens. To do this we are harnessing the power of advanced information and communication technologies, and modern innovations, in a way that allows us to make better use of data, and make the city more inclusive.
It's a long and complicated definition, but technology is not the goal. Technology is a tool that we can use to reach our goals. Without technology, these goals will never be reached. If we want to provide high-quality services to our citizens, we have to use technology. In the definition and the idea behind our smart city concept, engagement with our citizens is essential. It's our citizens that define what they want. Most of us working in City Hall are also city residents, so we're all citizens trying to make a better place for ourselves.
But how do I define a smart city? I like to focus on technology, but a Smart City is a wider concept. You'll notice that I like to mention IT solutions a lot though!
If you look at the definition from a linguistic point of view, the term "smart city" comes from a smartphone, and what is a smartphone? It's a phone that offers something more because of the technology inside it. The same with a smart TV - it's always connected to technology. Still, there are a lot of people who want to be involved in smart city projects but without a technological focus and I find that the least smart way to approach them is to keep them out of our smart city development because they're not into technological solutions. Inclusivity is also a key pillar of smart city development.
I do have another way of explaining my definition of a smart city. When I'm talking with students, I like to explain how trends for modern cities are classified. We talk about green cities, then inclusive cities, and resilient cities, and each new trend combines the previous trends. Now we're talking about smart cities, and they are green cities, inclusive cities, and resilient cities by definition.
Why do we focus on smart cities rather than smart countries? What is it about cities that makes them the right environment for innovation?
Firstly, it's about scale. It's easier to enact change on a smaller scale and then scale it up. Secondly, city authorities are closer to the citizens than national governments, and they better understand the needs of those citizens. They're also equipped with the right tools to make changes or enhance the quality of services that citizens need. It's easier to do it on a city-sized scale.
However, there are some cities out there that have populations that offer unique challenges because of their scale. In Asia for example, and even here in Europe - London, Dublin, Copenhagen, Stockholm, and even Warsaw - these are huge cities, with populations bigger than entire countries such as Estonia!
Estonia is a great example of a smart country. The whole country is smart and completely digitized. It's one of the smartest places in Europe! And it was possible because the population size allowed it. The population of the entire country is only 1.5 million, which is less than the city of Warsaw. The country is very digitized. It only takes two days to get a new passport!
So, it's size and scale that make smart cities an easier option than smart countries - but if the population size allows it, smart countries are more than possible.
According to the European Smart Cities research group at the Centre of Regional Science of Vienna University of Technology, smart cities follow six key themes: smart government, smart economy, smart environment, smart mobility, smart people, and smart living. Which of these are the most important to you and your city?
We follow all of the concepts laid out by the Vienna University but we have changed two of these elements. We say "Smart Community" instead of People, because it's important to highlight that it's the work of a community and cooperation that makes a smart city, not the work of individuals. And instead of "Smart Government" we are using the term "Digital City."
I'm the leader of the Digital City department, so that's why the deployment of modern technology is important to me. I did warn you! But at the same time, mobility is one of the most convenient sectors of a smart city. Electric scooters, mass transit, GPS tools - the technology is very familiar to everybody. Mobility is very convenient and it's an accessible topic.
Similarly, Smart Environment is important to me. Let's look at energy. If you're doing something about reducing energy consumption, you're doing many things. You're influencing the climate crisis by reducing consumption, you're putting money in your pocket by keeping costs down, you're investigating new technology by installing photovoltaic tiles on your roof, you're using new systems by analyzing online data to understand consumption. In one project, you're doing so many more things.
I like using energy as a good example. It's at the heart of smart cities, a good solution should solve many problems at once. With energy, it's essential. Everybody needs it!
Can you give an example of a project that you have implemented that has been particularly successful?
I would say that there are two.
The first is one that we've been working on for a long time. It's an open data platform for the city's public transport network. It took a long time to deploy because it was difficult for us to gather the information. We collected and opened up data from our public transportation network and we made that data open and available for developers to help them create transport apps. You know, the kind of apps that can tell you the waiting times for different trams, for example. We had all the data before but the old system was designed in a way that wasn't accessible.
The problem was that the engineers from before may not have understood the idea of open data. We had real-time data, but it wasn't particularly usable or available on an open platform. It was hard for our IT team to connect three incompatible data sets, with different elements and components, and create usable GTFS RT format data. But since we've made that data available, we've had so many apps appear that enhance our public transportation system. Now we have open data that is provided by the city but supported by private apps. It's wonderful.
The second project is one that I am very close to. It's our smartphone app "Smart City Poznan." It's an app that will deliver information about the city, such as disruption to road services, closed roads, emergency alerts, bad air quality notifications, and more. Lately, we've used it during the pandemic to support the elderly or vulnerable groups, giving them information about a special number that will arrange for someone to do their shopping and deliver it to them, to help them out during these difficult times. It's an interface for communication from the city to the citizen, but that's only one part of it.
It also supports communication from the citizen to the city. It's an interface for citizens to report problems or grievances. Such as, when a hole appears in the pavement, or if a car isn't parked correctly, or if trash needs removing. There are many features to this app to allow citizen's voices to be heard.
At the moment, we don't have many users but we haven't started advertising it properly yet. We need to prove that the concept of the app works before we have too many users. It wouldn't look good if we get swamped with hundreds of pictures of potholes in the roads and they're still there in a month because we've been overwhelmed! We have a lot to do with it before full, widespread deployment, but we're getting there.
Our inspiration is BOS:311, a city app from Boston in the US. When users send a picture of a problem, the government responds with a similar picture of the problem when it's solved, with the team that fixed it posing next to whatever it was that was broken! It's great.
You must receive a lot of idea pitches and project proposals. What criteria do you look for when selecting potential projects to pilot and deploy? What factors affect your decision-making process?
Firstly, any project must respond to the needs of the city. It must be something that we're looking for. For example, if we're looking for a building management system that can capture the energy consumption statistics from all government buildings, if someone brings us a viable system, we will make a pilot.
Secondly, if someone brings us a solution that inspires us to look into areas that we haven't looked at, we pursue it. For example, and this is only an example if a drone pilot says "I can fly over the roofs and check to see if anyone is burning rubber, I can collect the data and you can go and find and fine them, bringing in revenue and making cleaner air," then we could be inspired to look. We actually have something like that here in Poznan.
So, if it responds to our needs or inspires in a way that we hadn't thought about before: those are our two main criteria!
Technology is an important part of any smart city's development. How do you feel about big data and the influence data has on government decision-making?
I am very aware of the concerns that citizens have about it. I support an entire team of people responsible for personal data regulations within the city. Personally, I don't like being tracked by technology companies, especially without my consent, so I was very happy when the European Union began implementing GDPR.
When we are developing something as a city, we don't collect any more data than is necessary for the purpose that we're using it for. We always inform our citizens and ask for their agreement. It's a legal obligation, but we also believe in it.
On the other side of the coin though, big data can be incredibly useful when it comes to decision making. For example, we have a participatory budget every year, where the people decide what 20 million Zloty (approximately €4.5 million) can be spent on. First, they decide what kind of project they want to support, and from that, they choose from a list of projects that they can fund. The voting is done through our webpage.
In previous years, we were able to collect a social security number along with the vote. In Poland, this number consists of a person's date of birth, a number that designates gender, and other information. We could do big data analysis on it. It turned out that 35-year-old women were the most likely to vote, followed by people aged between 60 and 65 years old. For participatory budget reasons and investments within the city, your vote often affects the younger generations. So, we could work out that women having children or having grandchildren were more likely to vote. Now, this is a wide assumption but it's knowledge like this that can affect policy.
Similarly, we learned that most people vote on the last possible day and at the last possible hour, and we worked out whether more votes were generated directly after an advertising campaign or not, or the voting habits for residents of a certain part of the city. This can be useful knowledge.
However, this year we were not legally allowed to collect any social security data in our region. Because of that, we have poorer knowledge about the circumstances. But we can still analyze some data and generate other insights.
Data can be a powerful and useful tool, but there must be no personal identifiers attached to it.
Aside from technological advances, do you believe that smaller, community-driven projects are also key to building smarter and more efficient cities?
Absolutely. Innovation can be generated by making a lot of smaller improvements. While they might not be tech-focused, as long as they're ideas that are spawned from engaging with our citizens, with a focus on inclusion, they can have a positive effect on building a smarter city.
Which cities or leaders do you hold in high esteem? Are there any cities that you are learning from?
When we were developing our Smart City model we were looking for inspiration. We took into consideration the sustainable development goals set by the United Nations. I think the eleventh goal was about cities, but they all involved climate and rights, et cetera. Then we took into consideration Open & Agile Smart Cities standards, an organization that we belong to. And then we took into consideration everything that the European Commission has published about cities and city development, along with data protection and so on.
On the other hand, I decided not to focus on other cities as primary sources of inspiration. When you're making a smart city, you can't replicate the solutions done in other cities because the context is different.
No two cities have the same location, economies, populations, or environmental factors. So, every solution is tailor-made. But there are overlaps, providing that the context is similar to your city's situation. For that reason, we decided to look at other European cities. Asian cities are too big, American cities have too many cars, but many European cities are experiencing similar problems to ours, so we can learn from them.
Stockholm, Copenhagen, London, Dublin, Vienna, Barcelona, and Tallinn are very interesting to us. But also, other Polish cities, such as Gdynia, have really interesting solutions that I'm excited about. Having a European point-of-view was the most important for us.
What is your vision for the future of Poznan?
We are currently taking part in a European Commission project exploring the 15-minute city concept. We would love to adopt a model that could meet all of the needs of our citizens within a 15-minute radius of their homes.
We are lucky because the city of Poznan was urbanized by Prussian architects, who developed the city in such a way that lends itself to 15-minute city ideals. It's a big city made with a small-town feel. A city where you can watch a first league football game, international concerts, and have access to high-culture but with accessible living and office space all within a short distance, that is what we are striving for.
The 15-minute city is an ideal concept for Poznan.
Join the free global Smart City Community and learn about the solutions that successful smart cities around the globe have implemented to increase the quality of life and to tackle the challenges they face. Register today to explore solutions and connect with peers around the globe - be a bee!
---

Read related Articles:
---

Image source:
The portrait of Michal Lakomski was provided by the City of Poznan and reworked by bee smart city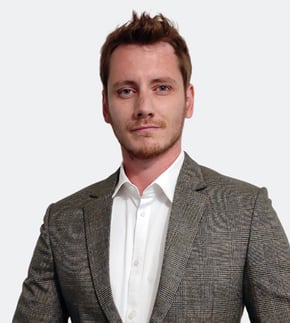 Joe Appleton
Joe Appleton is a content strategist, editor and writer at bee smart city. He is particularly interested in the topics of smart and sustainable cities and urban mobility.