Globally, the Smart City market is growing at a rapid pace. Thanks to smart innovations and accelerated by the COVID-19 pandemic, the need for smart and sustainable solutions to urban challenges has been pushed into the foreground, becoming building blocks of government policy all over the world. But what is the market situation in Germany? In short, the Smart City market is booming here in Germany, but that's not a wild claim; it's backed up with facts, figures, and well-researched forecasts from respected bodies.
A recent study conducted by the eco Association of the Internet Industry and Arthur. D. Little management consultancy has taken a deep dive into the state of the German Smart City market. The study is based on several criteria, but it's also strengthened by a similar study conducted by the partnership in 2017, tracking market growth between 2017 and 2021 and comparing it with data gathered from nine different German Smart City market segments. According to the report, the trend is up, and the market is expected to grow with an annual average of 17%. In real numbers, that's an increase in revenue to the sum of over 46 billion EUR by 2026.
SMART CITY MARKET GROWS 17% ANNUALLY
Arthur D. Little and the eco Association's assessment is based around studies focusing on the market drivers and trends surrounding nine distinct Smart City segments: Public administration, digital education, healthcare, retail and hospitality, transport and logistics, physical security, building automation, energy, and financial services. These segments were assessed and compared with a similar study from the previous five years, and the results were tallied.
The 2017 study already highlighted a positive trend. In fact, the original 2017 results underestimated the scale of the market growth. For example, the 2017 study estimated the market size at 16.9 million EUR, reaching 26.7 million by 2020. The reality was far higher, with the market growing by more than 20% over the expected levels (20.5 million EUR in 2017, growing to 31.1 million EUR in 2020). The 2017 study predicted the average yearly growth at 16.5% across all verticals, which was surprisingly accurate. From 2021 to 2026, the market is expected to receive a similar growth pattern, albeit at a slightly higher rate of 17%.
The 2021 study confirms the predictions from 2017, but a lot has changed between then and now. For example, the onset of the Covid-19 pandemic has skewed the numbers slightly. Still, while any raised figures could be attributed to a short-term spike in government spending in the Smart City arena, there's no denying that the pandemic has significantly accelerated the interest in Smart City development. To give a fair assessment, the 2021 study has taken these unusual circumstances into account and quantified and readjusted the numbers accordingly. These changes account for any differences between revenue figures that you might spot when reading the report in detail.
It should come as no surprise to learn that the Smart City markets with the highest revenue ceilings are Digital Education and Transport & Logistics, with projected revenues of up to 16.6 billion EUR and 14.8 billion EUR, respectively.
Overall, the future is looking very bright for the Smart City market. By the end of 2021, it's expected that Germany's market will be worth somewhere in the region of 38.5 billion EUR. With a projected annual growth of 17%, experts expect that figure to be almost doubled by 2026, with the Arthur D. Little and eco Association predicting the market to be valued at approximately 84.6 billion EUR by the end of the next five-year period.
No matter how you look at it, one thing is clear: the German Smart City market is booming. It's an attractive market, but not only for tech companies. In fact, there are several defining trends that are spurring Smart City interest, but it's not just in the internet-based solutions arena.
What Are The Defining Smart City Trends?
For all stakeholders looking to capitalise on the rapid growth that the Smart City market is experiencing, there are many crucial trends that are influencing growth and development that must be carefully monitored and encouraged. According to the report, these defining trends should be looked at more closely:
Data Points
The abundance of data points in German cities is increasing exponentially. Businesses and investors should quickly incorporate data points and interlinking strategies into their future business models to make the most of the expanding Smart City digital market.
Digitisation
Digitisation is one of the most important features of a modern Smart City. As the need for digitisation expands, especially in light of the ongoing pandemic, it's expected that the urban public healthcare and education segments will continue to enjoy solid growth over the next five years, even despite the higher investment requirements.
Climate Action
Climate action is a key feature of the future Smart City market in Germany and across the globe. As governments sign bold agreements and make ambitious pledges, cities will play a key role in the fight against climate change. An overall focus on sustainability and energy efficiency will be a key pillar of any long-term Smart City goals for German cities. It's a broad topic, and while it's easy to focus on the role of tech companies, other sectors have significant roles to play. For example, the real-estate industry with regard to ESG principles, and the built environment as a whole, will require a significant overhaul to help governments reach these ambitious climate targets.
Open and Accessible Data
Open data is a hot topic at the moment, and it's a trend that's expected to continue gaining momentum in the future. Modern Smart Cities should be built on open platforms with accessible access for all stakeholders, from citizens to private enterprises and beyond, with a clear focus on interoperability and integrated data platforms. Open data can inspire innovation and create new business opportunities across various sectors.
Monetisation and Profitability
Monetising Smart City systems is an area that needs to be looked at closely. With many city governments lacking the funds to implement much-needed projects, finding ways to bridge the funding gap will be necessary. This could be in the form of keeping certain data sets behind paywalls or by embracing new and flexible financing options. Cities will almost certainly have to think outside of the usual "Public-Private Partnership" box to help finance, develop, implement, and operate new innovative solutions to urban challenges. While financial profit should be a focus, cities should also look beyond traditional profitability and measure wealth in terms of long-term sustainability and overall quality of life for residents.
Cooperative Partnerships
Forging industry partnerships and urban alliances will be an important feature in any future Smart City strategy, as cities and businesses alike can learn best practices from each other, share costs, and scale projects and products to larger levels. Hackathons, workshops, and co-creation sessions can help cities capitalise on the expertise of local businesses and experts to develop efficient and holistic solutions to a myriad of urban challenges. Co-operation and cooperative solutions will replace unsustainable stand-alone solutions, avoiding vendor lock-in and putting the needs of citizens at the front and centre.
Communication
Lastly, and most importantly, one of the most important success factors for a modern Smart City is how well it can communicate its services to its users: the citizens. Many cities are currently developing and deploying a wide range of exciting services, from citizen engagement apps to weather and air quality measurement tools, but user uptake has been sluggish. Similarly, sustainable mobility solutions or energy conservation tools struggle to take off. Without a focus on communication and without incentivising the use of these Smart City solutions, there's a danger that negative rebound effects will outweigh any efficiency gains brought by adopting new solutions.
In Summary
The next five years are expected to bring incredible financial opportunities to the Smart City market in Germany. The pandemic has given the market an unexpected momentum boost. Still, decision-makers and leaders must take the necessary steps to foster further growth when the crisis is over. By focusing on creating efficient, citizen-centric projects and implementing interoperable, cooperative solutions, the future of Germany's Smart Cities will be very bright indeed.
Access the German Smart City Market Outlook 2021-2026 here:
---
Related Articles:
---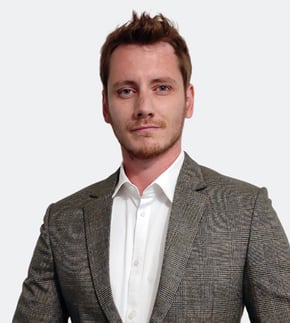 Joe Appleton
Joe Appleton is a content strategist, editor and writer at bee smart city. He is particularly interested in the topics of smart and sustainable cities and urban mobility.