Over the past seven years, the smart city concept has changed fundamentally in terms of the approaches that cities or communities have chosen for urban transformation. Driven by technology providers in the early years, governments as leaders of the smart city movement have later understood that technology is only the enabler for reaching governmental, economic and societal goals.
Today, smart city strategies still consider technology as an enabler, but governments have learned that top-down initiatives or a master planned approach are not the determinants of success. Drivers for success are collaborative and participative citizen- or human-centric approaches. If a city or community wants to become smarter, it should take the needs and problems of its customers – citizens, businesses, workforce/commuters, entrepreneurs, academia and non-profit organizations – into account.
At bee smart city, we strongly believe that it is time for a new paradigm or evolutionary stage of the smart city. We lay out our arguments and practical perspective in the following paragraphs, leading you through the following topics:
Existing generations of smart cities
Call for a new paradigm of the smart city
The human element: rise of the "smartivist"


Existing generations of smart cities
In his seminal article The 3 Generations Of Smart Cities, published in October 2015, urban strategist Boyd Cohen has provided an impressive overview of the evolution of smart cities.
He describes the three different generations – or evolutionary phases – of smart cities as follows:
Smart Cities 1.0: a technology-centric vision of smart cities led by major technology companies to create efficient and innovation-driven cities
Smart Cities 2.0: a government-led vision of utilizing technological solutions as enablers for improving quality of life
Smart Cities 3.0: a citizen- or human-centric vision of smart cities based on co-creation [with citizens] to improve quality of life and generate prosperity
What Boyd Cohen has accurately described in his framework of evolutionary smart city stages is something that we can witness every day around the world: cities are following different strategic approaches, based on their actual development and knowledge status.
Some tend to start their smart city endeavors in stage 1.0 with one big technology partner, a wide range of cities uses master plans and government-led initiatives that embrace technology to create beneficial outcomes for their smart city 2.0. Both stages help in increasing efficiency from a government perspective and in creating an innovative image. But are these smart city approaches suitable to create a better – more livable, prosperous and sustainable – place? And for whom?
In the business world, it is widely known that an anticipation of "build it and they will come" is not the best course of action. Prior to implementing smart city solutions, it is important to know why they are needed, how they can be implemented, what the benefits are for their users, and whether possible risks or objections exist.
Thus, to create a smart city 3.0 it is paramount to facilitate participation and collaboration across all stakeholders. If a city or community wants to become smarter, it should take the needs and problems of its customers – citizens, businesses, workforce/commuters, entrepreneurs, academia and non-profit organizations – into account and actively engage in bottom-up thinking and co-creation to identify, develop and implement suitable solutions. Therefore, we believe there is the need for a new paradigm of the smart city. Often, to emphasize the human-centric approach, a smart city 3.0 is referred to as a senseable city.
What is a Smart City? A Definition.
The smart city is kind of a sticky concept in a slippery environment. A multitude of definitions and alternative names for this concept exist. Most smart city definitions focus on the role of technology and data as a key enabler for becoming smart. From our perspective, smart city technology indeed is an important enabler, but the way it is utilized is far more important: the smartest solutions are those that get all chosen target groups inside a city or community engaged – may it be as users, as contributors or as ambassadors.
At bee smart city we define the smart city concept as follows:
THE SMART CITY CONCEPT DESCRIBES THE ABILITY FOR UTILIZING THE CAPACITY OF A CITY/COMMUNITY TO CREATE AND ADOPT SOLUTIONS FOR OVERCOMING CHALLENGES AND SEIZING OPPORTUNITIES THAT HELP TRANSFORM CITIES / MUNICIPALITIES TO MORE PROSPEROUS AND LIVABLE PLACES FOR ALL STAKEHOLDERS. THE ECOSYSTEM OF IMPLEMENTED SOLUTIONS IS WHAT DEFINES HOW SMART A CITY OR COMMUNITY IS.
Our smart city definition clearly states that being smart is about initiating/adapting and implementing solutions that create added value and transform into collective good. The term "smart" in this sense includes technology as an enabler but does not limit the concept to technological solutions.
The acceptance and use of smart city solutions call for a user-centric approach that takes the needs of all actors into account, especially those of the citizens. Therefore, it is paramount to create a participative, open, transparent and inclusive mindset.
Thus, at bee smart city, we believe that collective intelligence is the key success factor for smart cities, representing a new paradigm in the development of smarter cities and intelligent communities:
BEING SMART BUILDS ON THE HUMAN CAPACITY AS A SUM OF INDIVIDUAL ACTORS IN A COMMUNITY THAT ENABLES THE CREATION AND ADOPTION OF SOLUTIONS, LEADING TO AN EFFICIENT TRANSFORMATION OF THE COMMUNITY BY A STRONG SMART CITY SOLUTIONS ECOSYSTEM.
Taking the three generations of smart cities into account, the journey towards becoming a smart city or intelligent community is not primarily driven by a technology partnership with one big player or a government-led top-down master plan. It is rather the sum of intelligent initiatives and solutions that are co-created/developed and implemented by many different private and public actors throughout the city and across different strategic fields of action.
From our experience, pure top-down smart city master plans often lack human-centricity, are overly focused on technology and fail to connect and activate the collective intelligence of a city or community. Human-focused bottom-up approaches are a means to activate and connect different actors and are an effective tool for analyzing the status quo within a city or community. They are a starting ground for creating a shared vision and setting up an effective strategy that is based on collective intelligence.
Upon analyzing the status quo, a lot of communities are surprised by the huge number of actors, initiatives, and solutions that already exist. A sound analysis is the foundation for developing an overarching strategy that connects all the existing dots, uniting the actors to follow a shared vision and to work on "blind spots" or gaps that have not yet been addressed.
The Human Element: Rise of the Smartivist
The human element is something that has been largely neglected in the first two generations of smart cities. The third generation has recognized the importance of citizens and other actors inside the city or community for the creation of solutions tailored to the needs of its main "customers". But the human element is not only about individuals for leveraging information.
What we see in many cities is the rise of the smartivist (in analogy to the "rise of the creative class" by Richard Florida). The smartivist can be defined as "an individual who steps forward to actively support the process of creating a better place on a voluntary basis". The smartivist supports as a single expert or by establishing smart city initiatives (e.g. loose project consortiums, new legal entities such as non-profit organizations, associations) to address specific challenges (read our article: Rise of the Smartivist - The Importance of Smart Citizens in Smart Cities).
The collective intelligence and power of a large number of smartivists, who are often experts in their fields and/or highly motivated citizens (local champions) that possess a strong identification with the city or community they live in (local pride) is something that can massively accelerate smart city efforts. The high degree of commitment and the quality of contributions the smartivists bring to the table is something that needs to be encouraged, nurtured and rewarded.
By tapping into collective intelligence based on a human-centric approach, a city or community can implement engaging solutions and create a truly smart city of and for the next generation.


Get FREE access to hundreds of smart city applications that have been implemented successfully in more than 1,000 cities and communities around the world. Join the largest smart city solution network and connect with thousands of other smart city enthusiasts in our global community.
---

Read related Articles:
---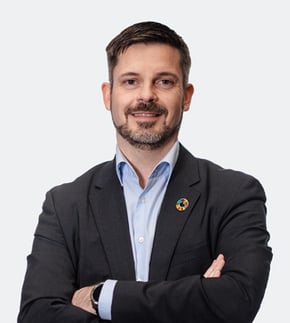 Thomas Mueller
Thomas Müller is Managing Partner at bee smart city. With more than 15 years of public sector experience, he is an expert on smart city strategy and projects.