bee smart city has released its global SMART CITY SOLUTION DATABASE to accelerate the development of smart cities around the world. The database, which can be accessed free-of-charge, supports cities and communities across the globe in their smart city efforts and connects them efficiently to solution providers and potential partners.
"From our perspective, it is an ecosystem of intelligent solutions that makes a city smart. Cities and municipalities across the globe can learn from each other and adapt best practice solutions to create more livable and prosperous places for their citizens. With the SMART CITY SOLUTION DATABASE, we will help increase transparency in the smart cities market and support communities in identifying, adapting and replicating suitable solutions that have been successfully implemented elsewhere", states Bart Gorynski, Managing Partner at bee smart city.
The SMART CITY SOLUTION DATABASE already provides free access to 300 proven smart city solutions that have been implemented in more than 100 cities around the world. Cities can easily identify best practice solutions to address urban challenges and to seize development opportunities. In Addition, cities and companies as solution providers can add their solutions and initiatives free-of-charge to the database to share best practices with other cities and communities. For companies, showcasing their proven products and services for smart cities represents an opportunity to increase their visibility in the rapidly growing market.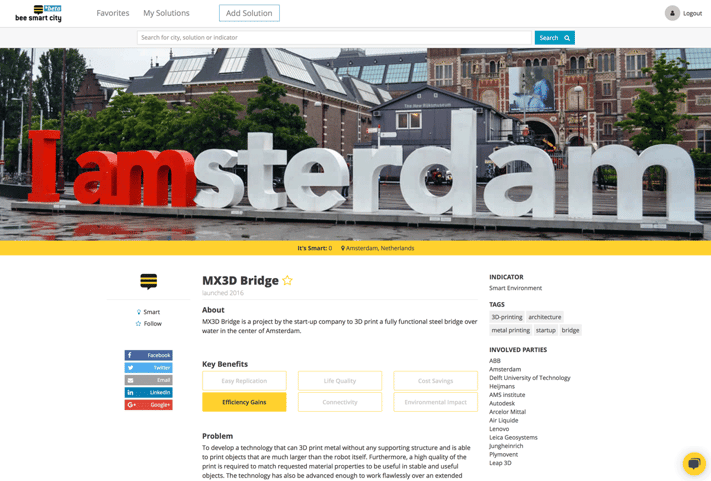 In addition to the Smart City Solution Network, bee smart city showcases best practice solutions, initiatives and smart city strategies that have been successfully implemented in cities and communities on its global Smart City Knowledge Center, providing expertise and insights on current smart city development trends and new solutions in the market.

About bee smart city
bee smart city is a digital startup established by experienced professionals and smart city experts to accelerate the development of prosperous and livable smart cities and communities around the globe. The smart city market is currently neither transparent nor digitalized. bee smart city provides an efficient toolset for smart city analysis and for facilitating collaboration and the successful implementation of the best smart city solutions available. bee smart city greatly increases transparency and the visibility of cities, companies and other smart city actors. Learn more at the Smart City Network & Community website.

Contact:
bee smart city GmbH
Tel. +49 (0) 208 62801331
Email: press@beesmart.city
Twitter: @beesmartcity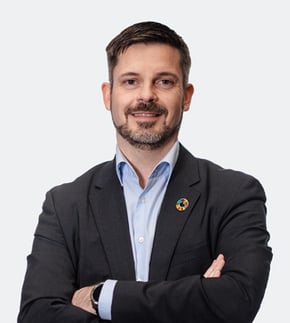 Thomas Mueller
Thomas Müller is Managing Partner at bee smart city. With more than 15 years of public sector experience, he is an expert on smart city strategy and projects.