All who are interested in driving Open Data, Open Source, and Open Interfaces, together with the global FIWARE community and its more than 600 members worldwide, will meet in Vienna (Austria) to further share sustainable solutions showcasing initiatives and global projects of digital transformation in various strategic economic sectors such as Smart Cities & Mobility, Smart Industry, Smart AgriFood, Smart Energy, Smart Water and Smart Tourism, and present the opportunities FIWARE brings from tech and business.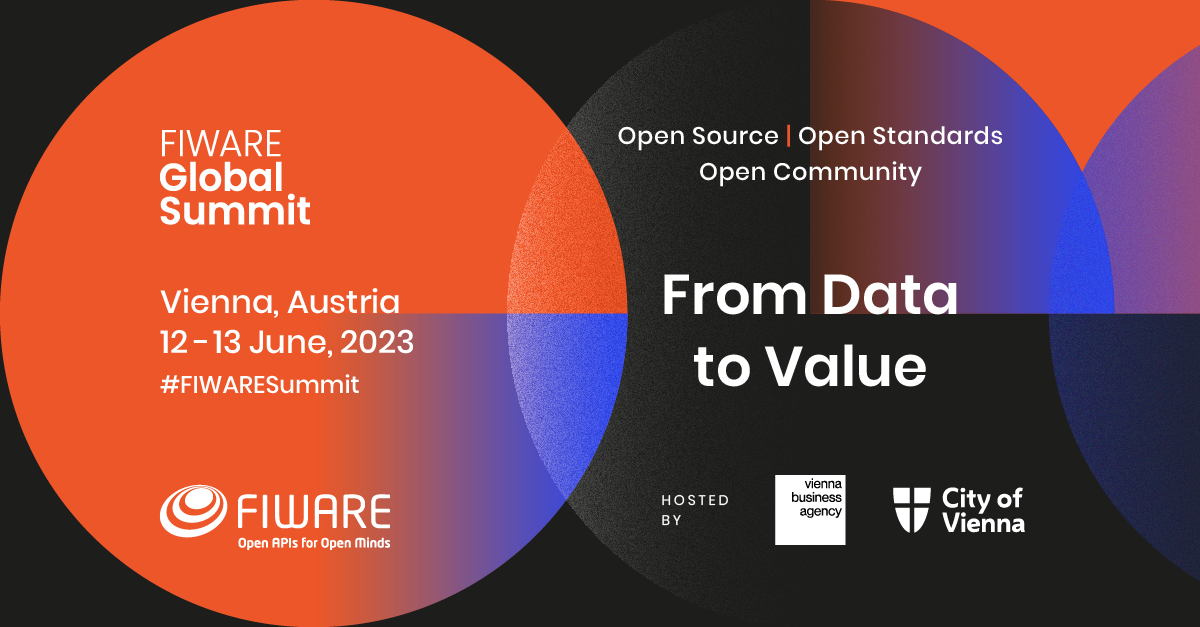 Berlin, Vienna, 22 May, 2023 - Hosted and supported by the City of Vienna and the Vienna Business Agency, the FIWARE's 9th Global Summit (FGS) will take place 12-13 June (with a rich side program) in one of the most digitized and resilient cities of Europe: the city of Vienna (Austria). FGS is one of the leading open source conferences for businesses, public administrations, academia, developers, technologists, and for strategists and game changers alike, inviting leaders, entrepreneurs, SMEs, large enterprises and investors, and researchers, who all will equally gather to discuss challenges and opportunities for business and open innovation around the digital transformation.
Technology and business opportunities: What makes the FIWARE Global Summit special in 2023?
This year, the Global Summit will bring together more than 150 worldwide experts and Open Source gurus, Open Data influencers and leading analysts, among them: Yasser Alsaied, Vice President of IoT, Amazon Web Services (AWS), Gerhard Hirczi, Managing Director, Vienna Business Agency, Wolfgang Müller, Deputy Director of Magistrates, City of Vienna, Prof. Dr. Boris Otto, Executive Director Fraunhofer ISST, Prof. at TU Dortmund, Sophie Proust, Chief Technology Officer, Atos, Dr. Jonathan Reichental, Best-selling author, founder Human Future, ex-CIO City of Palo Alto (USA), Bettina Tratz-Ryan, Vice President Research, Gartner Inc., Florian Tursky, State Secretary Austrian Ministry of Finance, Björn de Vidts, acting Chief Executive Officer, athumi, representatives of the European Commission, and many others.

FIWARE will offer more than 120 sessions, panels, workshops, and 100+ business matchmaking meetings, to present latest insights on digital transformation based on recognized Open Source technology together with dozens of running innovation projects and reference implementations from more than 350 Smart Cities, plus successful projects in AgriFood, Manufacturing, Energy, Water, Tourism and Ports. An amazing line-up of keynote speakers will give insights into sectorial and technology trends when it comes to Data Spaces, Digital Twins or Smart Data Models. The two major days of the program (June 12-13) will combine a variety of business and market oriented, technology, scientific and academic tracks including engagement opportunities with pace setting universities as well as activities ranging from expert talks to business workshops and pitches, from networking to interdisciplinary negotiations. Technical training is offered from June 12 to 15 for those who plan to become FIWARE Technical Experts or who want to dive deeper into the hands-on use of FIWARE technology from June 12 to 15. Besides that, FGS will present a series of highlights this year, among them:
How FIWARE makes Data Spaces happen! Beyond an overall vision for Data Spaces, FIWARE will deep-dive into what has been achieved by the Data Spaces Business Alliance (DSBA), how to make use out of the Technical Convergence Specifications, elaborate on the concept of the brand-new FIWARE Data Space Connector and present several international projects on Data Spaces run by FIWARE members and partners.
Matchmaking Sessions - we have created a deal zone this year next to the well known FIWARE Walk of Fame Exhibition area: Book your one-to-one meeting and find new connections! Get in touch with SMEs, entrepreneurs, start ups, iHubs or our Accelerator partners to collaborate on strategic goals or to generate new business relationships. This is the perfect spot to successfully enter local and global markets, increase the network, cooperate with the top experts, and initiate innovative projects.
Walk of Fame - a creative arrangement of exhibition opportunities, that provides a riveting and buzzing environment for networking and gives the chance to demonstrate offers with leading experts in technology and innovation.
Workshop around the recently launched Open Calls for funded projects.
Meet FIWARE Accelerator Partners to participate in successful business models from Cascade Funding to scale-up models, thus boosting business and cutting-edge Smart Solutions with newcomers and Startups. Here, FIWARE offers to learn what meanwhile Accelerator Partners offer including personal recommendations from investors and key experts in financing and consulting.
Latest news coming from FIWARE Marketplace, the online platform that provides access to more than 250 FIWARE-based products, solutions and services. FIWARE offers in Vienna on-site sign-ups and demos on how to get the most out of it, no matter if you are a provider or if you are searching the best-fit to cover your needs.
Presentation of first of its kind Whitepaper on Data Spaces for Smart Cities and Territories, Mobility, Energy, and Industry, that includes use cases, references and future trends from eight driving market players who jointly brought up the state-of-art and show concrete next steps to make Data Space happen.
Plugg Sessions will gather experts from more than 12 countries and 4 continents - leading regional, national and international initiatives and hubs, the so-called FIWARE Innovation Hubs (iHubs) - to share their best-practises and expertise, tools and methodologies to collaborate with each other, and how to engage with them. iHubs have many functions and offer a wide variety of business opportunities facilitating especially, but not only, SMEs the access to cross-border technological and business services.
We will proudly launch FIWARE's 5th edition of the Smart Cities Book. It lists more than 350 Smart Cities from all over the world and deep-dives into 140 of them with 155 solutions. All city references work with FIWARE-based technologies in the meantime in over 30 countries worldwide.

"We are looking forward to welcoming the FIWARE Community, an enormous line-up of global experts and hundreds of interested participants and guests in the city of Vienna that together with the Vienna Business Agency have been FIWARE Members for many years. People from around all continents will travel here, in the city that combines traditions, creativity and digital innovations, to discuss how to progress together with open source and open standards towards a more open and sustainable digital world", says Ulrich Ahle, CEO at FIWARE Foundation.

Cristina Brandtstetter, CMO at FIWARE Foundation, adds: "We cannot wait to open the doors to one of the most amazing locations FIWARE Global Summit has ever been, the Vienna Town Hall. Not only will we welcome our member number 600 there, we will also allow any interested guest to stop by and find out more about FIWARE, or to celebrate several new iHubs, the new setting of our Evangelists program or experience the Walk Of Fame. From Data to Value, our motto this year, will present lots of ideas on how to realize such 'value' on a practical level in diverse sectors".


To highlight some of the program slots:
On the first day, June 12th, the Summit will present the business track "Smart Cities and Smart Mobility: FIWARE stories towards climate neutral cities", technologies and trends with special focus on Data Spaces session, scientific track "Tech at the edge: trends reshaping the future with FIWARE", hands on use cases track "Strategic FIWARE programs, Services and Products" including five FIWARE Marketplace products and services pitches as well as a dedicated slot for the Accelerator community on how to learn, do business, get funding and reach out to the market.
On June 13th, the second day, participants will have the opportunity to get unique insights in domains such as Smart Manufacturing, Energy, Water, Agrifood and Ports, attend technological track focusing on innovations in Blockchain, Artificial Intelligence (AI), Digital Twins, Robotics, Metaverse for smart solutions and technologies linked to the development of the data economy. In addition, there will be a specific session to present FIWARE Digital iHubs experiences and discuss the latest news and challenges on the way of their digital transformation. Special panel discussions will address the North American and Latam market. This day also includes a special Gaia-X day focused on all projects, technology and implementations in collaboration with Gaia-X.
Although the conference has a global character, it will pay special attention to one of the currently most discussed topics: Data Spaces forming a single European market for data. International experts and business drivers presenting Data Spaces Business Alliance (formed by BDVA, FIWARE Foundation, Gaia-X and IDSA) have been playing leading roles in their creation, which will be also presented during a planned livestream with the Data Week conference, taking place in Luleå, Sweden. The leading CEOs of this Alliance will also feed dedicated panel discussion to exchange visions on market challenges and demonstrate how these organisations and initiatives are driving the development of Data Spaces from the practical point of view.

Next to decision makers, trend setters and game changers, FIWARE also offers a program for the tech community, co-hosted with FIWARE Global Summit: on spot technical training sessions for developers and technical experts will start on June 13 and run for three full days. This training will equip attendees with the necessary skills to develop smart solutions powered by FIWARE. It will introduce the basis of Digital Twin programming using NGSI-LD combined with common Smart Data Models (roughly 1,200 of them are already available) as well as how to integrate FIWARE systems with blockchain networks to create audit-proof logs of processes and ensure transparency, how FIWARE systems may interact in a trusted and secure manner through Data Space and how to monetize data services.

To receive more information about FIWARE Global Summit, register and get your admission ticket, please follow the official Summit website.
Get more information about the detailed Summit Agenda.
Press Office:
Kseniia Chernikova, Press Manager
kseniia.chernikova@fiware.org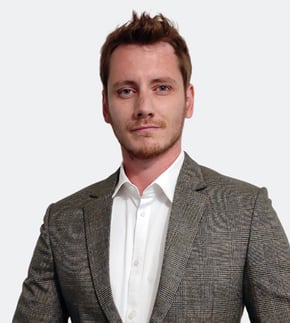 Joe Appleton
Joe Appleton is a content strategist, editor and writer at bee smart city. He is particularly interested in the topics of smart and sustainable cities and urban mobility.