ESG is one of the most exciting topics in the real estate business at the moment. It's a measurement of how well a company or portfolio performs with regard to environmental, social, and governance issues. There is a direct correlation between high ESG scoring and positive financial performance, with ESG criteria being particularly attractive to modern investors. Here, we will outline how real estate portfolios can harness the power of ESG to drive value.
For the real estate industry, there are a number of ways that professionals and managers can optimise assets to create attractive, sustainable, and resilient investment opportunities, and capitalize on existing stock to generate revenue.
While it's easy to think of real estate asset optimisation as purely an environmental concern, it's not true. While the environmental aspects are the most obvious, it's essential for buildings to be socially inclusive, governed fairly, and equitable for all, too. However, the focus on climate change and the need to promote long term sustainability and resilience can't be ignored.
Sustainable Real Estate
Climate change is a very important topic and the devastating impacts that it's having on our environment are worsening year after year. As our built environment is where we live, work, and relax, optimising our built assets for the future should be at the front and centre of any real-estate ESG strategy. Physical climate risk is a huge threat, and the only way to protect your assets is to futureproof them.
With major climate events such as earthquakes, typhoons, and other examples of extreme weather, becoming more common than ever before, the built environment is particularly vulnerable. As fixed entities, buildings are forced to endure a lot. Fortunately, we live in a time with advanced building materials to create safer spaces, sophisticated technology that can gather data about specific resource uses, and smart modelling tools that can highlight the strengths and vulnerabilities of an asset. Cutting-edge materials can help protect new builds and future projects, but it's data and detailed analysis that can help existing stock to become more resilient. This can drive value and prevent the accumulation of stranded assets.
The impacts of climate change are a real threat to the real estate industry, as floods, heat stress, rising sea levels, wildfires, and other events can result in enormous financial losses in figures that are rising year after year. In recent years, climate change has caused more than $650 billion USD of damage across the globe.
As that figure rises, it's clear that portfolio managers, CEOs, and decision-makers should put a greater focus on climate resiliency, reducing exposure to risks, and gather as much data as possible to help protect their assets against further damage or devaluation in the future.
Optimising For The Greater Good
While we've mainly talked about the environmental risk to the overall resiliency of an asset with regard to ESG, there's more that can be done. To drive value and build resiliency, an asset must also meet a number of other social and governance goals and criteria, with a focus on transparent decision making and overall drive for social good. The entire lifecycle of an asset must be taken into account. Here are some important ways that assets can be optimised for the greater good and the benefits that can be achieved.
Building Resilience
More than just a play on words, building resilience is more than just selecting eco-friendly or efficient materials. To build in a resilient way, it's important to choose a site with the lowest environmental impact, that adds value to the social fabric of an area, using materials and methods that can adapt to changing conditions and add value in other ways. For example, in cities suffering from intense urban heat, green spaces and thoughtful design are of the utmost importance. Reducing a building's impact and preventing any unnecessary stress on the surroundings is key.
Resource Optimisation
Resource optimisation is the act of making thoughtful decisions that maximize the potential of a finite resource in a way that adds the most value without causing irreversible damage. Optimising using finite resources is acceptable but only if it doesn't put the future in jeopardy. The latest generation of investors celebrates forward-thinking policies like this.
Reduce Environmental Impacts
Similar to resource optimisation, reducing the overall environmental impact of a building or a portfolio should be a key ESG strategy for any company. Reducing environmental impact can be done in many ways, from using clever design in the planning phase or being cautious and thoughtful during the decommissioning or demolition phase of a buildings life cycle. Almost every aspect of a building should have its environmental impact assessed, and any risk that could be posed to the natural environment should be eliminated or reduced, without compromising the overall function of the building.
Improve Occupant Experience
Arguably one of the most important aspects of ESG asset optimisation is the overall social experience for tenants and building occupants. The "Social" aspect of ESG is often overlooked or misunderstood, but it's highly important. Happy and healthy tenants should be the forefront of any asset optimisation or building design. Any space within the built environment should be designed with tenant satisfaction as the primary goal. Happy tenants are more likely to extend leases, and actively enjoy being in the environment that you've created. It just so happens that socially inclusive, well managed, and environmentally friendly buildings score the highest in tenant satisfaction rankings.
Improve Financial Performance
While financial returns shouldn't be the main driver of ESG compliance, there is a strong correlation between the two. By developing and deploying a strong ESG strategy, it's possible for portfolios to deliver higher financial returns, especially when compared with traditional buildings of the same type. In fact, with thoughtful design and the careful optimisation of energy, water, waste, and other features, it's possible to significantly reduce costs, therefore improving profit margins.
ESG: It Pays For Itself
Optimising assets with the above criteria in mind can make a significant impact on a portfolio's ESG performance by improving efficiency and reducing a building's carbon footprint, adding social value to a community, and bringing positive changes to an area. These positive changes increase the quality of life for those who live and work in the buildings in question, but it also adds significant value to a portfolio.
However, the journey to ESG compliance begins with a first step. The only guaranteed way of developing a solid strategy that ticks the right ESG boxes is to start with an initial measurement. Armed with an ESG benchmark, such as ECORE's benchmarking services, it's possible to take stock of your ESG situation and build a positive roadmap for the future.
---
Get our Executive Summary on ESG in Real Estate!

In this Executive Summary on ESG in Real Estate, we lay out the essentials that Real Estate decision-makers should know to get from ESG compliance to leveraging ESG as a value driver for real estate portfolios.
---

Related Articles: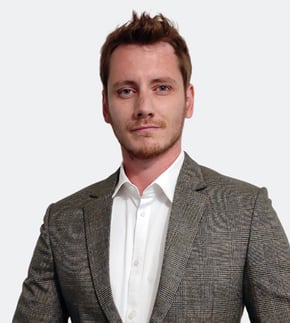 Joe Appleton
Joe Appleton is a content strategist, editor and writer at bee smart city. He is particularly interested in the topics of smart and sustainable cities and urban mobility.