A growing number of cities around the globe are testing smart waste management solutions to create higher efficiency in terms of resources and costs associated with keeping their cities clean.
While equipping the bins of private households with latest sensor technology is tested only by a few cities (like Santander in Spain or Montreal in Canada), several cities start in public spaces with implementing smart waste management solutions.
The installation of smart solar-powered compacting bins can be observed in a growing number of cities like Amsterdam, Atlanta, London, Melbourne, Philadelphia, and others.
An impressive example is the case study of "smart bins" adopted by Nambucca Shire Council in Australia that led to great results over the past years. They installed the BigBelly smart bin of world leading company BigBelly Inc. from Needham, MA in the United States that specializes in smart waste and recycling solutions for smart cities. A growing number of other companies are offering similar products in the growing smart waste management market, e.g. SmartBin from Dublin, Ireland or Ecube Labs from Seoul, South Korea.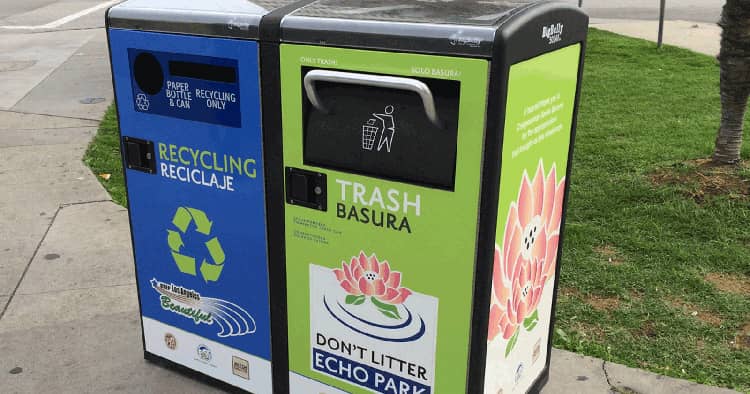 advantages OF smart bins
The solar panels harness solar energy and use sensors to continually compact the waste that is deposited, increasing the capacity by up to 700%, reducing waste collection by up to 85%.
The "smart bin" communicates information on fill levels and ensures collection only when the bin is full.

Fewer collection visits reduce congestion and traffic interruption, resulting also in cleaner and safer streets.

Traffic reduction due to fewer collection visits helps reduce carbon dioxide and other emissions.

The "smart bins" are standardized so that they can be emptied with existing equipment.
From a citizen's perspective, the social benefits of "smart bins" – besides their economic and environmental advantages – are interesting. They help to:
raise public awareness of utilizing renewable energy

improve street sanitation

encourage recycling

collect and analyze area-specific data on waste volumes for better planning

increase WiFi coverage with their function as a free public WiFi hotspot
---

Interested in Smart Waste related Tenders?
Check our Tender Premium Service now!
---

Read related Articles:
---
Image Source:
Smart Bin by BigBelly, Inc.