Smart infrastructure is a broad term that covers everything from digital urban processes to traditional physical infrastructure, such as roadways, water services, and other city necessities. As cities expand and populations swell, urban services need to adapt quickly to overcome new challenges.
Rising temperatures, water shortages, waste management, poor air quality, economic downturns, and inadequate living spaces are just some of the many difficulties that cities are having to face.
To get an overview of these challenges, and learn how cities are reacting to ever-changing conditions, we spoke to three dynamic companies from the North Rhine Westphalia metropolitan region.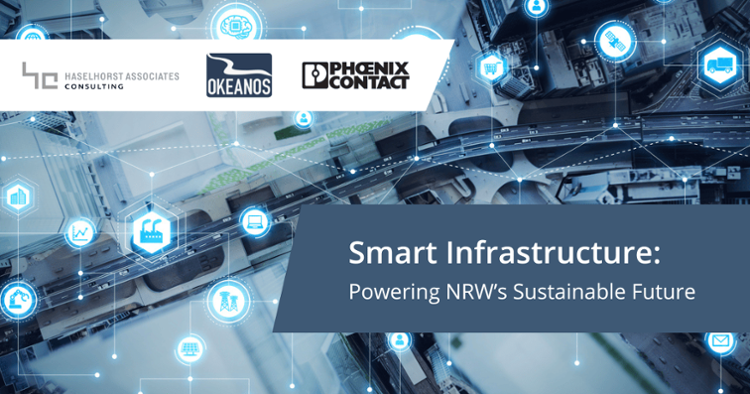 iStock: metamorworks, ID: 957654566
Haselhorst Associates GmbH
To get to grips with the overall state of the situation and how Smart Infrastructure is at the heart of urban sustainability, we spoke to Haselhorst Associates GmbH, a management consultancy based in North Rhine Westphalia and Bavaria. Haselhort Associates' Communications Manager, Corina Picker, and Senior Consultant, Dr. Lucia Wright, were on hand to answer some brief but enlightening questions. Here's what we learned:
Just to get us started, I'd like you to give me a quick overview of what Haselhorst Associates GmbH does.
Dr. Wright: We are a management consultancy firm with offices in North Rhine-Westphalia and Bavaria. We provide strategic and comprehensive services to cities, utilities, and companies to help them achieve their goals.
One of the first questions we ask is how to make cities more livable. We work closely with governments and utilities and help define the goals and measures to create resilient, productive, attractive, inclusive, and environmentally sustainable cities. This included ensuring basic and digital access for all.
To do this, we link solutions and tools, and we work to make informed decisions, and we work with politicians in order to build the structures which ensure the continuity and the long-term implementation of projects. And because we have a detailed overview of the development of smart cities in Germany, we can also help companies to find their approach to enter the smart city market.
Since 2018, we have published a Smart City ranking, which is the basis for the discussion for the digital and sustainable transformation nationwide.
So, whatever your challenges are, if it's strategy formulation, implementation or deciding which projects to implement first from basic infrastructure such as fiber optic expansion, carbon accounting, or deciding what projects to prioritise to reduce your carbon footprint. Whatever your current challenges are, reach out to us. It's not only our slogan, we really mean it! We do believe that we can master changes together.
It sounds like you're the secret ingredient to finding synergies between industries! You mentioned that you're actively working with politicians and developing strategies. Who are you currently working with?
Dr. Wright: We have a few references! But before I answer your question, I would like to explain that we believe that the smart cities concept is not just a concept for large cities. We help small and medium-sized cities on their way to become smarter and more sustainable. It's not just about digitisation, but also about sustainability. One of our current project is, for example, in the north of Germany, near Hamburg. It's a city called Norderstedt and Norderstedt is one of the early pioneers in basic digital infrastructure. They built and developed fiber optic expansion networks some years ago and actually provide Hamburg with the necessary services.
Taking the focus off of large cities has been a common theme lately, and bringing smaller municipalities into the Smart City game is more important than ever. With more regions focusing on smart and sustainable development, what would you say are the top priorities that we should be focusing on?
Dr. Wright: Our top priority is climate action.
That's not only because United Nations Sustainable Development Goal #13 says so, but we see it in all areas of life and each city has needs an individual strategy and individual goals. But our priority is focused on reducing carbon footprints. So, that's where we would like to help the most.
Dr. Wright, thank you for your time. We wish you the best on your fight against the climate crisis. Good luck!
To learn more about the important work that Haselhorst Associates is doing, visit their website and explore their many interesting projects.
OKEANOS Smart Data Solutions GmbH
An important symptom of the climate crisis is the widespread threat of water shortages and drought. Water availability is hugely important for cities. Safe drinking water is essential for human life, but it's also incredibly important for sanitation, agriculture, and many other pivotal services. The water and environmental economy has been thrown into the spotlight recently, as many cities struggled with soaring temperatures and worrying droughts.
To learn more about the importance of water and resource management, we spoke to Juliane Neumann and Dr.- Ing. Benjamin Mewes of Okeanos Smart Data Solutions.
Let's talk about Okeanos. Tell us your story.
Juliane Neumann: Okeanos is a start-up that develops scalable digital solutions for the water and environmental economy. These solutions and toolsets help to manage the water resources in our cities.
For example, we have kind of a concept called Smart Green City and simply said, Smart Green City can tell us which tree can tolerate certain amounts or types of water, or it can identify drought hotspots in a city.
Given that we've just had a summer filled with terrifying environmental events, this kind of technology seems more relevant than ever before. Is your solution currently deployed in a city?
Juliane: Indeed, it is actually deployed locally in NRW and many cities in Germany are already using this tool to manage their water and environmental economy.
That's fantastic. Given your focus on the water economy, what trends do you see for the future when it comes to the topic of water conservation?
Juliane: In the next few years cities will suffer more from droughts, but also from heavy rainfall and flooding due to climate change. We need to build the city like a sponge that can absorb high amounts of precipitation and thus, for example, relieve the burden on the sewage system and supply plants with water during long periods of heat.
Thank you so much for your time, and for the effort that you are putting into making our cities stronger and more resilient!
Would you like to learn more about Okeanos? To find out how Okeanos is changing the world, visit their website for more information!
PHOENIX CONTACT GmbH & Co. KG
Our journey to learn more about the real-world applications unexpectedly led to a focus on climate action and water security. As luck would have it, our next interview partners also know a thing or two about the importance of water and the sensors and data that can help to manage this precious resource. We reached out to Fabian Pasimeni, Director of the Vertical Market Management Urban Infrastructure, and Joel Stratemann, Business Development for Smart Cities, from PHOENIX CONTACT GmbH & Co. KG., to find out more.
Phoenix Contact is a well-known name, but (to my knowledge) not as a smart city solution provider! Can you tell me a little bit about Phoenix Contact and the work you're doing for the development of smart cities?
Fabian: Yes, you're quite right! Usually, Phoenix Contact is very well known for the manufacturing of components, for electrification, automation and for network technology. But in the smart city context…?
Joel: In the context of Smart City, we have a complete portfolio of hardware, i.e. low-carbon components, complete control cabinets and connectors - everything that is needed for this. In addition, we also offer software for applications. Then we have a complete IoT platform that allows us to collect data from all kinds of applications in the smart city, and we have additional services too. This means that we do the engineering, installation, and performance maturation of the software and all the components that we offer.
So, you're a one-stop-shop for IoT and data collection service? Excellent! Whereabouts are you currently deployed? Which cities are taking advantage of your services?
Fabian: So, we have different areas of application. For example, we have a particular focus on smart water. We also focus on smart traffic, smart lighting and environmental IoT. In the area of environmental IoT, for example, we have environmental monitoring software that we have deployed in a lake near the city of Bielefeld. And in smart lighting: we have a very good pilot project in Switzerland and in Sangam, where we have deployed light management software.
IoT is obviously your thing. So, in the context of IoT, what are your predictions for the near future?
Fabian: In the future, more and more services will be developed, to further develop and improve the capabilities of IoT applications beyond their current means, for example for the development of other software and business intelligence.
Is it safe to say that IoT will become even more relevant in the future than it already is now?
Fabian: Exactly. And above all, we have also really focused on the purpose of our company. We want to create a sustainable world together. That means we really want to help with our software, for example, to reduce energy consumption in general, to make data transparent, to really, let's say, develop the right measurements. That is our focus.
So, in summary, we need data to measure these things in order to work towards sustainability, goals.
Fabian, Joel, thank you for your time. It was a pleasure!
If you would like to know more about PHOENIX CONTACT and their innovative IoT solutions, you can get an impression of what their platform can do by visiting their website.
Smart Infrastructure: In Summary
While three companies from North Rhine Westphalia may not provide a concise cross-section of the industry, it's fair to say that most infrastructure solution providers have sustainability and environmental concerns at the top of their priority lists.
NRW's leading innovators are paving the way for a brighter and more sustainable future, with a clear focus on the importance of IoT, data collection, and thoughtful implementation strategies that are preserving our most precious natural resources and protecting our environment.
These interviews took place at the Smart City Expo World Congress in Barcelona. The state of North Rhine Westphalia offers companies from NRW the opportunity to present their products and service at the trade fair.
Read Articles Related to Smart Infrastructure :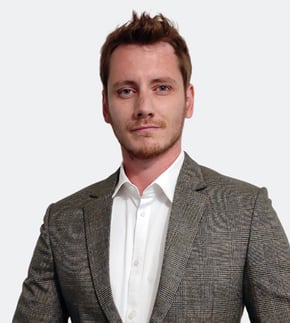 Joe Appleton
Joe Appleton is a content strategist, editor and writer at bee smart city. He is particularly interested in the topics of smart and sustainable cities and urban mobility.