When it comes to public safety, smart city leaders recognize the importance of engaging with citizens and encouraging them to report safety problems. In this article, we present a perspective on public safety — and focus on Vizsafe, a U.S. startup firm which discovered opportunities to incentivize citizens and improve safety by creating a platform which connects the power of crowdsourcing and smartphone technologies with a blockchain-based rewards system.
The Public Safety Imperative
A review of municipal budgets confirms that cities allocate substantial resources toward maintaining public safety and minimizing the risks inherent in urban life. "Over the past three decades, U.S. cities have allocated larger and larger shares of their budgets towards law enforcement." In addition to law enforcement, cities are responsible for fire safety, emergency response systems, and measures to ensure security, health and quality of life. Ensuring safety and security in cities is a shared responsibility that requires coordination of multiple organizations to:
Respond to street crime, other acts of violence and emergencies
Ensure security of city centers, neighborhoods, schools, public infrastructure, mission critical systems and high-profile venues
Minimize the risk of fatalities and injuries from accidents, fires, drownings, industrial disasters and infrastructure problems
Plan and implement emergency actions in the event of natural catastrophes
As the smart city concept evolves and promises a higher quality of life,expectations for public safety. But the task of meeting societal demands for safety grows in complexity alongside urbanization trends. "In many of the world's major cities, neither public safety provision — including through law enforcement but also beyond — nor social development have kept up with the pace of urbanization and the threats that urban spaces experience." Even with high levels of public spending on safety, local governments can't do it all by themselves. Cities increasingly rely on citizens to engage with municipal departments to report safety problems, incidents and risks.
Opportunities to Improve Safety Through Crowdsourcing
Public safety crowdsourcing — "the act of engaging private citizens to perform public safety acts"— offers methods and tools to improve collaboration between citizens and municipal agencies. With the adoption of social media and smartphone technologies, citizens routinely share information across digital channels, and this offers opportunities for public safety improvement. "This real-time data and information exchange, crowdsourcing, can be used to help first responders and personnel in emergency situations […] which can ultimately save lives."
Public safety entities "require assistance from citizens in terms of surveillance, incident response and recovery." The ability to recover from a crisis is a measure of a city's resilience. Public safety crowdsourcing can help smart cities — through citizen engagement and trust — to increase urban resilience. Lauri Stevens, a social media expert, believes local government agencies (in particular law enforcement) "should actively engage their community and build a relationship. […] Citizens want information, but they also want you to listen."
In spite of efforts to increase engagement through crowdsourcing and other measures, citizens do not always make an effort to report safety problems. "What stops most people from doing so is firstly, the lack of a platform with appropriate channels, and secondly, the lack of immediate incentives." Therefore, the need arises for an innovation which gives the citizen an incentive to take action and participate in public safety improvement.
Vizsafe: Enabling Safety Through Smart Crowdsourcing
Vizsafe, a startup firm established in Rhode Island in 2014, recognized opportunities to combine crowdsourcing techniques and smartphone technologies with a user rewards program as a way to incentivize citizen participation. This led to development of the company's Geoaware® Services Platform — enabling Vizsafe to become "the first company to recognize and enable the crowd to participate in safety and security using a simple and secure smartphone interface".
Figure 1. Vizsafe Geolocated Communications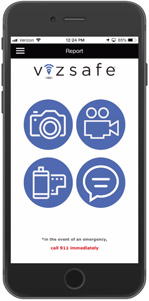 Create geolocated mobile reports on public safety — with photos, videos and messages
Type or use voice-to-text for detailed reporting
Verified reports receive reward for contributing to safety
"The mission of Vizsafe is to empower every person to participate in the safety of communities where they live, work, visit and play. […] Citizens can post and share photos and videos directly to municipal and public safety resources, which are visually mapped along with other sensor alerts and streaming cameras to significantly improve smart city incident management communication and collaborative resolution."
Building Citizen Participation Through an Incentive and Rewards Program
A key element in the Vizsafe strategy is to promote citizen participation and build trust through a blockchain-based rewards program designed to incentivize the crowd "and give them a reason to submit information that is in everyone's interests." By making a rewards program available to users through the Geoaware® platform, Vizsafe is the "first decentralized network that crowdsources safety through blockchain incentives." Citizens are incentivized to use the Vizsafe app to upload safety-related images and information reports. When an issue reported by a citizen is addressed, a member of the appropriate safety organization verifies the report by using the same app. After the report is authenticated, the citizen receives digital rewards which can be redeemed at participating vendor locations.[1]
The unique Vizsafe rewards program is an essential part of the company's goal to incentivize action — and motivate someone to upload a report "whether it is a potential security threat (such as an unattended bag) or faulty urban infrastructure or a damaged street light. […] It's the slight nudge that turns someone else's problem into my opportunity." When participation is rewarded in a meaningful and credible manner, citizens become more than consumers of municipal services; they become active partners in improving and maintaining their communities.
Improving Safety in High-Profile Venues
One of the opportunities identified by Vizsafe involved finding a way to improve safety and security in sports stadiums, conference facilities and other high-profile venues. "High profile venues around the world face an increasingly dangerous and complex task of protecting their employees, visitors, physical assets and brand from threats big and small."
For event planners, security is a fundamental requirement in selecting a venue. "The issue of event security has become more complex and often leaves meeting specialists with plenty of questions about the future. One of the main questions raised is how can an event destination support the security of an event?" Through the Geoaware® smart services platform, Vizsafe offers venues and facility operations stakeholders a solution that "improves situational awareness, response, and resolution of issues reported by personnel, partners and visitors."
In the early stages of creating its platform, Vizsafe realized that crowds of people who attend major events represent a powerful public safety resource. Unless they have access to a crowdsourcing platform — and incentives such as those offered through Vizsafe — they are an underutilized resource. "With smartphone cameras in hand, the crowd itself is the most powerful sensor network available."
It is not only urban crises and life-threatening situations that citizens observe in public spaces. By reporting ostensibly small issues and hazards, citizens raise awareness of safety problems which — without attention — may escalate into serious incidents. Vizsafe says that "while there have been a number of critical incidents reported and resolved," the majority of images submitted by users report safety hazards concerning maintenance or infrastructure issues in public spaces.[1]
"Armed with smartphone cameras, employees and visitors can provide actionable safety information," which reduces risks, improves problem-solving and risk resolution, and prevents losses and injuries.
Vizsafe's patent-pending Geoaware® solution was SAFETY Act Designated as a Qualified Anti-Terrorism Technology (QATT) by the U.S. Department of Homeland Security. Vizsafe "plays a vital role in the smart safety, operations and management of some of the world's most valuable facilities," through situational awareness, real-time incident feeds, sensor alerts, permission-based sharing, and indoor mapping.
Figure 2. Vizsafe Indoor Mapping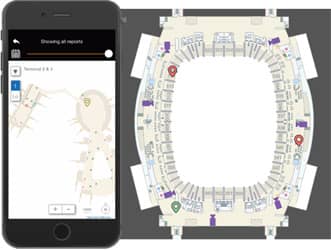 View facility floor plans and securely share with personnel and outside partners
Use indoor maps for wayfinding navigation, incident reports and sensor mapping
Vizsafe demonstrated its value in improving the safety operations of a major sports and entertainment venue. As described by the COO of an NFL stadium: "Vizsafe has added a new level of productivity and efficiency to our security management. As the saying goes, a picture is worth a thousand words and when you can map these incident reports and filter based on time and location, our ability to respond to issues is timely and effective. All of this information, along with live feeds from our security camera network, can be shared in real-time with first responders, which improves multi-jurisdictional communications and serves as a powerful security and public safety force multiplier."
Vizsafe in the Smart City Context
Looking to the future, the Vizsafe platform should have wide application in smart cities by improving the awareness of risks in public spaces and contributing to the quality of life of urban citizens. The benefits of Vizsafe deployment in smart cities include improvement of incident resolution in security, safety and maintenance situations.
Figure 3. Vizsafe Smart Cities Incident Resolution Model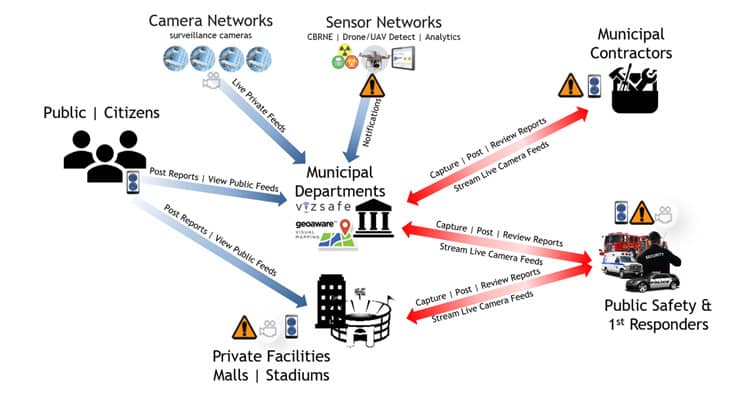 In addition to high-profile venues, Vizsafe says their solution is applicable in meeting a wide range of smart city safety and security challenges in:
Law enforcement and emergency services

Urban infrastructure protection and maintenance

Schools and universities

Malls, hotels and resorts

Office complexes

Transport, logistics, ports and borders

Municipal services
"Smart cities deploy a vast array of sensors and IoT devices to meet the data requirements of public service delivery, and Vizsafe is a powerful platform to unify this technology and make it actionable," explains Nathan Whittaker, Senior Solutions Engineer at Vizsafe. "A city's largest and most sophisticated sensor network takes the form of its citizens."[1] As the ones who depend on urban infrastructure and smart city services on a daily basis — and who are equipped with smartphones — citizens are uniquely placed to report safety issues.
When citizens with smartphones observe a safety issue in smart cities, they can share images of the issue via social media. But there is a barrier to getting the issue resolved. "In most cities," according to Whittaker, "there is no easily accessible community reporting mechanism, and therefore civic energy is wasted on endless social media criticism. This energy can be better utilized in a distributed crowdsourcing network that empowers citizens to become active participants in improving their communities."[1]
Through the Geoaware® decentralized crowdsourcing safety and rewards platform, citizens have a reporting mechanism and incentive to take action and increase the awareness of urban problems and threats.
Vizsafe was one of the finalist startups selected in the Accelicity Accelerator run by Leading Cities in Boston. bee smart city supported the startup as part of the accelerator program.


---

SOURCES:
[1] Personal communications with Nathan Whittaker, Senior Solutions Engineer, Vizsafe Inc., January 2019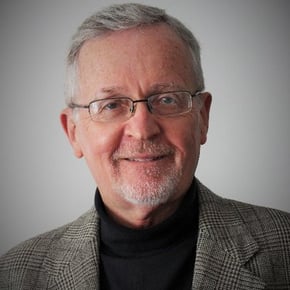 Jon Glasco
Jon Glasco is a freelance consultant and writer focused on innovation in smart cities and smart urban mobility. He has experience in executive and consulting roles in the telecommunications, mobile operator, public transport, government and professional service sectors. Jon holds an MBA and Bachelor of Science in Electrical Engineering.