Ensuring pedestrian safety is a complex challenge throughout the world - especially when many smart cities are encouraging more walking while trying to reduce hazardous crosswalk and traffic situations. In this article, we cover pedestrian safety challenges, offer examples of smart crosswalk solutions and review pedestrian safety policies.
Pedestrians beware! Cross the street at your peril
Worldwide, an estimated 1.35 million people die each year in road crashes. In the US, the National Highway Traffic Safety Administration (NHTSA) reported that traffic fatalities in the first six months of 2021 were "the highest since 2006 and 18 per cent higher than the first half of last year … the biggest percentage increase in road deaths in the first half of the year since the Department of Transportation began recording fatal crash data."
Meanwhile, streets are getting more hazardous for pedestrians. During the first year of the pandemic, the pedestrian fatality rate per vehicle miles travelled in the US jumped 21 per cent (the highest-ever increase).
Data from the Governors Highway Safety Association (GHSA), indicates pedestrian deaths in the US accounted for about 13 per cent of traffic fatalities in 2009 and increased to 17 per cent of the total by 2018. GHSA data reveals more than 6,300 pedestrians were killed on US streets in 2018, the highest number in nearly three decades. Contributing factors for these deaths include excessive speed, distracted driving, tricky intersections, hazardous traffic conditions and increased numbers of SUVs and other large vehicles on city streets. "The number of pedestrians killed in crashes involving SUVs skyrocketed by 81 per cent in the last decade," according to the Insurance Institute for Highway Safety.
According to the National Association of Transportation Officials (NACTO), "intersections entail one of the most complex traffic situations, with different crossing and entering movements by vehicle drivers, pedestrians and bicyclists. Consequently, the risk of crashes and injuries is high at intersections," and pedestrians - the most vulnerable road users - have the highest risk of severe injury or death.
A study based on US road crash data revealed that "vehicle speed when approaching a pedestrian crossing is critical to pedestrian safety." Although Americans drove less during 2020, "speeding drivers taking advantage of empty streets and the increasing presence of larger, more dangerous vehicles have made it much easier for drivers to kill pedestrians. Black, Hispanic and Indigenous Americans - as well as vulnerable including children, people with disabilities and elderly Americans - were disproportionately killed at higher rates."
In contrast to the US, traffic safety is improving in most European countries, but the data varies by country. From 2015 to 2017, the average number of urban road deaths per million urban inhabitants was down to 11 in Norway (the lowest in Europe) and 17 in Finland, whereas countries with the highest rates of urban road deaths were Romania with 105, Croatia with 88 and Serbia with 74.
Even with traffic safety improvements, European cities confront challenges in protecting pedestrians. An estimated 29 per cent of fatally injured road users are pedestrians and other vulnerable citizens. In Slovenia, "pedestrians remain the most vulnerable road users. Particularly vulnerable are children, who face the greatest danger when crossing roads."
In Poland - where pedestrians represent more than 50 per cent of traffic fatalities in major cities - researchers at the Warsaw University of Technology conducted a study to evaluate a pedestrian crossing system with flashing lights activated automatically by the detection of pedestrians. After a year following system installation, "the effect of active signage remained significant. The average percentage of drivers yielding to pedestrians was 77 per cent higher," and the average vehicle speed was lower on both collector and arterial streets. As a result, the decline in the probability of a pedestrian being killed or severely injured ranged from about 9 per cent on arterial streets to 32 per cent on collector streets.
The promise of innovative pedestrian safety solutions
For smart cities, new solutions to improve pedestrian safety are essential in creating less hazardous streets and neighbourhoods. Here are examples of smart crosswalk solutions from Estonia, Spain, the US and the UK:
Bercman Technologies, a smart mobility startup in Tartu, Estonia, offers an innovative product range to improve mobility safety. Bercman's vision is to become a leader in the global market for cooperative intelligent transportation systems.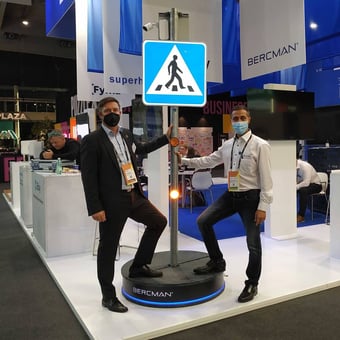 Initially, the company decided to focus on hazardous locations (such as unregulated pedestrian crossings) and design technologies to help municipalities reduce the risks to pedestrians. Bercman's Smart Pedestrian Crosswalk (SPC) is a multifunctional IoT-based product that uses cameras, sensors and machine learning to monitor traffic, collect data at crosswalks and detect potential collisions. In hazardous situations, it warns pedestrians with an audible alarm and alerts vehicle drivers with flashing LED lights. The system is adaptive and responds to changes in traffic conditions, thereby improving pedestrian awareness of potential hazards.
In 2020, Bercman completed a pilot of its SPC solution in Helsinki. Hans Leis, Bercman's chief marketing officer, says "the current version of the smart pedestrian crosswalk has changed a lot, partly due to the Helsinki pilot. We gained useful experience in the engineering and functional parts of our solution. We also held a demo day on site, with the participation of partners involved in the project and, more importantly, feedback from local residents." As a result, the company made changes to the technical solution and Leis says "today's solution is more modular and easier to maintain and configure, based on the client's situation. The reliability of the SPC and the variety and accuracy of data collection have also increased."
In another pilot in Viimsi, Estonia, Bercman installed an SPC solution with high-definition cameras at a high-risk intersection and pedestrian crossing. When the SPC system detects vehicles approaching a crossing, backlit crossing signs become brighter, drawing drivers' attention to the crosswalk even in poor weather conditions.
In a survey of more than 400 companies, StartUs ranked Bercman as one of the top five transit solution providers for smart cities. At the 2021 Smart City Expo in Barcelona, Leis said "the societal benefits of our systems are increased safety for pedestrian crosswalks, collection of valuable data for city planning and facilitation of the market entry of safe autonomous vehicles."
In addition to the company's successful pilot projects in Finland and Estonia, Bercman set its sights on other EU countries. Mart Suurkask. Bercman's CEO, says the company "is exporting to Greece, Croatia and soon to Switzerland to conduct first pilots for mass adoption a bit later."
STEPVIAL, based in Tarragona, Spain, designs and manufactures smart solutions to improve urban mobility and safety. STEPVIAL's intelligent pedestrian crossing is designed with a system of sensors to detect pedestrians and alert motorists. When pedestrians are detected, the sensors transmit a signal to illuminate LED panels integrated into the asphalt. These LED panels are augmented by vertical LED signs that alert drivers to the presence of pedestrians. The STEPVIAL solution is operational in several Spanish cities including Salamanca, Valencia and Malaga and other cities in Portugal and Mexico.
Actibump is a physical solution to protect pedestrians and other road users using an innovative inverted speed bump mechanism. Developed in Sweden, Actibump is an inverted speed bump that only deploys when it detects speeding vehicles. It has been proven to protect pedestrians and cyclists from fast-moving traffic without disrupting the existing traffic flow. Traditional speed bumps increase vehicle emissions, noise, and vibrations, and cause traffic to move at a slower and inefficient pace. Actibump relies on a series of sensors that register traffic speed and density and only deploys when a vehicle is speeding.
When it detects a speeding vehicle, an integrated hatch is activated creating a dip in the road, creating an inverted speed bump, reducing speed and keeping the roads safer for cyclists and pedestrians. It has been successfully deployed in Sweden and Australia, where it has been proven to reduce speeding by up to 80 per cent. In some cases, Actibump was able to reduce traffic speeds by up to 10 km/h.
Sensol Systems, an innovative startup in Seattle, Washington, created a pedestrian safety solution capable of adapting to smart city infrastructure and autonomous vehicle technologies. Sensol's smart crosswalk, a modular system overlaid onto the street, was designed to detect pedestrians before they enter the crosswalk and activate flashing beacons to alert motorists. The Sensol design includes LEDs that illuminate pedestrian locations as they cross the street. "Sensol's crosswalks detect every person, vehicle and bicycle from their weight. This makes the detection system independent of lighting and weather conditions."
Sensol designers claim its integrated detection system can "detect and distinguish pedestrians, vehicles and bicycles in a more reliable way than cameras and other methods currently can." The system was also designed to upload traffic and pedestrian data to the Sensol cloud and enable smart cities to improve knowledge of traffic patterns and identify safety risks.
In 2021, Sensol Systems completed an early-stage Jones + Foster Accelerator program. The company also developed a demo version of its smart crosswalk, identified five demo sites and engaged with local governments, according to founder and CEO Janie Bube.
Starling Technologies, a UK startup, has a goal to revolutionize pedestrian safety at crosswalks by developing dynamic, real-time solutions for dangerous junctions and streets. The Starling crosswalk safety solution:
Identifies pedestrians, bikes, cars and other vehicles in real-time and predicts possible accidents and near-misses

Transmits data and instructions, using industry-standard protocols to control road infrastructure and adapt to real-time conditions

Builds on local rules to upgrade crossings and intersections

Responds to pedestrian behaviour and gestures

Generates data for alerts, urban planning, environmental strategies and infrastructure management
In 2020, Starling revealed plans to deliver crosswalk solutions in collaboration with Colas, a global leader in transport infrastructure.
Policies and frameworks — and the need for pedestrian safety priorities
The EU is working toward a new road safety regulatory framework. In October 2021, the EU Parliament released a report endorsing an EU target to cut serious injuries and deaths from road crashes by 50 per cent by 2030. The report calls on the European Commission to create a harmonized framework for connected cars and safe vehicle interaction with vulnerable road users. Commenting on the report, Ellen Townsend, policy director for the European Transport Safety Council (ETSC) said Parliament's report reflects the concerns of EU citizens in urban areas "where inappropriate speed and ineffective infrastructure are problems that have come into sharp focus as more people took to walking and cycling during the pandemic."
Unfortunately, pedestrian policies and safety frameworks are not high priorities for regulatory and municipal authorities in the US - despite data from the NHTSA which indicates a pedestrian died in a road crash every 85 minutes in 2019, and more than 80 per cent of the fatalities were in urban areas. Responsibilities for pedestrian safety policies and problem-solving in the US are fragmented across various levels of federal and state government entities.
Sara Bronin, a law professor at the University of Connecticut, writes in a Bloomberg article that the US needs "to establish non-driver safety as a formal priority of federal, state and local traffic agencies." Although many US cities have made many pledges since 2012 "to follow the global Vision Zero campaign for the elimination of traffic fatalities," Bronin says "their lack of progress indicates that making this pledge a reality requires structural change beyond what individual cities can do on their own." Jennifer Homendy, the new chairman of the National Transportation Safety Board (NTSB), "wants to change the way governments and businesses look at highway safety to consider the whole system rather than individual driver behaviour."
Policymakers and regulators in the US can learn from Oslo and Helsinki. Neither of these European cities had a single pedestrian fatality in 2019, after years of commitment to Vision Zero and actions to decrease car usage, reduce vehicle speeds and implement pedestrian safety measures.
Explore Proven Smart Mobility Solutions
Explore the bee smart city solution database and check out best practice smart mobility solutions. The free database features hundreds of solutions that have been implemented in cities and communities across the globe. Join today!
---

Read more about urban mobility topics and solutions: