The role of smart lighting solutions in the intelligent transformation of cities and buildings has gained momentum in the past years. This development will continue in the coming years based on increased connectivity and industrial internet of things (IIoT) solutions becoming a key element in most smart city strategies around the globe.
The opportunities that cities can seize with the installation of smart lighting solutions go far beyond value creation through energy (cost) and maintenance savings (which are huge considering that as much as 40 percent of a city's energy budget is consumed by street lighting and new efficient lighting can save up to 50% of these costs as a result of increased energy efficiency) or the improvement of the environmental impact.
Picture: Luxreview.com - Smart Lighting in Dubai's Smart City Revolution
Smart lighting as a backbone for IoT applications
The installation of smart lighting solutions can play a key role in a smart city strategy, in which street and other exterior lighting installations serve as the backbone of a network in which services are delivered to the benefit of citizens, businesses, and the city government.
Today, most cities that install new smart lighting or retrofit existing fixtures choose systems that already are equipped with sensor technology or that can be upgraded easily to utilize the advantages of IoT applications.
Modern smart lighting products can help cities in monitoring the environment, increase public- and traffic safety, upgrade connectivity as WiFi hotspots or deliver location-based services like smart parking and smart navigation.
---
Interested in Smart Lighting-related Tenders?
Check our Tender Premium Service now!
---
Examples of smart lighting solutions in cities
A wide range of leading smart cities has already taken advantage of the benefits that smart lighting solutions offer. A few examples of street and other exterior lighting solutions:
The City of Copenhagen has improved energy efficiency, lowered operational costs (energy cost savings of approximately 70%), enabled remote lighting management and control, and - as a result - improved citizen safety.



In the German City of Wipperfürth, a city-wide intelligent lighting network has been installed which feeds local information to the smartphones of citizens and visitors via Bluetooth. By using a downloadable app, smartphone users can access information about local retailers, special offers, company information, directional aides, and smart parking.



The City of London and the Borough of Barking and Dagenham is deploying more than 28,000 smart street lights via a platform-as-a-service solution. The platform ensures 100% coverage in the dense urban setting where cellular technology is often unavailable. The deployment of smart lighting will help to achieve energy savings goals, lead to a reduction of operational costs, improve service reliability, and function as a platform for future IoT applications.



Bristol City Council, United Kingdom, has replaced their original street lighting with a new energy-efficient solution to substantially reduce operating costs, increase safety and create ideal driving conditions. The city has replaced 20,000 street lights, generating cost savings of 1 million British pounds per year.



In San Jose and Los Angeles (both USA) and in Barcelona (Spain) smart lighting solutions are used to provide mobile broadband connectivity. The light poles can be remotely managed and offer a WiFi hotspot that improves mobile network performance across the city. Further IoT functionality can be added.



Milton Keynes, United Kingdom, is an excellent example of exterior lighting solutions in public spaces. Here, a WiFi-enabled interactive streetlight outside the football stadium and event arena was installed that features 360-degree LED lighting and CCTV. The system can be upgraded to include additional functionality.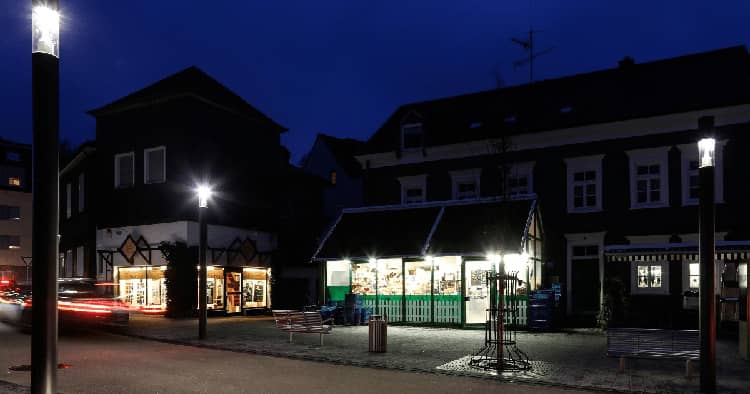 Picture: Smart Lighting by Osram at the City of Wipperfürth, Germany
Key takeaways for considering smart lighting solutions
Smart lighting solutions using networked technology represent an interesting opportunity for cities or communities that want to get smarter. The key benefits are:
huge reduction of energy and maintenance cost
increased public safety from improved lighting
safer traffic due to increased visibility of hazards;
measurable environmental impact due to reduced energy consumption
Through their function as a platform for smart city services, additional opportunities can be seized:
mobile broadband connectivity
traffic light controls
smart parking
traffic management
electric vehicle (EV) charging stations
environmental monitoring (emissions, noise)
public safety through video cameras
Smart lighting can be a backbone for a smart city network. However, cities should be aware of different existing systems and technologies. Compatibility, data security, and network redundancy issues should be taken into account early on. And, of course, scalability in terms of the overall network size as well as in terms of upgrades of future applications/functionality should be considered.

Find out more about smart lighting and other smart city solutions in our global solutions database. Get FREE access to hundreds of SMART CITY SOLUTIONS that have been implemented successfully in over 1,000 cities around the world. Join the leading global smart city network and community!

---

Related Articles:
---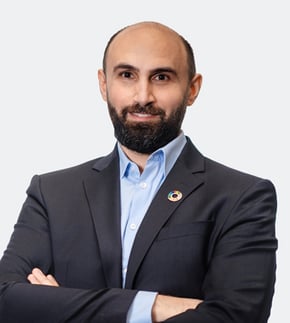 Dr. Alexander Gelsin
Dr. Alexander Gelsin is Managing Partner at bee smart city. With his expertise in big data, analytics, and IT he is engaged in numerous smart city and smart region consulting projects and is an expert on smart city strategy monitoring and evaluation.