Mülheim, November 2023 – bee smart city GmbH, a leader in smart city consulting and digital solutions, has made a notable impact at two premier smart city trade fairs this November. The company showcased its innovative software-as-a-service solution aimed at aiding local authorities in their digital transformation.
---
At the Smart Country Convention in Berlin, a paramount event for public sector digitization in Germany, bee smart city demonstrated its commitment to advancing digital administration. Concurrently, at the Smart City Expo World Congress in Barcelona, the world's foremost congress for smart city innovation, the company further established its standing in the global smart city sector.
These participations mark a milestone for the German company based in Mülheim, underscoring its mission to assist cities in becoming smarter and more livable through expert guidance and cutting-edge software solutions.
Innovative Strategy and Multi-Project Management Application Resonate in Berlin
The Smart Country Convention, held from 7-9 November, is the apex event in Germany for digitalizing public administration and smart city development. It congregates market leaders, emerging startups, digital economy innovators, and thought leaders from politics, academia, and administration. bee smart city, with a robust presence and an expert team, unveiled its Smart City Toolbox – a new software solution that captivated numerous city representatives and drew positive initial responses.
"There is great interest in a strategy and multi-project management tool in local authorities, as cities and regions have to lead a large number of strategies and specialist concepts with the underlying projects to implementation success," says Dr. Alexander Gelsin, Managing Director of bee smart city GmbH.
"By networking and collaborating with those responsible in cities, we have succeeded in developing software that not only breaks down the silos in the individual departments, but also makes project and strategy management easier for the employees involved in implementation. We have created an application that simply visualises the implementation status of strategies and projects and that focuses on the essentials, making it intuitive and easy to use. This makes work much more efficient for everyone involved and creates transparency about the implementation status and progress."
Software-as-a-Service for Cities and Regions Shines at Barcelona Event
Parallel to the success in Berlin, bee smart city also made a significant impact at the Smart City Expo World Congress in Barcelona. Held concurrently with the Smart Country Convention, this event is renowned as the world's largest trade fair dedicated to smart city initiatives.
The bee smart city team, actively engaging with attendees at their well-positioned stand, reported an overwhelmingly positive experience. The event provided an excellent platform for showcasing the company's specialized software-as-a-service solutions, designed to address the unique needs of cities and regions. This dual presence at major international venues underscores bee smart city's commitment to driving innovation in urban development globally.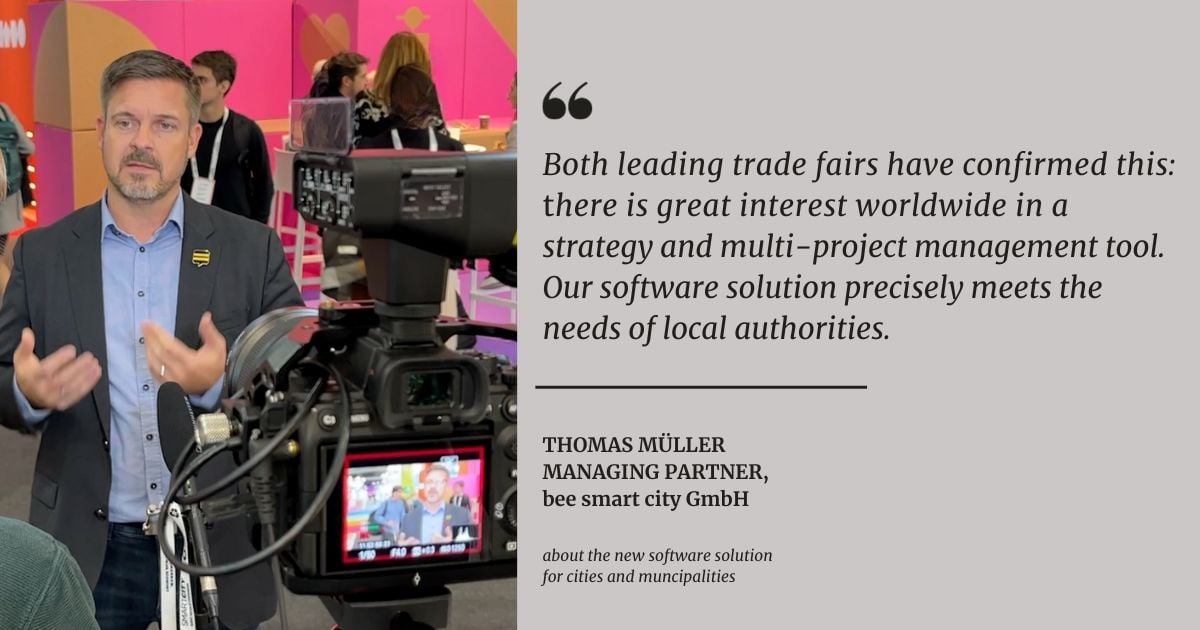 Thomas Müller, Managing Director of bee smart city GmbH, commented: "Even internationally, municipalities are faced with the challenge of efficiently managing the implementation of their strategies and projects and working together efficiently across departments and organisations. With our software, we make this possible and, in addition to strategy and multi-project management via reporting functions, we also create the necessary transparency for decision-makers in municipalities to control the implementation of municipal strategies and drive forward projects that make our cities and regions more liveable places."
COLOURFUL PROGRAMME FOR DIGITAL URBAN AND REGIONAL DEVELOPMENT AT BOTH EVENTS
Renowned representatives from politics, administration, science and business, as well as numerous start-ups, were present in both Berlin and Barcelona. A varied conference programme with renowned speakers from all over the world rounded off the portfolio of both events. Both fairs ended with record figures. With 25,300 visitors, 1,106 exhibitors, 577 speakers and more than 800 cities from over 140 countries, the figures for Barcelona far exceeded those of previous years. Berlin saw an impressive 15,000 attendees, 600 speakers and 300 exhibitors.
Looking Forward: bee smart city's Continued Presence at Major Trade Fairs
With an eye towards the future, bee smart city is already gearing up for next year's events. The company is set to continue its impactful presence at both the Smart Country Convention and the Smart City Expo World Congress.
Save the Dates for 2024:
Next year, bee smart city will once again be represented at both trade fairs and preparations are already underway. The Smart Country Convention will open its doors in Berlin from 15-17 October 2024. The Smart City Expo World Congress will once again attract the international smart city audience to Barcelona from 5-7 November.
Stay tuned for what promises to be another round of innovative showcases and insightful discussions.
---
About bee smart city
bee smart city is a specialized digital software and consulting company dedicated to empowering municipalities to successfully manage the transformation of smart and sustainable cities and regions. With the Smart City Toolbox - a unique software-as-a-service solution for cities and regions - we enable the effective management of smart city strategies and corresponding projects digitally and collaboratively in one place. With more than 14,000 members from 170 countries, bee smart city operates the largest free smart city online network and community where smart city professionals can share knowledge, learn and gain market insights. The platform is also available as a white label solution for organizations that want to foster collaboration between different stakeholders. In addition, we offer a unique global Smart City tender service that provides solution providers with access to newly published Smart City tenders worldwide. Last but not least, we advise cities on the design and implementation of Smart City strategies and solutions.
Learn more at: https://www.beesmart.city/en/
More Information:
Nicole Becker
Marketing Communication Manager
bee smart city GmbH
Wiesenstr. 35
45473 Mülheim/Ruhr
phone: +49 (0) 208 62801331
e-mail: press@beesmart.city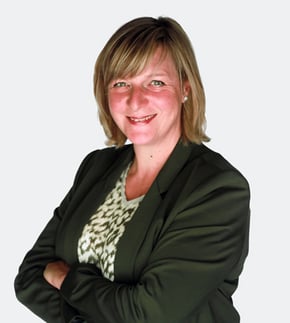 Nicole Becker
Nicole Becker is Marketing Communications Manager at bee smart city. She is responsible for the Communication, optimization of our website, content creation, fairs, events and PR.