Do cities always have to have cars, streets, and carbon emissions? Do they even need to have a roughly circular layout? Saudi Arabia's future city "The Line" suggests a different approach.
What is The Line?
The Line, a 170-km long smart city in Saudi Arabia's desert designed by US studio Morphosis, has been making many headlines recently. In October 2022, footage by aerial photography company Ot Sky showed that works have commenced on building this linear city. The wide trench for the foundation is already in place, creating space for the underground transport system traversing the length of the city. The Line will house up to 9 million people. It is expected to consist of a 500 metres tall, singular long building and have a mirrored facade. It will only be around 200 metres wide. Over its lifetime, the city is expected to reach net-zero.
The Line will rely mostly on its height to house residents and everything they need, such as parks, waterfalls, flying taxis, and maybe even an artificial moon. Vertical layering of homes, offices, green spaces, and public schools as well as year-round climate control of all indoor and outdoor spaces will create a high quality of life, turning The Line into a 5-minute-city (even more ambitious than the 15-minute city concept in Paris), where every amenity can be reached with a short walk. There will be no streets and no cars. Instead, a high-speed rail will connect the sections of the linear city, transporting citizens from one end of the city to the other in as little as 20 minutes. Officials claim that there will be no roads, cars, or emissions, and that The Line will be powered only by clean energy.
Estimated building costs for The Line will be around 100 to 200 billion USD, while other estimates go as high as 1 trillion USD. The plan was announced in January 2021 by Saudi Crown Prince Mohammed bin Salman. The first phase of the project is scheduled to be completed in 2030.
But that is not all: The Line is only one part of a much bigger development called Neom with a price tag of 500 billion USD. This controversial project, intended to boost tourism and economy, will see 10 regions in the north of Saudi Arabia developed. Alongside the Line, a ski resort designed by Zaha Hadid Architects, UNStudio, Aedas, LAVA, and Bureau Proberts is planned. This will be part of Trojena sports city, which has already been named as the host of an international sport event, the Asian Winter Games. Another part of Neom will be called Oxagon. This floating industrial complex north of the town of Duma will be a centre for modern manufacturing, industrial research, and development.

Is this the post-carbon eco-city of the future?
Its developers tout The Line as a "post-carbon eco-city. However, the utopian vision stretching from the Red Sea to the city of Tabuk has already raised serious environmental, economic, and social concerns. While The Line might create up to 460,000 jobs and add an estimated 48 billion USD to the Saudi Arabic GDP, it is unclear whether it will be constructed on time and within budget. While the country's sovereign will contribute about half the price from the Public Investment Fund, international investors are also necessary.
The social costs of the project are high: Already, The Line has displaced the native Howeitat tribe. Officials even sentenced three of its members to death when they refused to vacate their homes. These rash and strict actions do not bode well for the future. However, The Line is also the first city in a long time that is being designed around people rather than around roads or cars. The focus on pedestrians and five-minute-city ideas is laudable. On the other hand, the project proposal makes very little mention of important factors such as community structure, diversity of households, demographics, governance, individual rights, or religious tolerance.
Climate concerns have followed suit: While The Line emphasises its zero-emissions approach, creating energy only from solar, wind, and hydrogen-based power generation, it is not possible to build such a tall building out of low carbon materials. The carbon footprint of construction will be very big, according to Philip Oldfield of the University of New South Wales, around 1.8 gigatonnes of CO2 equivalent in glass, steel, and concrete. He added that the city would create a large-scale barrier to adjacent ecosystems and migratory species.

Is this a smart city?
The Line will also be a smart city, with Artificial Intelligence monitoring the city and its residence. It will use predictive models and big data to improve daily life for citizens. Residents will likely be paid for submitting data to The Line. The so-called cognitive city is supposed to put the needs of humans and the environment first. This should enable contextualisation to create a new way of digital decision-making, creating individual solutions for inhabitants' challenges. Artificial intelligence will be at the core of The Line, managing power, water, waste, transport, health care, and security.
However, Saudi-Arabia's poor human rights record does not bode well for responsible data usage or individual privacy, as the Japan Times pointed out. In effect, The Line will be a surveillance city. The option of getting paid when sharing data can distort the right of people to freely consent to data sharing. It might normalise the practice of selling personal data for profit. While there are definitive advantages to sharing data, such as automated health checks on users that have been immobile, the ultimate costs of this loss of privacy are not clear yet.
Ultimately, any future city will need people to flourish. Another smart city built in the desert, Masdar City in the United Arab Emirates, is struggling to find inhabitants despite its beautiful design. Whether the post-carbon vision of The Line can come true remains to be seen.
---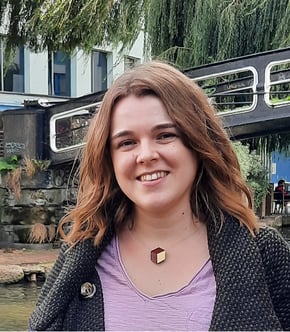 Laura Puttkamer
Laura is an urban journalist focusing on inspiring solutions stories from all over the world. She has a MSc in Global Urban Development and currently lives in London.