Madinah City has become the first city to join FIWARE Foundation's Platinum Membership and earn a place on the FIWARE Board of Directors, alongside the city of Vienna (Austria), and Herne (Germany). Together, Madinah City and FIWARE will implement Saudi Arabia's first smart city platform.
The agreement was signed at the recent FIWARE Global Summit in Gran Canaria, to bring FIWARE's open-standards and open-source technologies to Saudi Arabia and encourage the development of smart solutions that can be used and deployed across the region, and on a global basis too.
Raseel - A Smart City Platform
Madinah City's smart city platform, Raseel, powered by FIWARE, has been a keystone of the city's Smart City Program (MSCP). It's the intellectual property of the Madinah Region Development Authority, and has thus far contributed towards making the city the 2nd smartest city in Saudi Arabia, just behind Riyadh. The city has also been listed in the IMD Smart City Index for 2021, ranking 4th regionally, and 73rd internationally. Now, with the adoption of FIWARE's open standards and open data concepts, it is hoped that the city will rank even higher in the next IMD Smart City Index.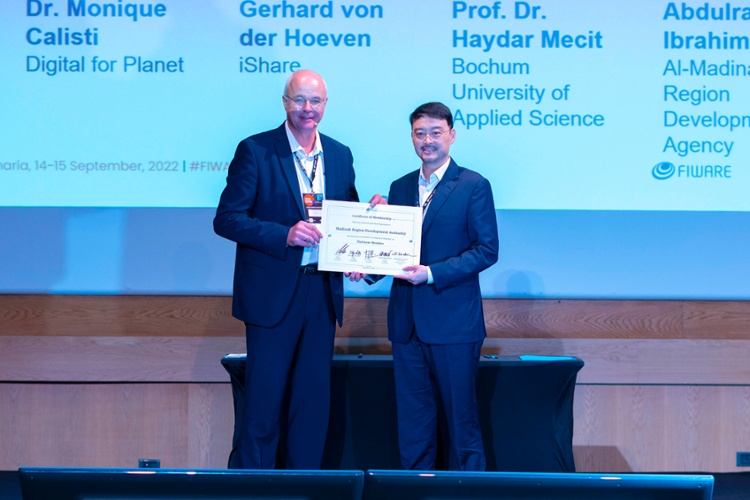 The latest agreement was signed between Ulrich Ahle, the Chief Executive Officer of FIWARE Foundation, and Mr. Abdulrahman Ibrahim, the Chief Data and Innovation Officer of Madinah Region Development Authority (MDA). Here is what the two leaders said of this landmark partnership:
"We are very much proud to welcome Madinah City as our 8th Platinum Member. The FIWARE ecosystem is rapidly growing on a global scale. With its ambition to develop and provide Open Source and Open Standards around the world, Saudi Arabia is a country where FIWARE can generate tremendous value. In this regard, the city of Madinah is an extraordinary partner for FIWARE Foundation. We are looking forward to further strengthening our ties to develop and present to the market the first FIWARE-based smart city platform in Saudi Arabia to help digitalise the city and region to become even more citizen-tailored and sustainable," said Ulrich Ahle, CEO FIWARE Foundation.
"Thanks to this agreement, the Madinah Smart City Program (MSCP) will have further access to FIWARE-powered solutions and will accelerate the development and implementation of its smart city platform vertical solutions. It will also empower the impact of MSCP by getting direct access to FIWARE's resources and participate in the advancement of open source technologies through the contribution in the technical committees and the advisory board," added Mr. Abdulrahman Ibrahim, Chief Data and Innovation Officer, Madinah Region Development Authority (MDA).
It is an exciting time for smart cities in the region, as the Madinah Smart City Program will play an active role in the future of FIWARE's innovation framework, help to boost FIWARE's partner ecosystem, allowing both FIWARE and the MSCP to develop smarter solutions for all.
---

Read related articles: