Ljubljana, Slovenia's capital and largest city, is a vibrant centre of economic, cultural, and innovative activity. This year, Ljubljana is celebrating the 150th anniversary of the birth of Jože Plečnik, an imaginative urban designer and architect whose work had a lasting impact on the built environment - such as the unique Triple Bridge which connects the city's well-preserved medieval section with its commercial hub.
To admire Plečnik's iconic architecture alongside Ljubljana's abundant green space and its pedestrian-friendly city centre is to appreciate a fusion of cultural tradition and urban quality of life. In a recent video, the BBC described Ljubljana as "the new Athens of Central Europe".
The story of Ljubljana (pronounced loo-blee-ana) is a story of resilience and resurgence. The city survived wars and catastrophes and the rule of multiple European powers - including the Roman Empire, the Austro-Hungarian Empire, and Yugoslavia, among others. During the 20th century, much of Ljubljana's cultural charm and potential value as a modern city were obscured behind a curtain of communist bureaucracy. However, Ljubljana proved its resilience through the preservation of its culture and language and, after Slovenia's independence in 1991, embarked on a path to become one of Europe's leading cities.


Emerging as a smart city with citizen engagement
Today, Ljubljana is well-regarded as a smart green city and popular tourist destination - with a commitment to the circular economy, innovative mobility, the environment, and cultural heritage.
Ljubljana's smart city success is based on visionary leadership, citizen engagement, and participation in European projects.

The city implemented smart city solutions in:

Circular economy initiatives

Water and energy networks

Electronic displays of bus timetables

Traffic management

Urbana tourist and city card

Sustainable tourism

Bicycle and electric vehicle sharing

F

ree wireless network

Street lighting upgrade

Public electric train in the inner city

Shared public space

In 2021, Eurocities nominated Ljubljana for an award in the public spaces category for its success in reinventing the city's main street. Professor Janez Koželj, deputy mayor of Ljubljana, explained that widening the sidewalks and cycling paths enabled the city to change the former four-lane street to two-lanes (dedicated to public transport and delivery vehicles). "The complete renovation included an upgrade of street lights, construction of new avenues, and renovation of monumental buildings," she said.
The Ljubljana city government engages with citizens to define problems, clarify challenges and establish priorities. To ensure citizens and civil society groups are involved in the co-creation of urban solutions, the city uses traditional channels (social media, smartphone, and e-mail) plus an interactive platform for citizens' initiatives and a mayor's open-door policy.


Think Green!
The European Commission says the value of green Infrastructure derives from performing several functions in the same spatial area, such as providing a healthy environment and green space for leisure activities, protecting biodiversity, adapting to climate change, and delivering economic benefits.
Ljubljana's green credentials are widely known, and the city was named Europe's Green Capital in 2016. Based on a strategy of green development, Ljubljana promotes the regeneration of derelict areas, encourages development along main access routes, and actively protects its natural resources and green space. The city's website claims "green innovations are part of the city's DNA."
Ljubljana's green identity is evident throughout the city - with 540 square meters of public green space per inhabitant and green areas covering almost 75% of the city's surface. In 2019, Ljubljana received the title of Planet Earth Friendly Municipality for the eighth consecutive year.


A circular commitment
Ljubljana recognizes the circular economy as a tool for urban development and compliance with the UN Sustainable Development Goals. With the active involvement of citizens, Ljubljana manages circular resources by maintaining value through reuse, repair, restoration, and recycling.
The city cooperates with the Biological Center and the Ecological Park to promote technologies that enable the complete circulation of resources and environmental sustainability in waste management.
The Ljubljana Regional Center for Waste Management (RCERO) is a national centre for eco-friendly waste management. RCERO recovers most of the waste it receives, and less than 5% goes to a landfill. Due to the city's proactive measures in waste reduction and recycling, Ljubljana became the first zero-waste capital in Europe.


Integrated transport and a car-free city centre
Until 2007, Ljubljana's city centre was plagued by high volumes of vehicular traffic and daily congestion on most streets. The Ljubljana Vision 2025 is aimed at transforming the city by improving its liveability. "The vision intertwined the concepts of sustainable development and urban planning in a close and harmonious way". … and the transport section of the vision was geared toward "turning the transport modal pyramid on its head—from most trips being undertaken by car to most trips being taken on foot." The city decided to restrict cars from the inner city and close streets and public squares to motorized vehicles - thereby creating a traffic-calmed public space dedicated to pedestrians and cyclists.
In 2017, Ljubljana adopted an integrated transport strategy with an emphasis on sustainable mobility and less car dependence. Ljubljana is active in the European Mobility Week initiative and is the only city to win the European Mobility Award twice.
In cooperation with Avantcar, Ljubljana introduced an electric car-sharing initiative to reduce mobility costs, harmful emissions, and noise pollution. An Avant2Go mobile app delivers a full range of customer-centric services from reservation to final payment.


Award-winning smart tourism
Ljubljana received the digitalization award in the European Capital of Smart Tourism 2020 competition. The judges recognized Ljubljana's tourism solutions (in sustainable development, accessibility, digital innovation, and cultural heritage) and the city's tourism website which offers appealing content and navigation apps. In 2021, Ljubljana was included in the Global 100 Sustainable Destinations list for the seventh consecutive year.
As a city of culture, Ljubljana is home to theatres, museums, libraries, and galleries and one of the world's oldest philharmonic orchestras. For the people of Ljubljana, appreciation of culture is part of daily life. More than 10,000 cultural events take place in the city each year, including ten international festivals.


Sensors and sustainability
Ljubljana's BTC City, one of the largest shopping and business centres in Europe, selected SmartIS City Ltd (a digital transformation solutions company) and Libelium (a designer of IoT solutions) to implement a smart solution to strengthen BTC City's environmental commitment and alignment with Ljubljana's sustainability goals. Based on Libelium's sensor platform, this solution was designed to control ambient conditions and air pollution by sending information from the sensors through a Libelium IoT gateway to a SmartIS platform.


University research and entrepreneurship
The University of Ljubljana is the oldest and largest higher education and scientific research institution in Slovenia and is ranked among the world's leading universities. It is known for the high quality of its programs in scientific and technical studies - and is the coordinator of EUTOPIA (European Universities Transforming to an Open Inclusive Academy), an alliance of ten European universities.
DIH Slovenia - a digital innovation hub in Ljubljana - enables digital transformation on the principle of a one-stop shop. Janja Novoselc, a communication consultant, told bee smart city that DIH Slovenia "raises awareness and provides services for the growth of digital competence, exchange of digital experiences and examples of good practice at local, regional and international levels, and provides access to data to promote entrepreneurship."
Other leaders in innovation and entrepreneurship in Ljubljana are AV Living Lab and Technology Park Ljubljana (TPLJ). AV Living Lab fosters breakthrough solutions for the future of smart mobility by connecting an ecosystem of talent with multiple industries, advanced technologies, and physical and digital infrastructure. TPLJ is the largest ecosystem for knowledge-based entrepreneurship in southeast Europe and is active in the information technology, circular economy, digital health, and biotech clusters.


Recognizing cultural heritage as a source of innovation
In 2021, UNESCO added the works and human-centred design of Jože Plečnik to the World Heritage list. Plečnik's urban design and inventive architecture changed Ljubljana's identity from a provincial city into a symbolic capital where culture plays an image-enhancing role.
Ljubljana's appealing image, which "stems from its history, cultural traditions, and spatial features, is a powerful factor in its economic and social development and helps to discover new opportunities."
In its Agenda 21 report, United Cities for Local Government (UCLG) says culture must be at the heart of sustainable development. UCLG believes "new imaginations of the urban can transform citizens' sense of place and sense of self. Cities use cultural resources and creativity to inspire, catalyze and drive social and economic change, enhancing local resiliency and development potential."
In Ljubljana, using digital technologies to improve the accessibility of cultural resources and preserve cultural heritage is a key strategy at the National and University Library (NUK). Priority is given to materials that have significant value in representing cultural history and heritage. The main objective of the library's digitalization program is "to provide online access to digitized publications. When digitalizing valuable cultural heritage materials, special attention is given to producing digital copies of good quality that ensure long-term preservation," says Nataša Jordan, a specialist librarian at NUK. Digitized publications are available on NUK's homepage, and many items of Slovenian cultural heritage are accessible through the Europeana portal.
Ljubljana's success story offers insight for urban planners in other cities by revealing that access to cultural resources and awareness of cultural heritage serves as a source of innovation. Plečnik's human-centred model - showing how to connect architecture and spatial design with a city's life and culture - should inspire those who are shaping the future of smart cities.
---

Share, Learn and Connect with Smart City Experts!

Join the leading global smart city network and community to share your lessons learned, your questions and best practice solutions with thousands of peers. Contribute to the community to help others, to learn from peers, to gain market insights, and to grow your global smart city network.
---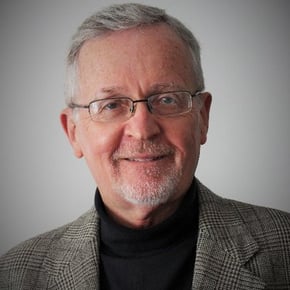 Jon Glasco
Jon Glasco is a freelance consultant and writer focused on innovation in smart cities and smart urban mobility. He has experience in executive and consulting roles in the telecommunications, mobile operator, public transport, government and professional service sectors. Jon holds an MBA and Bachelor of Science in Electrical Engineering.