Are you offering innovative smart city solutions and looking for opportunities to present your product or service to potential customers? Promoting your solutions to decision-makers in cities and municipalities, especially in the current pandemic situation with only limited personal meetings, trade fairs, and conferences is a huge effort. Cold-calling is not the best option and identifying the right contacts is laborious. If this sounds familiar to you, then we have something for you: our new Solution Provider premium package.
YOUR Benefits AS Solution Provider
More leads: You will no longer miss leads and other contacts, and you will get direct access to your solution viewers.
Premium Support: Receive individual and accelerated support to add your solution to the world's most frequented smart city solution engine with up to 10,000 solution views per week.
Expand your network: Generate more leads within your target group by connecting with potential customers from cities and the private sector and have your solutions featured via bee smart city's independent media channels.


Generate more leads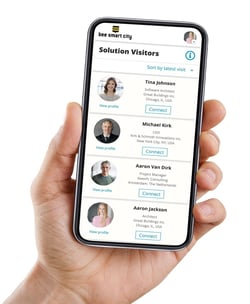 Who is interested in your solution, and who might be? Where are the cities and real estate companies in need of your smart city solutions?
Stop searching - let others find you! You have already added your solution to your profile – great! After the approval, every member of bee smart city (also with basic profiles) can find your product and contact you. That means a potential target group of more than 13,000 contacts.
But you don't want to just sit around and hope that someone sees your solution and contact you. So how would it be if you could see who visits your solution page? This visitor could be a potential lead, why should you let him or her go? And wouldn't it be great if you get an instant message about this lead? You could then contact this person immediately and make an appointment for a demo.
Well, this feature is part of the Solution Provider premium package. Plus, you will get 15 messages you can send to non-contacts. How does this sound to you?
Premium Support
With the Solution Provider premium package, you will not only get fast-track support for quicker approval. We will also help you to optimize your solution pages. This will facilitate attracting more visitors to view your solutions - and having more visitors means being able to nurture more leads.
Expand your network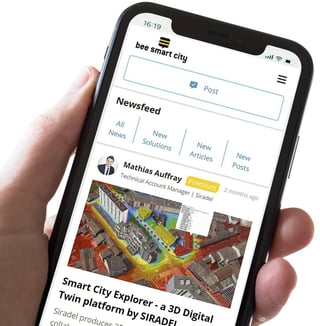 Our marketing team will feature solutions from premium members cross-media: in our social media channels (LinkedIn, Facebook, Twitter, Instagram) and our e-newsletters, giving you access to our broad network of smart city professionals worldwide.
On the bee smart city platform, we will push your solutions more prominently in the newsfeed. Did you know that bee smart city is the world's most frequented smart city solution search engine with up to 10,000 solution views per week? This is why you should showcase your solutions on bee smart city.
We recommend the Solution Provider premium package for companies that want to make the most out of the platform and community. Have a share of the 10,000 solutions views we record every week at bee smart city. For only 29,90€ per month (20% discount if you book the yearly subscription), you can:
GENERATE MORE LEADS
See visitors of your solution pages and directly connect with them
Send 15 messages to non-contacts


INCREASE YOUR VISIBILITY IN THE SMART CITY COMMUNITY
Connect with more than 13,000 smart city peers and enthusiasts
Increase solution visibility via our media channels (newsfeed listing, social media post per solution, newsletter feature of your solutions)

Book now! If you are also using smart city tenders to acquire new projects, then you might want to take a look at our Tender Premium package, which also includes all Solution Provider Package benefits.

Note: If you are new to bee smart city, you need to register first as a free basic member. Then you can book via "get premium". If you are an existing member, you can log in and proceed directly with the booking.