Lessons learned from the pandemic have made health a key area of the smart city. The evolution of technologies that improve residents' health and wellbeing is accelerating – but how exactly are cities leveraging data to improve health?
Preventing and reacting to health risks in the city
Smart city technology always has the purpose of improving the quality of life for a city's inhabitants. It makes daily life more accessible, accommodates individual needs, and increases the wellbeing of citizens through connectivity, the Internet of Things, and big data. Read more about public health in the smart city here.
An ageing population, the never-ending influx of people into cities and the pandemic experience, make it clear that healthcare needs to be taken into consideration when thinking about smart city technology. Data-driven healthcare has the big strength of being able to pull information from a wide array of services. Mobile device sensors, vehicular networks and IoT devices such as air quality monitors help to create an intelligent infrastructure for healthcare.
Other elements of managing health and wellbeing in the city include machine learning, data analysis, and behavioural insights. Ideally, a smart city can pinpoint exactly which health and wellbeing inequalities exist, where dangers lie, and what needs to be done to improve community healthcare. This allows putting preventive measures into place and responding promptly to urgent health needs.
So, how can smart cities employ health technology?


Influencing behaviours
Scientists have long agreed that the design of a built environment can have a significant impact on lifestyle, health, and wellbeing. Data on health risks such as air pollution, heavy traffic, or concrete-dominated neighbourhoods where mental health tends to suffer can help improve the city towards a healthier environment. For example, new accessible pedestrian routes often have a lasting impact on the health of a community.
Until recently, the need for pedestrianisation routes has been self-reported or guessed at. Through sensor data and activity monitoring, the smart city can make a data-driven decision on which city spaces to adapt or pedestrianise in order to promote a healthier lifestyle. This could look like building new cycle paths or pedestrian routes, but it could also include a green space with outdoor gyms or parks with walking routes that are conducive to mental health.
Win-win: Kinetic smart city technology such as walking tracks can encourage wellbeing and at the same time generate renewable energy: Every step powers interactive LED lighting, creating small amounts of green energy and nudging citizens towards a more active and environmentally sustainable behaviour.


Leveraging IoT data
Data from the Internet of Things and in particular from smartwatches and health applications is an important source of information for wellbeing in the smart city. Already, smart tech tracks shared information on exercise, sleeping habits, nutrition, mental health, and stress management. Together, these data points can accurately map hazards, emergencies, and even potential crime in the city, which enables planners to work on preventative methods.
During the pandemic, many cities and countries launched exposure tracing applications to warn nearby citizens of exposure to positive COVID-19 cases. This has shown that apps have the potential to quickly intervene in the spread of infectious disease. Similar apps that are connected to tracking devices such as FitBits or smartwatches can help to warn urban residents of other diseases or health risks.
Santa Monica in the US is known as one of the first smart cities to measure residents' wellbeing. By sending out email surveys and disaggregating existing city data, including information from the census, crime, health, and library usage. It turned out that wellbeing differed significantly depending on the neighbourhood. Now, the wellbeing index of the city is the framework for making decisions and allocating the budget. The Transferability Guide helps other cities to apply a similarly comprehensive framework.


Accelerating medical research
Smart cities that are concerned with the residents' health and wellbeing are wells of valuable data. Medical research can benefit greatly from big data, for example by accelerating clinical trials through AI technologies. This already happened in the COVID-19 pandemic, when the information about transmissions and mutations led to the rapid development and distribution of vaccines.
In addition, information databases from smart cities in combination with AI technology can help to improve cancer screening and treatments, discover the effectiveness of potential drugs, and deploy targeted testing for residents with a higher risk for cancer. This applies to other diseases and health risks as well. Collecting healthcare data enables public health initiatives to improve their services and to bridge health inequalities in cities.
The government of the United Arab Emirates recently launched an initiative to map the DNA of every Emirati citizen. The National Genome Strategy aims to provide citizens with personalised medical care and to limit the spread of disease. According to Monocle, more than 400,000 citizens have already submitted DNA samples.


The future of smart health in cities
Disruptive moments in cities such as the 1755 Lisbon earthquake, the 1848 cholera outbreak in London or the Chicago fire of 1871 have always led to an improvement of cities, from seismic construction guidelines to health laws and fireproof construction. Now, the COVID-19 pandemic has the potential to create lasting impacts by accelerating the shift towards greener, more digital, and more inclusive cities across the globe.
In a recent study, Deloitte predicts the rise of so-called smart health communities in future cities that reimagine public health, integrate wellbeing into urban design from the outset, and proactively address the social, environmental, and economic drivers of health.
The study concludes: "A data-enabled, digitally connected "smart city" can make health care smarter when systems and data are integrated and interoperable across core health and other services, including public safety, the quality of housing, environmental health, social services, emergency services, and transportation. This can help to enable a real-time response to health crises, address inequities, and support the interconnected health and well-being goals of communities across the globe.
A smart city can also better ensure health equity by enabling health care access for more and nurturing the social, economic, and environmental factors that contribute to all residents' overall well-being, encompassing clinical, mental, social, emotional, physical, and spiritual health. For this promise to be realized, health literacy, health system navigation, and access to data are crucial factors to be addressed."


---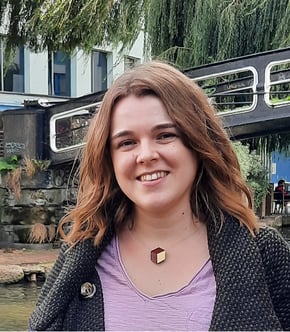 Laura Puttkamer
Laura is an urban journalist focusing on inspiring solutions stories from all over the world. She has a MSc in Global Urban Development and currently lives in London.