As 2019 drew to a close, the travel and tourism industry had reasons to celebrate. The World Travel and Tourism Council (WTTC), IBTM Events, and the UN World Tourism Organization (UNWTO) all announced the good news. But then the Covid-19 pandemic dealt a serious blow to the tourism sector.
Based on WTTC data, the industry supported 330 million jobs worldwide in 2019 while generating 10.3 percent of global GDP. The UNWTO said "1.5 billion international tourist arrivals were recorded in 2019," representing a 4 percent annual increase and the tenth consecutive year of growth. Similar growth was predicted for 2020 - "confirming tourism as a leading and resilient economic sector." The UNWTO Confidence Index revealed that 47 percent of participants believed tourism would perform even better in the new year. IBTM World 2019 - the leading global conference for the meetings, incentives, conferences, and events sector - reported a 3 percent increase in attendees and more than 74,000 in-person business meetings at its annual event in Barcelona.
The sense of optimism for travel, tourism, and events was short-lived. Within a few months, the pandemic crisis dealt a severe blow to this high-flying industry when countries closed their borders and locked down their economies in the fight against the Coronavirus.
How can the industry recover from the damage caused by the Covid-19 crisis? What is the role of smart tourism innovation in industry recovery and reinvention? These are complex questions confronting travel and tourism companies, event planners, destination marketing organizations, convention bureaus - and smart city leaders. In this article, we cover the extent of the damage, ideas for recovery and reinvention, and implications for smart cities.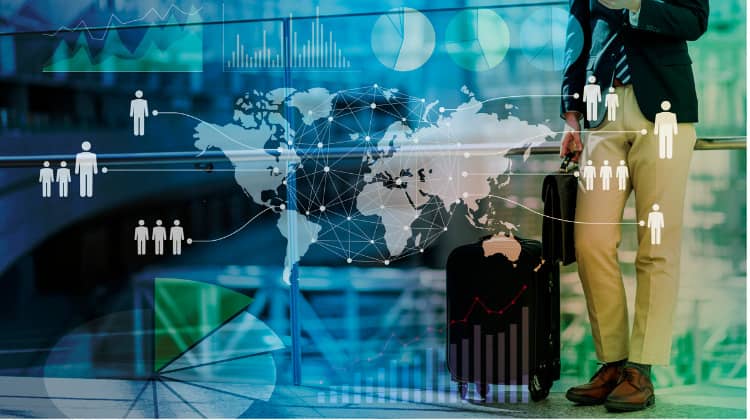 Estimating

the d

amage

McKinsey, citing UNWTO data, says the pandemic caused "an unprecedented crisis for the travel and tourism industry. International tourist arrivals are projected to plunge by 60 to 80 percent in 2020, and tourism spending is not likely to return to pre-crisis levels until 2024."

Bloomberg says "the flight paralysis underscores how deep and lasting the pandemic's damage is proving to be. The number of international flights to the U.S., Australia and Japan has fallen more than 80 percent from a year ago, while flights to China are down by more than 94 percent."

The pandemic emergency caused disruption of business and tech conferences, including the cancellation of the Mobile World Congress (MWC) and Light + Building (the global trade fair for smart lighting and building technologies). Google's Cloud Next event shifted to online only and IBM's Developer Conference repositioned to live stream. So far, the cancellation of major business and tech events has caused more than $1 billion in economic losses.
Smart destinations and smart tourism - the future is digital
A well-regarded research paper on smart tourism destinations introduced the six 'As of successful destinations:
Attractions -

amusement parks, museums, architecture, theaters, shopping centers

Accessibility -

transport infrastructure, public transit services, and measures for people with mobility limitations and disabilities

Amenities -

accommodation, gastronomy, and leisure pursuits

Available packages -

service bundles by intermediaries to increase awareness of a destination's uniqueness

Activities -

all activities which attract tourists to the destination

Ancillary services -

postal services, banks, healthcare (and other services not primarily aimed at the tourist market)
In the wake of the pandemic crisis, does the industry need Assurance as a seventh A? Assurance that travel and tourism providers and destinations adhere to accepted health practices and safety standards.
Other research asserts that smart tourism is the application of technology and innovation to "facilitate the tourist's experience through a digital platform," - and all businesses linked to the six As should be linked to the digital infrastructure. Smart tourism in this context is perceived as multiple layers of online services acting as enablers of smart destinations.
David Peacock, Senior Advisor, Future Tourism Group, says "digital excellence and sustainability are key to successful destinations." In deciding how smart destinations should allocate scarce recovery resources, Peacock advises "building intentional networks beyond traditional players, aligning with citizen and civic priorities, increasing the digital skill and sophistication of all stakeholders across the destination and improving the digital footprint as a whole."
How does smart tourism help in crisis recovery? Think innovation!
As one of the world's most popular tourist destinations, Paris plans "to invent the future of tourism and be the capital of tourist innovation." The city's Welcome City Lab (created by Paris&Co with support from the City of Paris) is a program designed to "stimulate innovation in the tourist sector, including the world's first incubator dedicated to this sector." Laurent Queige, Director of Welcome City Lab believes innovation is the best option in responding to the pandemic crisis. However, he is concerned that "innovation is no longer a priority" for many companies in the industry. "At many of Europe´s travel tech hubs, innovation partnerships and projects have been effectively paused by the crisis," says Queige, and this could lead to "a serious loss of agility, ideas, solutions and the competitive dynamics which can help us overcome the crisis."
Welcome City Lab's innovation platform offers tourism start-ups and entrepreneurs an enabling portfolio of services, including co-working and meeting space, a test platform, and an incubator. "Since its creation, the incubator has already enabled more than 100 startups, through its incubation program, to successfully enter the world's leading tourism market with a 90 percent success rate. These startups have generated more than 650 jobs and raised more than €150 million."
In another innovation initiative, the UNWTO issued a Healing Solutions for Tourism Challenge calling on startup firms and entrepreneurs to submit solutions "to mitigate Covid-19 impacts on tourism through health, economic and destination management solutions." This challenge - considered as a step toward sustainable tourism recovery in the pandemic crisis - requested solutions in social initiatives, new and existing technologies, innovative processes, and governance structures. In response to the challenge, the UNWTO received more than 1,000 applications from innovators in 100+ countries.
---
Are you looking for Smart City Tender?
With our Tender Premium package, you get access to newly published tenders worldwide especially for the smart city related topics. Seize business opportunities and be ahead of your competitors! Never miss a smart city tender again.
---
Prior to the pandemic, market researchers predicted the global online travel market would reach almost $818 billion by 2020 - driven by the demand for mobile travel apps and websites. Tourists in a post-pandemic world will still have an appetite for innovative mobile apps which add value to the travel experience. Prateek Saxena, the co-founder of Appinventiv, says "most big players in the travel industry have a mobile presence today, and if not they plan to go mobile - a trend that is directly fueling the increasing demand for mobile travel app development." Augmented reality (AR) apps - from companies such as Appinventiv, SeaMonster, and Skignz - are among the promising innovations for tourists. Mobile AR travel apps "quickly engage customers with interactivity and render an immersive user experience," says Saxena. "AR overlays digital components over real ones to deliver a rich and visually appealing experience."
In cities that rely on tourism and events, technology investments and destination quality are often so interrelated that smart tourism becomes part of smart city planning—offering opportunities for new solutions that benefit tourists and local residents. Innovation-centric leaders can learn from examples of solutions such as Smart CityCards (Vienna), MyStreetBook (Madrid), and CabTab (Amsterdam).
In the business events sector, the crisis-driven transition to webinars, live streaming, and virtual summits demonstrate the power of digital to serve as an alternative to travel and in-person events. While experts predict in-person events will recover, "getting back to normal will take time, and events will look very different in the interim." More organizations will discover opportunities to deliver hybrid events involving a fusion of the traditional conference venue, small satellite events, and virtual participation.
While large business and tech events may recover in the future, "virtual counterparts will likely exist down the road," says the U.S. Chamber of Commerce. Julius Solaris, the founder of EventMB and editor of Event Manager Blog, says "we have been the first in the industry to strongly advocate the pivot to virtual" for business events. "While some were still trying to save the unsavable, we forecasted that virtual would be the only viable way to keep business going," adds Solaris.
Finding a path forward - through coordination, innovation practices, safety protocols, and services reinvention
Coordination between industry and government is essential.
A potential barrier for smart cities in implementing smart tourism solutions derives from industry fragmentation and competitive intensity which evolved after mass tourism business models gained a foothold. This fragmentation constricts the flexibility (and willingness) of industry stakeholders to coordinate and work with the government to create new solutions. A McKinsey report says "reopening tourism-related businesses and managing their recovery in a way that is safe, attractive for tourists, and economically viable will require coordination at a level not seen before. The public sector may be best placed to oversee this process."
The industry needs to adopt best practices in smart tourism innovation.
The European Capital of Smart Tourism is a new initiative - launched "to strengthen tourism-generated innovative development in EU cities and their surroundings, increase their attractiveness as well as strengthen economic growth and job creation." This initiative, with heightened importance in 2020, is designed to foster awareness of smart tourism technologies and establish a framework for the exchange of innovative practices in 38 EU cities. To facilitate knowledge sharing and cooperation, the European Commission sponsored the publication of a Compendium of Best Practices in accessibility, sustainability, digitalization, cultural heritage, and creativity.
Tourism recovery requires health safety assurance through global protocols.
The WTTC is cooperating with its members and with government leaders, associations, and health experts to develop pandemic recovery protocols and action plans - intended as living documents based partly on guidelines from the World Health Organization and U.S. Centers for Disease Control and Prevention. The WTTC announced a plan to publish protocols for at least eleven travel and tourism categories. WTTC's goal is to provide public and private sectors with tools and practices for travel safety and build trust in health and safety measures.
The WTTC also created a Safe Travels Stamp "to recognize destination authorities and companies which have implemented health and hygiene protocols aligned with WTTC's Global Safe Travels Protocols."
Beyond health safety measures, the crisis offers opportunities for reinvention.
"Be human and genuine and personalize the experience." That is the advice from McKinsey in a report that says unique, personalized services represented a significant pre-crisis trend. "Boutique hotels, for instance, were the fastest-growing hotel segment in the United States, with supply increasing 10.6 percent between 2018 and 2019, compared with an overall hotel supply growth of 2.0 percent." McKinsey says the industry can learn from its past and "take inspiration from a time when airline travel was exciting and new, and travel companies went out of their way to solve for traveler needs."
Players throughout the industry should identify how the pandemic crisis disrupts business models and success factors - and drives the demand for reinvention. McKinsey believes those who succeed in a post-pandemic world will "work with travelers and employees to co-create distinctive solutions in a rapid and agile manner."
Implications for smart cities
While a smart destination enables an experience, smart tourism enables a smart destination. For smart cities - with destinations and tourism in crisis mode - this is a time to make the leap to recovery and reinvention through actions such as:
Collaborating with the private sector and with other cities - to exchange innovation practices and co-create distinctive tourism services.

Accelerating the adoption of entrepreneurial solutions in health and hygiene innovation - including contactless ticketing, reception, and kiosks; contact tracing apps; ultraviolet lighting to sanitize interior surfaces; and wearable devices for virus detection.

Fast-tracking the implementation of high standards in health safety (e.g., through the adoption of WTTC protocols) - for tourist destinations and business and tech events.

Advancing the use of interactive signage augmented reality, and navigation tools - to help tourists find attractions and local services and enable cities to manage tourist flows and congestion.

Facilitating innovative digital and virtual solutions for event facilities and services - to enhance the experience and value of hybrid and online events.
In parallel with actions to recover and reinvent, smart cities should take steps to build trust with a diverse audience of tourists and business travelers - and with local companies, event planners, and residents. Building sustainable trust with the target audience requires that city leaders and industry stakeholders communicate clearly (with consistent messages in multiple channels), clarify recovery measures (to reduce uncertainties and avoid misinformation), and raise awareness of smart tourism.

---
Explore hundreds of smart tourism and smart city solutions
Join the global smart city network and community to discover hundreds of solutions and to connect with thousands of smart city experts and enthusiasts to share knowledge and explore collaboration opportunities.
---

RELATED ARTICLES:
---

Image Source:
iStock, ID: 811259426, Credit: metamorworks