After the success of our webinars in November and December, we have analyzed the feedback from our participants and we've decided to offer a basic seminar on the topic of public tenders in the smart city sector. This webinar is intended for all companies and solution providers that want to access public tenders to place their products specifically in the Smart City sector. In the webinar, we will address the following questions:
Sign up now for this free webinar and learn more about the nature of public procurement.
WHO IS THE WEBINAR SUITABLE FOR?
But is the webinar right for my company? You can answer yes to this question if you can answer YES to the following questions:

Are you a company or organization that provides smart city solutions and services?
Are you looking to increase your market share?
Are you looking for opportunities to enter new markets?
Answered one or more questions with YES? Then register directly for the webinar.
The webinar will take place on February 9, 2023 at 4 pm. Duration approximately 30 minutes.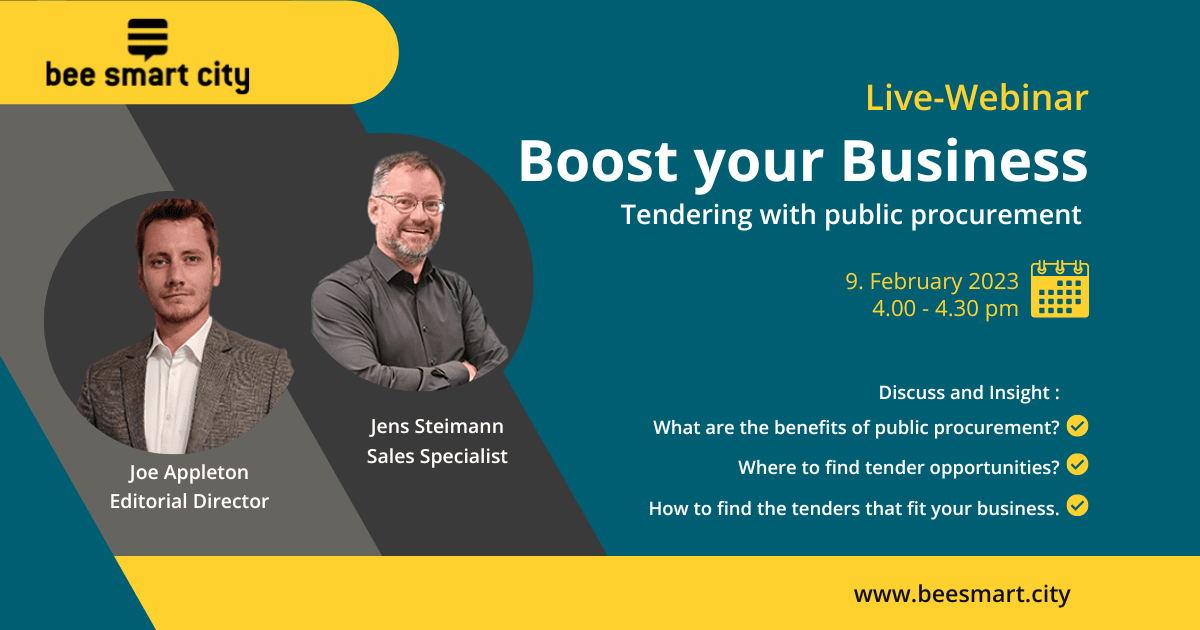 But to delve a little deeper into the topic, here are some questions to ask in advance, which we will answer to get you closer to the topic of public tendering.
WHAT ARE THE Benefits OF PUBLIC TENDERING?
A company can turn lucrative profits from tenders issued by municipalities and other public sector clients. However, public tenders are anything but easy to find. Not only are they difficult to find, but the entire bidding process can also be complex and intimidating.
The benefits of public tenders for companies are obvious:
All companies have the same opportunities.
The same specifications and formalities apply to everyone.
Due to new procurement regulations, SMEs in particular are in the spotlight and have increased opportunities to win contracts.
Digitalization of tendering simplifies access to tenders, as companies can view public tenders directly.
As a rule, all forms are stored centrally on the respective award platform.
Especially in the area of smart cities, young companies and startups with innovative solutions have a high chance of being considered for tenders.


WHERE CAN I FIND PUBLIC TENDERS?
Of course, there are numerous tender platforms worldwide that make tenders from cities and municipalities available to companies in bundled form. The EU has also established clear rules for public tenders. Generally, even with outside help, the search for tenders can be tedious. Finding tenders, exploring whether they're a good fit for your company, and navigating the jargon can be resource and time intensive.
And even after diving headfirst into the tender search and finding a suitable tender, the real task hasn't even begun. Finding a tender is one thing. Bidding for it and winning is quite another.

This is where the next hurdle begins because the devil is often in the details. In most cases, knowledge of the tendering process is required, technical procurement terms must be understood, and the bid preparation must meet precise criteria. Many forms have to be filled out, time constraints have to be met and other obstacles have to be overcome. And last but not least, the competitive pressure is immense. There is also often the risk that a tender has already been awarded under the table,

So, is it worth the high cost of the search? And if so, how can I still make the shortlist?
HOW DO MUNICIPALITIES AND COMPANIES COME TOGETHER?
Here, too, there are good opportunities to get to know the clients in advance and, ideally, to get to know them already. Particularly in the area of smart cities, there are many opportunities to meet potential contacts at trade fairs, forums, hackathons, challenges and city labs. Especially in the area of Smart City, new public procurement strategies are available, such as "Pre-Commercial Procurement" or the so-called "Innovation Procurement".
---

💡What does Innovation Procurement mean?💡
By purchasing state-of-the-art products and new technical solutions, government institutions can offer more modern services and save money in the long term. This is particularly relevant in Smart City projects. Funding is often released here, enabling start-ups and young companies in particular, as well as small and medium-sized enterprises, to present their products. This is already common practice in many European countries and is considered a model for many cities worldwide. The aim is to create an incentive for companies to participate. If the Challenge is successful, it is often possible to pilot it in the city!
---

In addition, the bee smart city platform offers the opportunity to network with cities, municipalities and other solution providers and keep you up to date with what is happening in the smart city market. As the largest solution provider platform, you have the unique opportunity to get in touch with over 14,000 smart city enthusiasts and exchange ideas.
HOW DO YOU FIND THE TENDERS THAT SUIT YOUR COMPANY?
If you want to save yourself the time-consuming search for the right tenders, you can use the option of having others search for you. But how does that work?

bee smart city operates a worldwide smart city network with an integrated smart city tendering service. Through our expertise from advising municipalities and municipal companies, and through exchanges with companies on our platform, we bring cities and companies together and know exactly what the market needs. That's why we've developed a global tendering service for smart city projects that takes the work out of time-consuming searches for companies. By curating and tagging the public tenders and a host of other innovative features, the search for smart city tenders is quick and easy. Get the latest tenders that fit your criteria delivered directly to your inbox, saving time and resources, and allowing you to focus on winning the bid instead!
👉 Learn more about the benefits of the tender service for solution providers.
👉How to Win a Smart City Tender: 5 Key Success Factors
Would you like to find out more? Then register for our free webinar and get more useful tips!
---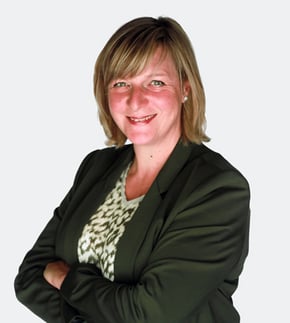 Nicole Becker
Nicole Becker is Marketing Communications Manager at bee smart city. She is responsible for the Communication, optimization of our website, content creation, fairs, events and PR.