Muelheim/Ruhr, September 17th 2023. bee smart city is delighted to announce its continued collaboration with the Smart City Expo World Congress in 2023. Smart City Expo World Congress (#SCEWC23), the leading international event on cities and smart urban solutions organized by Fira de Barcelona will hold another record‑breaking edition in 2023. From November 7-9 and under the theme "Welcome to the New Urban Era" the show and congress will register a 55% growth in its exhibition floorspace and 20% more attendees, reaching over 1,000 exhibitors, 25.000 professional attendees and representatives from more than 800 cities and 140 countries, making the upcoming edition the biggest to date.
The event confirms itself as the largest global showcase of innovative urban solutions and projects focusing on strategies to transform current metropolises into more sustainable, efficient, and livable spaces.
To achieve this goal, the SCEWC23 congress program is structured into eight main tracks:
The event's director, Ugo Valenti, said that "The 2023 edition of Smart City Expo will be the biggest ever and we will witness the return of the urban innovation ecosystem in full force. Now is the time to go beyond dreams and inspiration. Amid the so-called Decade of Action, we need to walk the talk and future-proof our cities so they can effectively make themselves more sustainable, efficient, and livable. Many are already on the right path, and Smart City Expo World Congress is a chance to contribute to this goal."
With four months to go, SCEWC had already booked 95% of the exhibition floorspace and will feature over 1,000 exhibitors at the Gran Via venue including Aramco, Axis, Cisco, Dell, Deloitte, Mercedes-Benz, Microsoft, Smart Ports: Piers of the Future and Sorigué and Country and City Pavilions from Brazil, China, Estonia, France, Germany, India, Israel, Italy, Japan, Korea, Mexico, Nordics, Poland and USA, among others.
Who is on stage? Who are the speakers in Barcelona?
Meet the opinion leaders, visionaries, and worldwide city changers who will share their ideas and expertise at the Congress. Discover the world-renowned experts that will take the stage at #SCEWC23.
Global Hub of Innovation
In addition, Tomorrow.Building, Tomorrow.Mobility and Tomorrow.BlueEconomy – focusing on the opportunities of the blue economy – will be held alongside SCEWC to strengthen the role of the event and Barcelona as a global hub of smart solutions and provide answers to the challenges today's cities face.
In 2022, SCEWC was already held together with Tomorrow.Mobility, jointly organized by Fira de Barcelona and EIT Urban Mobility, and gathered over 700 cities from five continents, 853 exhibitors and over 400 speakers, more than half of which were women. The event registered significant growth hosting over 20,000 attendees from 134 countries, almost 50% more than in 2021, and bringing the platform to pre-pandemic figures.
Meet the bee smart city TEAM in Barcelona
"Once again, we are proud to continue our long-standing relationship with Smart City Expo World Congress and to work with those who share our vision for a more sustainable and resilient future.
The upcoming edition of the Smart City Expo World Congress is also very important for us at bee smart city: we are introducing our new product for cities - the Smart City Toolbox - to Barcelona," says Thomas Müller, Managing Partner at bee smart city.
Discover our new services and meet our team in Barcelona from November 7-9 in Hall 2, Booth C111 at the joint booth of the German state of North-Rhine Westphalia (NRW). We look forward to connecting with you in person!
Book a meeting with our team in Barcelona, via our online calendar:
---

As a media partner of SCEWC23, we offer members of our network an exclusive 25% discount for congress passes. Get your 25% discounted ticket now - and be a part of the world's leading event for cities.
---
Special Press tickets
Journalists, photographers, cameramen or professionals working for online or offline media who wish to cover the event for their outlets can apply for a press pass.
---
About bee smart city
bee smart city is a specialist digital software and consulting company with the mission to empower municipalities to successfully manage the transformation to smart and sustainable cities and regions. With the Smart City Toolbox – a unique Software-as-a-Service solution for cities and regions - we enable the effective management of smart city strategies and corresponding projects digitally and collaboratively in one place. With 14.000+ Members from 170 countries, bee smart city operates the largest free smart city online network and community for smart city professionals to share knowledge, learn and gain market insights. The platform is also available as a white-label solution for organizations that want to foster collaboration between different stakeholders. In addition, we offer a unique global smart city tender service to give solution providers access to newly issued smart city tenders worldwide. Last, but not least, we advise cities in crafting and implementing smart city strategies and solutions.
Learn more at: www.beesmart.city
Contact:
bee smart city GmbH
Nicole Becker
Marketing & Communications Manager
Tel. +49 (0) 208 62801331
Email: press@beesmart.city

About Smart City Expo World Congress
Held in Barcelona since 2011, Smart City Expo World Congress is the world's biggest and most influential event for cities and urban innovation. Every year, we gather leaders from the most innovative companies, governments and organizations to move cities towards a better future. Our goal is to collectivize urban innovation across the globe and empower cities to face the critical challenges the world faces today. We're on a mission to accelerate a brighter urban paradigm towards green, efficient and thriving cities that leave no one behind.
The Smart City Expo 2023 (7-9 November, Fira Barcelona) will show the world the smart solutions shaping this new era—those currently helping cities thrive and creating safer, greener, and more efficient urban spaces. It will be the biggest edition to date and will see the return in full force of the urban innovation ecosystem.
Learn more at: www.smartcityexpo.com
Contact:
Fira Barcelona
Communications Team
Email: smartcityexpo.visitors@firabarcelona.com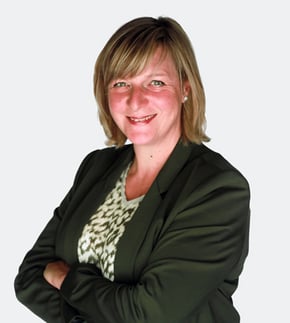 Nicole Becker
Nicole Becker is Marketing Communications Manager at bee smart city. She is responsible for the Communication, optimization of our website, content creation, fairs, events and PR.