Smart Mobility is one of the most talked about dimensions in smart city development. A strong and innovative mobility sector is the heart of any city. If citizens can't travel around a district, city, or region with ease, it stifles business, curtails expansion, and makes life difficult for all urban stakeholders, from citizens to politicians.
Without smart mobility solutions, a city can suffer from social inequity, it can fail to empower entrepreneurs, and of course, it can cause harm to our environment.
So, what's the solution?
We talked to a number of experts and solution providers from Germany's North Rhine Westphalia to learn about the exciting solutions being produced in Europe's industrial heartland, and how the Rhine-Ruhr Metropolitan Region, one of Europe's most densely populated areas, is rising to the challenge of Smart Mobility and learning about the region's predictions for the future.
And rather than cover old ground and have the usual discussions about the pros and cons of electric cars and the need for parking and charging solutions, we decided to find some visionaries who are quite literally thinking outside of the (four-wheeled) box.
Cable Car World
First, we talked to Cable Car World. You might be thinking: cable cars, can they really be a logical solution to the challenges of urban mobility? The answer, according to Ing. Mag. Gerald Pichlmair, and Dominik Bernd, Managing Directors of Cable Car World, is a huge and resounding "yes!"
Here's what we learned during a short 3-question, 3-minute interview with the company's top brass.
Hi Gerald. In short: can you explain what Cable Car World does?
Gerald: Well, Cable Car World is the world's first network platform for urban mobility with cable cars. Our company promotes the global use of cable cars at the plus-one level. Here the focus is on passenger and freight transport in urban areas.
It's an interesting concept. Is it feasible? Can you tell us of any cities the cable car is already being used?
Gerald: Ropeways are very well known as a means of public transport in South America, North Africa and India. But in the European Union they are not very well known yet. So, our goal is to bring the cable car as a solution to cities in the EU. We already have a good example in the French city of Toulouse, where they launched a system last May, and they are planning to launch a system in Paris in 2025, too.
So, there's definitely an upward trend into cable car use? What trends do you see for the future of cable cars and Smart Mobility?
Gerald: Here is my point of view: I think that a greater use of cable cars in the European Union is very difficult at the moment, because on the one hand it is obvious that this is a profitable and practical system for the future, but on the other hand we have a lot of legal restrictions that make it difficult to implement. We're hoping to find a way to deploy more ropeways into major cities by encouraging the idea and hopefully easing legal restrictions.
Are you curious about cable cars? To learn more about Cable Car World and their mission, check out their website: https://www.cablecarworld.com
CW Cleaning Solutions GmbH
Secondly, we caught up with Sachin Kumar, the business owner of CW Cleaning Solutions GmbH. If you're wonder what "CW" stands for, it's Cycle Wash. With the popularity of cycling as a primary means of transport on the rise, there is a need for practical, hyper-efficient, and environmentally friendly cleaning solutions. After all, a clean bike is an efficient bike. We grabbed Sachin for a few questions and a closer look at his supremely engineered cleaning machine for the low down.
Sachin, this is arguably one of the most interesting machines that I've ever seen. Can you tell us something about CycleWash. What exactly is it that your company does?
Sachin: We are a company based in Cologne, Germany, and we manufacture bicycle cleaning robots. To date, we have sold these machines in about 17 countries, to the tune of around 200 units sold.
That's fantastic! So, which countries are you currently active in and which cities are making the most of your technology?
Sachin: In short, all over Europe and as far as Santiago, Chile! We are currently planning the deployment of machines in Mexico, Australia, and even further afield. So, basically all over the world!
It's a well-known fact that cycling is on the rise, but tell me, what is the demand for a cycle wash? How necessary is it?
Sachin: It is extremely necessary. I say that the future of cars is not flying cars in cities. It's the use of e-bikes in cities. Let's face the fact. And the number is growing like crazy in Germany. Half of the bikes sold today are e-bikes, but nobody thinks about how to take care of them. And people, when they spend $5,000 on a bike, they really want to look after it.
And if you're the owner of an expensive bicycle and you don't have a garden, it makes maintenance a problem. Most city dwellers live in flats, so it begs the question: how and where, would they clean it?
Even if you have space or use the cleaning facilities at a gas station, most people use pressure washers which destroy bicycles, and they cause even more harm to e-bikes, too. So, we developed this machine, a very sophisticated machine.
In short, we packed the whole car wash into a very compact form, that runs on solar energy. It uses only one litre of water to operate, and it's an advanced self-service machine which even boasts ultrasonic cleaning for delicate parts, such as the rims and wheels. And most importantly, it has a dryer built in.
Basically, when cleaning e-bikes, it is very important to dry them directly after washing. Otherwise, there is a risk of water getting into the circuitry. And that's exactly what makes CycleWash such an innovative and exciting product.
It truly is an engineering marvel! Let's change gears for a moment, if you'll excuse that awful joke, let's talk a bit more about your predictions for the future in terms of cycle mobility. What are the trends you currently see and what would you like to see more of?
Sachin: Currently, we are very focused on our market. You could even say that we have created an entirely new market! We estimate that we will have a demand for about 15,000 units in Germany alone, about a thousand units in Norway, and a similar figure for France. What we would like to see is more bicycle use, but it's our intention to make sure that bikes are safe to ride, and that bikes have a longer lifespan, by making a simple and efficient, and cost-effective maintenance solution. We want to build a sustainable economy around the bike. It's as simple as that.
If you're an engineering fan, head over to the CW Cleaning Solutions GmbH website to learn more about this beautifully engineered machine, head over to the company website and take a deep dive into the full product range.
In Summary: NRW's Smart Future
Whether it's cable cars across the Ruhr or bicycle life-extending machinery, it's clear that the future of smart mobility is more than electric cars and integrated public transport. While the standard mobility solutions, from e-ticketing to smart parking, are always going to be at the front and centre of the discussion, it takes radical thinking and creative innovations to truly change the world, and it's great to see that our home state of North Rhine Westphalia is producing so many talented innovators, solution providers, and entrepreneurs engaging in the Smart City dialog.
---

Read related Articles: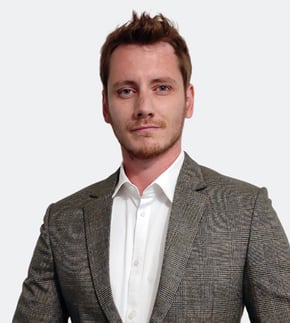 Joe Appleton
Joe Appleton is a content strategist, editor and writer at bee smart city. He is particularly interested in the topics of smart and sustainable cities and urban mobility.